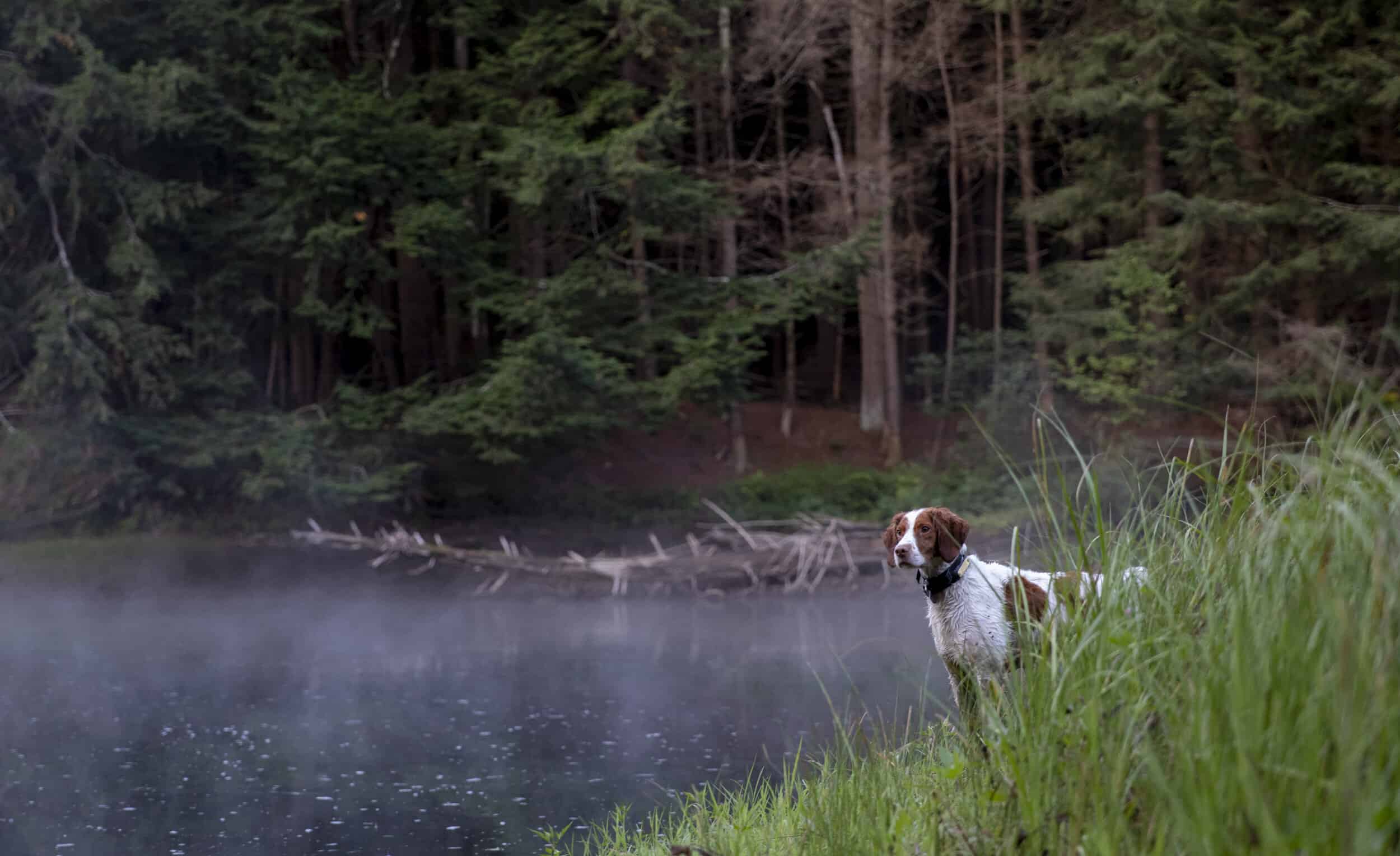 Jump to Lessons Learned section to see some of the key factors that help make this hunt a success.
Jump to Gear of Choice section to see what equipment Christi chose for this hunt.
---
My headlamp dangled around my neck; there was enough moonlight that I didn't need it as we walked along the old railroad tracks to the blind. It was opening day of duck season in southern Maine, and I had invited Emilie along since she had never been duck hunting before. I had been training my Brittany, Argos, during the off-season to retrieve and was anxious to see how he would do for us that day.
Early morning fog hovered above the Presumpscot River as we waded into an eddy and put out a half a dozen mallard decoys. We watched with awe as an eagle flew overhead, and a beaver swam across the river. As we settled into the blind, the sky began to turn shades of lavender and amethyst. Argos laid at my feet, eyes intently focused on the river; his ears perked every time I blew my call.
Emilie and I were acquaintances, but not yet friends. We met through the social community I founded last year, Maine Women Hunters and found common ground in the fact that both of us learned to hunt in our twenties.
Maine Women Hunters began as a Facebook group because I wanted a scrutiny-free place to ask questions, share stories and meet other like-minded women. The vibrant group now has over 1,500 members. It is not a brag board of grip n grins but a place for ladies to share their successes, lament their misses and ask for advice and offer tips.
Common questions relate to hunting while pregnant, on our periods, what type of boots and bows to buy, etc. We share when local stores are having hunting sales, post our used hunting clothes for sale, and small business owners post links to their antler dog chews and fly-fishing themed earrings. The conversation is not limited to hunting, anything outdoors is fair game – ice fishing, taxidermy, interpreting laws, wild game recipes, and outdoor-related events are all encouraged.
There are social meetups as well – Maine's first female Commissioner of Inland Fisheries and Wildlife, Judy Camuso, is the special guest at this month's brewery meet up. Local businesses like L.L. Bean and Cabela's recognize the importance of the female hunting community and donate raffle items to attendees.
Women are often told to be careful when holding a pocket knife but never told to be careful when holding a kitchen knife. Maine Women Hunters encourage women to embrace our wild and dirty side. Modern-day life can be sterile and full of comforts – warmth, cleanliness, food. Hunting causes some suffering – you're cold, bored, hungry, and discouraged and it makes you feel alive.
Three mallards flew up the river, past the blind and I blew a comeback call. They made no change in flight and I shrugged them off and shifted my gaze back downstream. A few moments later, they came in from behind us, cupping into the spread. Emilie did not need instruction, we both stood up and fired.
Maine Women Hunters are full of tough women like Emilie, who enjoy the challenge of hunting and fishing. Hunting is hard; it teaches you grit, discipline, humility and to be resourceful. It is also frustrating and discouraging. Maine Women Hunters provides a forum to share those frustrations and offer words of encouragement.
Maine Women Hunters showcases that there are far more female hunters than you think. In 1897, Maine Registered the first Maine Guide, Cornilia "Fly Rod" Crosby, an avid hunter and fly fisherman. Today, many females, and families partake in local moose hunts continuing in a practice that is traditional and utilitarian in the hope of providing fresh, free-range meat for their families.
This strong heritage was both appealing and intimidating to me when I started hunting. Hunting has a high barrier of entry; it involves a lot of time and gear and socially it is a polarizing topic. Hunters who have given birth, must face the personal dilemma of having created and given a life, and now are taking a life. I started hunting after hiking the Appalachian Trail, because it allowed me to embrace my wild side and face head on the serious impact of being a meat eater and of taking a life.
I am now a Registered Maine Guide in both hunting and fishing, and focus on female trips. The female only groups are all very supportive of one another and there's less pressure and scrutiny. Women take the time to enjoy all the byproducts of the hunt – the scenery, non-game wildlife, berries, flowers, etc.
"Fetch!" I tell Argos and he swims towards a downed drake. Emilie shot her first duck and Argos's retrieve is a successful one. Emilie takes her duck from him and sports a wide grin. We hoot and holler and return to the blind, discussing recipes for the tender meat.
LESSONS LEARNED
We've all heard tales about the golden days of hunting, when game was abundant, and it was not uncommon to bag 200lb plus deer here in Maine on a regular basis. But the history of mallard hunting in Maine carries a different tune.
Historically, mallards were uncommon in Maine; their historic range was further north and west. In the 1940s the State started releasing raised mallards and by 1949 the first recorded nesting pair was recorded. Thanks to conservation efforts including the Migratory Bird Hunting and Conservation Stamp and the habitat work of Ducks Unlimited, today mallards are the most abundant duck species in Maine and in North America.
Of the about 40 waterfowl species in North America today, Maine sees about 34 different waterfowl species, including those that migrate through. Maine is part of the Atlantic flyway, which stretches from the Arctic Tundra to the Caribbean. It's the most densely developed and populated of the flyways, threatening waterfowl habitat along their migration route.
While Maine may not rival the waterfowl meccas of Arkansas or Missouri, the combination of lakes, rivers, and ocean offer a variety of food, habitat and thus species, including sea ducks. As a hunter, this means you get to experience a variety of hunting methods and species. Sure, we hunt geese in corn fields, wood ducks in tight, meandering streams but we also get to hunt on the ocean. We set layout blinds on coastal marshland and shoot blacks, goldeneyes, and buffleheads. We sit on island ledges, tie a boat up to a floating mussel farm, or lay in layout boats and hunt long tails, scoters, and eiders. Mallards can be found in all of these habitats, which adds to their resiliency.
Mallards are not picky eaters; they are opportunistic omnivores. Their diet ranges from aquatic vegetation, corn, acorns, to larvae, shrimp even small fish. They quickly adapt to different habitats, food, climates and tolerate human activities. These factors contribute to their success as well as explain their wide range from Alaska to the Caribbean. They can withstand cold climates and do not require much water for roosting. Mallards have a unique ability to sleep with one eye open. They have two brain hemispheres, so only half the brain sleeps at a time, allowing them to detect predators.
The future of mallards in Maine looks bright. Their numbers have increased in recent years. However, the Atlantic flyway as a whole has experienced a decline in mallard population over the last fifteen years. This year, the bag limit was reduced from four to two mallards per day for states within the flyway. Possible culprits of their decline could include decreased winter-feeding habitat, poor habitat quality, and hybridization with game farm mallards.
So, get out there and hunt, because who knows, maybe someday we will look back on these years as the golden days of mallard hunting in Maine.
GEAR OF CHOICE
My favorite time of year to hunt ducks is December. The last weeks of the season are hot, because the weather is cold. Lakes and streams are freezing over, which congregates mallards and black ducks into the rivers and the ocean's coast. Foul weather is fowl weather. Cold, windy, rainy days get birds moving, and you'll want to be well equipped to be hunting them in those brutal conditions.
Backpack
Maine has an average of nine-foot tides, and when I hunt on a tidal estuary and the tide creeps in, the waterproof bottom of LL Bean's Waterfowler's pack keeps my gear dry. The pack sit ups on its own, thanks to its rigid bottom, allowing easy access and also makes for a good backrest while sitting on a riverbank. Two ammo boxes in the front makes it easy to reload.
Calls
Mallards are very vocal, so calling is key. My cousin in Kentucky gave me my first duck call, and I still use it. Banded makes a variety of calls, most of which are great for beginners.
Binoculars
The 42mm objective lens of the Swarovski EL's let in so much light that I can identify ducks if they land in the near darkness before legal shooting. I prefer ten power binoculars so I can check out ducks that are swimming downstream.
E Collar
Argos doesn't leave home without wearing the Sportdog Fieldtrainer 425x. It's waterproof and works out to 500 yards. It has both beep and shock modes, and Argos is trained that a beep proceeds a shock, so now he only needs the beep as a correction. It recharges in two hours.
Ear Protection
It may not be the coolest piece of gear, but neither is losing your hearing. When I first started hunting, I noticed I could hear geese before anyone else, likely because my hunting partners were already suffering some hearing loss. Walker's Razors are electronic, so I can still hold a conversation and hear approaching geese, but gunshots are muffled to a "poof."
Neoprene Waders
A necessity for every waterfowler, finding the right waders is a tricky task for most females. I wear men's Cabela's SuperMag Chest Waders since I'm 5'11" and wear a size 11 boot. They aren't quite long enough in the legs but they're durable and the 1600-gram insulated boots keep my feet warm when putting out decoys. I love the shell pouch, which holds 24 shells, allowing me to reload quickly.
Gloves
I don't like bulky gloves when using a call, or pulling a trigger, so I wear fingerless gloves with Sitka's Gore-Tex Hudson Muff. I keep handwarmers inside the pouch, so I my hands are warm and ready.
Shotgun
My first gun was a 12-gauge Remington 870 and it's still my go to shotgun. Known as a workhorse, it runs smoothly even on the ocean in January when I'm hunting sea ducks.
Canoe
If it's too cold for Argos, I bring my Old Town Canoe. Like LL Bean, they're a Maine based company. There's plenty of room for all my gear and it allows me to hunt places that I can't access by foot, or with larger boats. It's great for midday jump shooting too.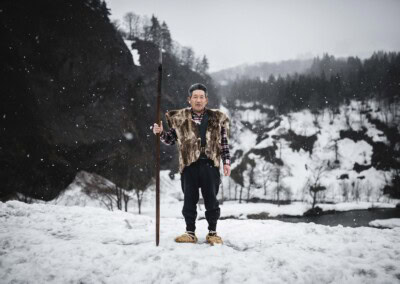 Matagi
"The word 'matagi' is derived from 'matagu', meaning to cross over, step over or straddle, bounding an image of people between two worlds — the realm of humans and that of the mountain deity: yama-no-kami." Scott Schnell, Ph.D., Associate Professor Emeritus in Anthropology This post is only available to members.
Deer Wars
Therein lies the overarching question: what does society want our landscape to look like? We seem to be moving toward a future where, in the name of "rewilding," people are disassociating with the land. This post is only available to members.