---
In the heart of the city, Seattle Fire Department's Station #6 houses Ladder Company 3. Renowned bamboo rodsmith Jimmy Watts stands in the kitchen of the busiest station in the city boiling freshly caught Dungeness crab with his fellow firefighters when the brass alarm bell begins to ring. Ladder Company 3 is called to nearly 2,000 alarms annually, but there's no monotony in the shrill, always sudden clang. Snapping to attention, the 20-year veteran turns off the burners on the stove, as his fellow crew members abandon workouts, naps, showers, shaves, stopping whatever they were doing to move in unison toward the rig.
Some alarms call Ladder Co. 3 to shootings and scenes of violence, or to deliver babies from the back of vans parked in alleys, or to rescue elderly couples from burning apartment buildings, but this one in early March harries Watts and crew seven blocks north to aid a middle-aged woman who has collapsed in her apartment. Entering the tiny seventh-floor studio apartment, Watts surveys the bleak scene, regarding the victim and her 20-something daughter who'd made the call — needle marks on their arms, paraphernalia nearby — and a young girl, perhaps 8 years old, the victim's granddaughter. The victim isn't breathing, and Watts is the first to reach her, to check her pulse: nothing. Within moments, the crew is performing CPR, inserting a breathing tube down the victim's throat, and initiating multiple IVs with various cardiac medicines. Coolly employing their thousands of hours of training and experience, they work while the daughter paces the room wailing inconsolably and the girl sits curled against the wall.
After nearly an hour of CPR, defibrillations, and countless doses of medicines administered, the victim regains a pulse; brought back to life, she is carried down seven flights of stairs into the back of a waiting ambulance. Watts and the crew ride in the back with the victim to the hospital,steadying the gurney and monitoring her vitals
Every tour involves some species of emotional or physical trauma, Watts explains from the passenger's seat in the fire truck. By now the victim has been safely delivered to UW's Harborview Hospital and with the crew headed back to Station 6, there's a lull in the action. The only time the trauma bothers him, he expounds, is when children are involved.
"What struck me about that alarm is that when we told the daughter her mother was alive again–which was against all odds–the love she showed was palpable. Tears of joy, relief. It was a fresh reminder that even in the dark — one bed with no sheets in a small studio apartment housing three generations of single women under a single bare bulb, needles strewn around — the light of their love was still there ."
Per standard operating procedure, Watts' fellow firefighters razz his empathic nature, cracking jokes that would make an HR director squirm, but theirs is the brotherly love of family-tight crew members who understand that Watts is a singular human being. A veteran firefighter who can help resurrect an overdose in the morning, and, once his shift is over, sit down in the Shuksan Rods studio to fashion, from Tonkin cane, a seven-and-a-half-foot five-weight, magic trout-wooing wand that is widely considered one of the finest bamboo rods made in the West.
***
Watts is the kind of person who, while moonlighting from a profession like firefighting, "just starts" making impeccably tapered bamboo fly-rods; the kind of person who completed 50 triathlons before he graduated high school in Spokane; who competed in three Iron Man races in college; who, while on spring break in southern California, saw a job posting for a beach lifeguard position, competed in tryouts the next day, placed second and was hired on the spot; who, after spending two years lifeguarding in Santa Cruz went to school to be a paramedic; and who, a few years later at the green age of 24, was hired from a pool of 5,000 by Seattle Fire Dept, one of only 50 rookies in the class of 2001.
"It's better to be last in line. I like to put other people first," he says, "whether it's baking bread for the family or dragging someone out of a fire."
Or fashioning from a species of grass, over roughly 70 hours, a tool that helps two-legged creatures connect with finned ones.
Oh yes, the rods, he shrugs. For someone as humble as Watts, talking about one's craft is like serving the feast that starves the masses, so it's prudent to tease testimonials out of some of the well-known anglers — bestselling novelists, acclaimed songwriters, indie rock drummers — that fish Shuksan rods.
"I've studied drumming for nearly 40 years," says Jason McGerr, drummer for Death Cab for Cutie, "and dedicated most of my adult life to refining the economy of motion, always searching for an effortless fulcrum. So I understand the physics of perfectly engineered wood in your hand as an extension of oneself. Jimmy's rods feel like that to me, a fine instrument he's clearly poured his life experience into, developing over time and trial. Like nerve endings that relay subtle sensations to guide us."
Watts and McGerr are longtime fishing partners, plying the Skagit system near their homes in Bellingham for anadromous runs or road tripping to the wilderness streams of Idaho and Montana, where they often link up with friends and "writer types" there, among them the reclusive novelist and author of The River Why David James Duncan.
"Nobody I know has engaged so viscerally and life-savingly with the elements of fire and water as Jimmy Watts. And only the legendary Glenn Brackett, of Winston and Sweetgrass fame, has gifted more cane rods to people and causes he loves.
"Jimmy has built me three rods, only one of which he let me pay for — because I pleaded! One is an eight-foot parabolic with a slow symmetrical action that calms me on the water, and changes how I experience the energy of the cast and wild fish. One, also an eight-footer, is a bit of a beast I use to fish bull trout on a river I won't be naming in any book or story I ever write. And the sweetest is a gem of a trout rod Jimmy named The Elkmoon to honor the eponymous mountain range and river in my new novel, Sun House."
"David," Watts says. He's back at the firehouse kitchen now, hacking into a fresh-baked, salt-crusted sourdough loaf that will go with the Dungeness lunch. Seattle plays host to some world-class dining, but you'd be hard-pressed to top the menu at Station 6, which is written daily on the fridge in dry-erase marker: Dinner: Drunken noodles, lettuce wraps with peanut sauce, Chinese broccoli with oyster sauce, spring rolls. "David was actually part of the inspiration for me to start building rods. Around 2005 or 2006 I watched Trout Grass [a documentary on bamboo trade and rodmaking which Duncan narrated] and decided that I needed to get a bamboo rod. But when I started pricing them out, I realized I couldn't come close to affording one. So I just had to start making my own."
At the time, Watts explains, he googled one of the doc's main characters, a bamboo broker named Andy Royer, and discovered that Royer's business in Seattle was located near the fire station.
"I called him for some guidance," Watts says nonchalantly, allowing that fortune favors the brazen. "He was a really generous, helpful guy. Told me making bamboo rods was a crazy endeavor, like stacking BBs underwater. But he gave me a name and sent me to Oregon where one of his friends was willing to teach me."
By 2007, Watts had formed Shuksan Rod Company and was producing bamboo rods that were instantly sought after by anglers and collectors alike for their impeccable balance and accuracy. In short order, he needed a workspace larger than his and his Registered Nurse wife Julie's one-bedroom apartment; as chance would have it, a friend of a friend had some free space in a local law office and offered Watts the use of it in exchange for, of course, a custom rod. In a word-of-mouth fishing town like Bellingham, the orders began to pour in from there. The going, however, was especially slow as Watts had chosen to eschew the use of milling equipment, doing everything instead by hand.
These days, Watts persists with traditional methods, and "everything by hand" means that the firefighter often clocks off from a 24-hour shift at Station 6, drives the I-5 highway home to Bellingham, tucks his two young sons into bed, and starts a backyard pit-fire of his own, over which he heat-treats culms of bamboo. "I like to put my head down to work most often in the very early mornings and after everyone has gone to bed."
"Bamboo is a grass, a cane full of sucrose, and the first thing you have to do is change the chemical process inside. When you get that bamboo in the ballpark of 300 degrees, it turns the sugars into candy. This changes the properties of the sucrose in the culm, caramelizing them essentially, which allows the rod to stay straight and snap back to straight as you cast it. Fire gives the culm its resiliency."
In his classic Letters to a Young Poet, Rainer Maria Rilke writes, "Perhaps everything that frightens us is, in its deepest essence, something helpless that wants our care."
Does Watts find it curious that the element he seeks to squelch by day is the same one whose properties he utilizes by night?
"I don't view fire negatively. It doesn't scare me, it doesn't scar me. I respect and understand its potential. I've spent countless hours crawling through it. What I'm doing as a rod maker with fire and bamboo is exactly what a potter is doing with clay and a kiln. And to spend 45 minutes roasting a culm beside a fire, focusing on the flames, is as peaceful and reflective. Once the culm is tempered, the next step is to take the smoking bamboo and dump it into cold water.
"Don't get me wrong. I've seen burn victims. I've had skin graft surgery of my own. Seen countless buildings and properties, people and memories, perish. I know the harm fire can do. But as a rodmaker, I need it."
Watts' embrace of this dichotomy is at the core of his craft, and as a natural consequence, his rods feel infused with something uncanny, instinctual, elemental.
"When you're on the threshold of a burning building," he muses, "and you open that door, it's just pressurized black smoke pushing back on you, black from all the synthetic materials that are burning. The smoke pushes out with a velocity you can feel. It's so dark, you can't tell if your eyes are open. You're entering a space you've never been in, and the layout of the building is unknown. We go down to our knees and crawl, following the walls, counting doors as we go, making a mental map of the dwelling. One firefighter orients, while the others search out for rooms and victims. Someone drags the hose; others carry tools like an ax or a pry bar. Air tanks are loaded with 25 minutes' worth of air when working under full exertion, but in a sense, time slows down as a result of focus."
Time, in other words, becomes irrelevant.
The way it does for Watts when he's shaving down a culm, wrapping guides or lacquering a blank. The way it does for an angler when they hold one of his finely built rods, casting across a shallow riffle, swinging a soft-hackle fly through the pewter-colored current where rainbow trout boil on emergent mahogany mayflies, the line coming tight and the bamboo blank buckling from tip to cork.
Though reluctant to call himself one, Watts is doubtless an artist, and as such has a muse: the late Liam Wood of Bellingham. Over two decades ago, 18-year-old Wood was fishing Whatcom Creek when a leaking gas pipeline spilled nearly 300,000 of unleaded gasoline into the creek and ignited; his and the lives of two neighbor boys were taken in the explosion, the mushroom cloud of which could be seen from downtown Seattle.
Watts has written eloquently about this tragedy and his connection to Wood in the essay "Once," his debut prose publication, which won the 2019 Robert Traver Fly-Fishing Writing Award, and is at work on a film about Wood's life. The two did not know one another, but they shared several mutual friends as well as a kinship with local watersheds. As he has aged, Watts has become struck by the heartbreaking notion that the note Wood left his parents that fateful evening — Guys, I'm fishing. Will be back before dark. Homework is done. — is the kind of note Watts' own sons leave for him before their adventures in the suburban woods.
Each rod Watts builds is an extension of Wood's passion, he feels, a continuance of a life guided by moving water, "a search for life unseen beneath the surface, and a hope to connect with it."
A bit choked up, he pauses to reflect further on Wood's life. He seems to want to wade further down this side-channel, but suddenly the Station 6 alarm begins to ring, and like bamboo — strong because it's flexible — Watts bends to pull on his boots.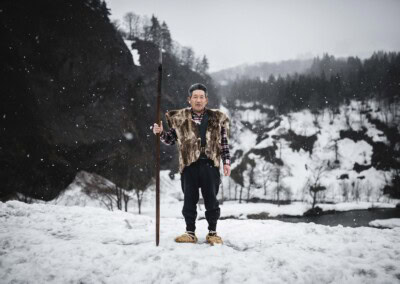 Matagi
"The word 'matagi' is derived from 'matagu', meaning to cross over, step over or straddle, bounding an image of people between two worlds — the realm of humans and that of the mountain deity: yama-no-kami." Scott Schnell, Ph.D., Associate Professor Emeritus in Anthropology This post is only available to members.
Deer Wars
Therein lies the overarching question: what does society want our landscape to look like? We seem to be moving toward a future where, in the name of "rewilding," people are disassociating with the land. This post is only available to members.