Women of the West: Malou Anderson-Ramirez
A LEAGUE OF EXTRAORDINARY LADIES
---
Spanning the generations, women have planted themselves here among the cactus and pine. They've forged unconventional paths west — hunting and harvesting stories worth remembering. Today, they are still heeding the call of their heritage, bravely shedding all that is frivolous as they head deeper into the backcountry. They pursue that which will outlive them, in faithful stewardship of the tender shoots of conservation. 
This league of extraordinary women have been tested and tried in the high lonesome; blooming amidst the rugged terrain with tenacity and grace that has changed the landscape on which they reside. They are too many to name — those women who have led the way — but each month we aim to share their stories. These are Women of the West.
MALOU ANDERSON-RAMIREZ
MONTANA
In the heart of the Tom Miner Basin — where the wild and working lands of the Greater Yellowstone area meet — Malou Anderson- Ramirez, her husband Andres, and their two young daughters have made their home. This ranch has been in Malou's family since her grandparents began ranching in the 1950s. They've raised both grass-fed beef and future generations on the fertile soil and under the snow-capped mountains of Montana.
"There is a lot of value placed on education in our family, which led me to boarding school back East as a young adult," said Malou, who then went on to college in Colorado and Montana. She met her husband, Andres, while living in California, and the pair later returned to Montana. "We finally moved back to my family's ranch in 2011. We are here now, raising our two young daughters, managing and maintaining a life together in this wild place."
Malou grew up hunting with her family in Montana, and while it wasn't the focal point of life on the ranch, it was a part of the rhythm of their lives. "It was a special time for us to be out on the ranch together, amongst the turning Aspen trees, the sweet fall smells and colors, and of course in the wild together. Back then, Tom Miner Basin was known for some of the best elk hunting found anywhere."
According to Malou, elk herds are different now for multiple reasons. But, even as a young woman, it was unsettling to watch the season bring a steady stream of traffic down the dirt road, dust clouds swirling over the masses who swarmed the previously peaceful valley, testing the rules and desperate for a successful hunt.
"For me personally, it always felt like too much, so much so that I and most of my family stopped hunting for the most part and especially here, in the basin," explained Malou. "We felt strongly that there should be some places where elk could find refuge, to stop running in every direction, and to rest."
She continued, "My last elk hunt was back in college, on a cold fall morning with my Uncle Matt." Malou didn't know at the time what a treasured memory that hunt would become, as it would ultimately be Matt's last elk hunt. Later that next summer, he died in a car accident. "I'll never forget the magic in his eyes that morning when we found the elk, or the tears in my eyes as I thanked the animal for the blessings I would receive through her. And perhaps I was also thanking her for that serene moment that would shape my own thoughts and feelings about the hunting culture and my place in or out of it."
Growing up in a wildlife-rich environment, Malou had no shortage of mentors to prepare her for life in the field. "I have a handful of amazing memories hunting with my dad and my own brothers," Malou said. "I remember my dad blessing the animal in the four directions after every hunt. By believing deeply we should live in harmony with nature, my dad showed us what it meant to experience and share a profoundly respectful elk hunt. There was gratitude for the time together, the land we share together, and most importantly for the animal that would provide for us."
Being at home in a place regarded as a mecca for hunters allowed Malou a rare front-row seat to the varied hunting practices in our community today. "I've witnessed the remarkable skill of archery and the amount of time some commit to learning to move across the landscape with keen eyes and a respectful heart. I've also seen a sub-culture of indifference and entitlement. This mentality in both our hunting and non-hunting circles is destructive. I hold a high level of regard for the sportsmen and sportswomen who set a higher standard in hunting practices."
Malou continued, "I do not currently hunt. For now, I am happy to have a freezer full of grass-fed beef." She is grateful for their rural lifestyle. "I will say, however, there is no better steak to me still than a medium-rare elk tenderloin with a rosemary marinade, and it was a staple for us growing up. Perhaps sometime in the future I will take my daughters out and attempt to recreate the hunting I grew up with, but for now, those memories lie in the celebrated past."
Malou, who founded the Tom Miner Basin Association, is also certified in equine therapy through NARHA and EAGALA. In the past decade, living and working on the family ranch has allowed her to experiment with regenerative agriculture as well, learning how to mimic larger ecosystems while utilizing their cattle as tools to better those systems. "I love to be horseback whenever life allows, and I'm most myself when I'm in the mountains. But my most important role is a mother to two beautiful girls," Malou said.
"Being a woman in an often male-dominated culture has allowed me to learn from, love, and admire some unforgettable men," said Malou, adding that there is no shortage of admirable women either. "There is a lot to be said for character. There is also something to be said for intelligence, grace, strength, style, self-awareness and tenderness. All of these are strengths in women I've met from all walks of life. I'm honored to know many, and I'm practicing through a lifetime to be one of these women myself."
KATIE MARCHETTI | MANAGING EDITOR
Katie is a Montana-based writer and editor with a passion for people and their stories. Raised on a cattle ranch near Yosemite National Park she's enamored by wide open spaces and the written word. Serving as Managing Editor for Modern Huntsman, you'll likely find her, pen in hand, documenting the history and tradition, the beauty and adventure to be found hunting, fishing and ranching the American West.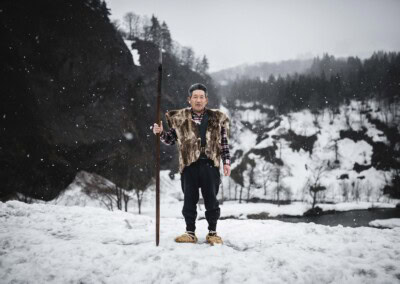 Matagi
"The word 'matagi' is derived from 'matagu', meaning to cross over, step over or straddle, bounding an image of people between two worlds — the realm of humans and that of the mountain deity: yama-no-kami." Scott Schnell, Ph.D., Associate Professor Emeritus in Anthropology This post is only available to members.
Deer Wars
Therein lies the overarching question: what does society want our landscape to look like? We seem to be moving toward a future where, in the name of "rewilding," people are disassociating with the land. This post is only available to members.