Take a walk around the Modern Huntsman office sometime and you'll find no shortage of good whiskey, primarily bourbons, in the space. While we are not claiming to be whiskey experts or even aficionados, we certainly enjoy and appreciate bourbons of all kinds.
Before we get into the review, let's be clear: we are all lay bourbon drinkers and wanted to create a review for those who may or may not be experts or aficionados. We wanted to approach this review the way that the majority of us would actually understand bourbon. It's important to us that we approached this from the perspective of your casual drinker so we can help make some good decisions for your own bourbon purchases.
For those who may not be aware of the differences in whiskey, bourbon, and rye, the primary thing to know about bourbon is that it is known to be the purest form of whiskey, whereby it has some strict rules to undergo in order to be considered a bourbon. Here's a brief rundown:
It must be made in the United States. Contrary to popular belief, it doesn't have to be made in Kentucky, although 95% of the world's supply is.

Aging must take place in a new, charred, oak barrel. The bourbon must be aged for at least two years to be considered a straight bourbon.

The mash must consist of at least 51% corn. Other ingredients in bourbon can include rye, barley, and wheat.

The whiskey cannot enter the barrel at higher than 125 proof, and cannot enter the bottle at a proof less than 80.

Nothing can be added but water, and only to lessen the proof when necessary.
Whether in the field, in the office, or around the house, here is a list of 12 of our favorite bourbons that we're drinking now. Enjoy!
---
Blade & Bow
Kentucky Straight bourbon
Blade and Bow Kentucky Straight Bourbon Whiskey pays homage to the artful passion and renowned craftsmanship of the legendary Stitzel-Weller Distillery with a unique solera aging system, a process typically reserved for aging cognacs, ports and sherries. This solera process preserves some of the oldest whiskey stocks, including the last remaining bourbon ever produced at Stitzel-Weller before it shut its doors in 1992. So, in essence, Blade and Bow Kentucky Straight Bourbon is the final chance to try the last remaining whiskey distilled at the original Stitzel-Weller Distillery.
Proof: 91
Tasting Notes: A hint of dried apricot and ripe pear on entry before melting into a sweet roasted grain taste mid-palate. The finish includes notes of charred oak and warm winter spices.
Price: $50 – $59
Jefferson's Ocean
Aged at sea
Jefferson's Ocean started out as an experiment with just three bourbon barrels on a ship, in a curious effort to discover what would happen if bourbon was left to weather the extreme elements: temperature fluctuations, salt air and the gentle rocking of the ship. The result was a thick, dark bourbon that showcases complex flavors reminiscent of other spirits; the almost black color and caramel flavors resemble a dark rum as the sugars within the barrels caramelized; the briny, savory taste from the barrels breathing the sea air is reminiscent of Islay Scotch; and at its core, it's a true bourbon.
Proof: 90
Tasting Notes: A strong dose of raisins and citrus on the nose. Thick notes of butterscotch, vanilla, brown sugar, and salted caramel dominate the palate, and lead to a finish accented by sweet hints of citrus.
Price: $80 – $85
oak & eden
in-bottle finished bourbon
Oak & Eden is coming in as the newest bourbon on the market in this review, but definitely among the most impactful. Notice something different inside the bottle? There's a spiral cut piece of oak in the bottle, called a "spire". Oak & Eden is the first ever in-bottle finished whiskey. What is finished whiskey? It is a process in which the aged spirit has "rested" or "finished" in a secondary barrel of a different origin as the aging barrel, imparting new colors and flavors that could not have been achieved in a single barrel. Oak & Eden took the concept of finished whiskey and expanded upon it, patenting the process of infusing into every bottle a toasted Oak spire in the place of the secondary barrel. And boy, does it make a difference. This 2-year bourbon is among the smoothest and drinkable whiskeys we've had.
Proof: 90
Tasting Notes: Vanilla and honey on the nose, adding toasted oak on the tongue, with a particularly smooth mouthfeel. A tasteful amount of sweet, toasted oak on the finish.
Price: $40 – $45
four roses
single barrel
A notorious fan favorite, Four Roses Single Barrel should be a staple whiskey in any liquor cabinet. Four Roses has been named American Whisky Distiller of the Year for 2011, 2012, 2013, and 2015 by Whisky Magazine. It's also won numerous awards, and with good reason. Distilled since 1888, this smooth Kentucky bourbon survived Prohibition. After disappearing from U.S. shelves for over 40 years, its return to the market in the 1980s brought about several new products, but nothing quite as remarkable as Four Roses Single Barrel.
Proof: 100
Tasting Notes: Dried spice, pear, cocoa, vanilla & maple syrup on the nose. Hints of ripe plum & cherries, robust, full body, mellow on the palate. Smooth & delicately long finish.
Price: $35 – $45
Russell's Reserve
10 year bourbon
Master distillers and premier whiskey makers Jimmy and Eddie Russell have artfully crafted one of the staple bourbons in the Modern Huntsman office, Russell's Reserve 10 Year Old Bourbon. Bottled at 90 proof, this hand selected small batch bourbon has a rich, caramel and vanilla taste and a uniquely smooth finish. Each batch of Russell's Reserve 10 Year Old Bourbon is crafted from casks personally selected exclusively from the center of Wild Turkey's rickhouse, by Russell and his son, Eddie.
Proof: 90
Tasting Notes: A nose of cinnamon, butter, and vanilla. Palate consists of a complex oaky sweetness alongside orange, dark chocolate, and leather. Nice, sweet, long finish.
Price: $35 – $45
Weller 12
the original wheated bourbon
It would be heresy to write a whiskey review and leave out Weller 12. Considered by many to be the "poor man's Pappy Van Winkle", Weller 12 may be one of the most coveted whiskeys on the market. As a member of the Buffalo Trace Distillery family, Weller 12 is one of the best bourbons you can get for a nominal price. Aged 12 years, if you see this bottle on the shelf, buy it. Let it breathe a little bit in a glass, and it will out-taste many of the competing bottles twice its price, which is something worth toasting to.
Proof: 90
Tasting Notes: Creamy, buttery, cherry, caramel tart, sweet, smooth, almond on the nose. The palate flavor is heavily wheated, rich, creamy, burnt oak, cherry and moderately sweet. Long, oaky, and very smooth finish
Price: $35 – $45
Angel's Envy
Kentucky straight bourbon finished in port wine barrels
Like Oak & Eden, Angel's Envy is a finished whiskey, where the aged spirit "rests" or "finishes" in a secondary barrel. Angel's Envy Bourbon finished in Port Wine Barrels is exceptional. It begins by aging for up to 6 years. Once it's deemed ready, the bourbon is then finished in ruby port wine casks, which adds subtly distinct flavor nuances that enhance the whiskey without challenging it. The port finishing process lasts between three to six months, depending on taste.
Proof: 86
Tasting Notes: Notes of subtle vanilla, raisins, maple syrup and toasted nuts on the nose. Palate catches vanilla, ripe fruit, maple syrup, toast and bitter chocolate. Finish is clean and lingering sweetness with a hint of Madeira that slowly fades.
Price: $45 – $55
George T. Stagg
barrel proof Bourbon
George T. Stagg is known to be the "powerhouse favorite" of the Buffalo Trace Antique Collection. This extremely hearty whiskey ages in new charred oak barrels for no less than 15 years. Straight out of the barrel, uncut and unfiltered, the taste is powerful, flavorful and intense. Open it up with a few drops of water, sit back and ponder the wonders of the universe.
Proof: Differs per barrel, but has at times risen above 140
Tasting Notes: Lush toffee sweetness and dark chocolate with hints of vanilla, fudge, nougat and molasses on the nose. Underlying notes of dates, tobacco, dark berries, spearmint and a hint of coffee round out the palate.
Price: $80 – $90
Garrison Brothers
Texas Straight Bourbon
Based out of Hye, TX, Garrison Brothers Small Batch bourbon is one of the most highly sought after bourbons in the market, and this Texas distillery is working hard to keep up with demand. Every barrel that's married together to create the Small Batch is at least four years old. Each year, a brand new vintage of this highly-coveted bourbon is released. In our opinion, this is not a cocktail bourbon; it should be enjoyed straight and with good company.
Proof: 94
Tasting Notes: Butterscotch, toffee, coconut, and a bit of spice on the nose. Butter and caramel with cinnamon, orange, and hone on the palate. Finish is warm and long with spun sugar and molasses.
Price: $80 – $90
Belle Meade
Cask strength reserve
Belle Meade Bourbon Cask Strength Reserve is a premium full strength bourbon created to quench the growing demand for well-aged, higher proof bourbon. This Nelson's Green Brier Distillery release is a blend of seven barrels of high rye bourbon (each aged between seven and 11 years) and bottled at cask strength. Not being cut to proof, each successive batch will be representative of those barrels only and will likely range in alcohol from 110 to 120 proof.
Proof: 110 – 120 depending on the barrel
Tasting Notes: While every batch is slightly different, all Belle Meade Bourbon Cask Strength Reserve is rich and full flavored. Showing vanilla, caramel, spice, and stone fruits.
Price: $60 – $65
Tincup
mountain Whiskey
TINCUP, while not a bourbon, is a good whiskey, especially for the outdoorsman. It is a blend of two great American whiskeys, each aged in #3 charred oak barrels. "High rye" bourbon, distilled and aged in Indiana, is blended with a small amount of Colorado single malt whiskey. These whiskeys are then cut with Rocky Mountain water. TINCUP is a nice, easy-drinking whiskey, and conveniently comes with a tin cup lid for easy pour & enjoyment.
Proof: 84
Tasting Notes: The nose is pleasantly filled with red fruit and vanilla. The rye spice factor comes through on the palate. Brown sugar and just a bit of barrel spices are present with a finish that is warming and pleasant.
Price: $25 – $30
Whistlepig Rye
FARMSTOCK RYE CROP NO. 002
Yes, we are fully aware that we are releasing a rye on a bourbon review, but WhistlePig's latest release, Farmstock Rye Crop No. 002 deserves every bit of a special feature. Based out of Vermont, WhistlePig restored America's faith in rye whiskey. They live by a simple ethos: protect what makes Rye Whiskey great, toss out the rest, and then innovate to make it better. FarmStock Rye Crop No. 002 is the second blend of a limited edition annual FarmStock estate release. It is the latest of their products showing farm-based innovation and the next step in achieving WhistlePig FarmStock's 100% Triple Terroir™ vision – whiskey distilled from their grain, proofed with their water and aged in custom Vermont White Oak.
Proof: 86
Tasting Notes: Orange zest, white chocolate, vanilla bean and fresh pear combine with a gentle Rye spice on the nose. Delicate fruitiness on the palate gives way to a full-bodied burst of spice, rounded by notes of allspice and cinnamon and balanced with a pleasant dryness. White pepper and oak spice leave a light and surprisingly lengthy finish.
Price: $70 – $80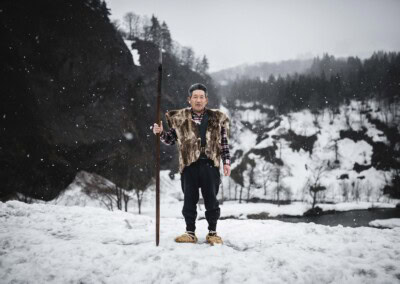 Matagi
"The word 'matagi' is derived from 'matagu', meaning to cross over, step over or straddle, bounding an image of people between two worlds — the realm of humans and that of the mountain deity: yama-no-kami." Scott Schnell, Ph.D., Associate Professor Emeritus in Anthropology This post is only available to members.
Deer Wars
Therein lies the overarching question: what does society want our landscape to look like? We seem to be moving toward a future where, in the name of "rewilding," people are disassociating with the land. This post is only available to members.