RECIPE BY Emma Teal Laukitis & Claire Neaton, The Salmon Sisters
PHOTOS BY Brian Grobleski & Dawn Huemann
---
Our friend Jan has worked for many years as a commercial fisheries manager for the Alaska Department of Fish and Game, which is partly to say—she knows fish and she knows how to cook them. Jan's salmon cakes often fuel the women who play on her ice hockey team before tournaments and herself on long open-ocean swims, but yours might be the perfect protein-packed weeknight meal. These salmon cakes are our favorite way to give leftover salmon a second life, or to use the canned salmon in our pantry cupboards. Serve with the spicy dipping sauce for maximum enjoyment.
MAKES 4 TO SIX SERVINGS

INGREDIENTS
1 tablespoon extra-virgin olive oil
1 medium yellow onion, diced
2 (15-ounce) cans wild pink or red salmon, or 4 cups cooked salmon, bones removed
1 1/2 cups Italian bread crumbs, plus more for dredging
1/2 cup chopped fresh parsley
1 teaspoon kosher salt
1 teaspoon freshly ground black pepper
3 large eggs, beaten
1 tablespoon mayonnaise
1 tablespoon Dijon mustard
1 tablespoon Worcestershire sauce
Vegetable oil, for frying
FOR THE DIPPING SAUCE:
1/2 cup mayonnaise
1 tablespoon Tiger Sauce or other favorite hot sauce

DIRECTIONS
1. Heat the olive oil in a large frying pan over medium heat. Sauté the onion until translucent, then transfer to a small plate and set aside to cool. Wipe out the pan to reuse
2. In a large bowl, mix together the salmon, bread crumbs, parsley, salt, pepper, and cooled onion. In a small bowl, whisk together the eggs, mayonnaise, mustard, and Worcestershire. Add the dressing to the salmon mixture. Form the mixture into 1/3-cup balls and then flatten into burger-shaped patties. Dredge in bread crumbs.
3. In the large frying pan, heat the vegetable oil. Carefully lower the salmon cakes into the hot oil, frying them until golden brown, about 3 minutes per side.
4. Meanwhile, make the spicy dipping sauce by mixing together the mayonnaise and Tiger Sauce in a small bowl. Serve with the salmon cakes.
©2020 by Emma Teal Laukitis and Claire Neaton. Excerpted from The Salmon Sisters: Feasting, Fishing, and Living in Alaska by permission of Sasquatch Books.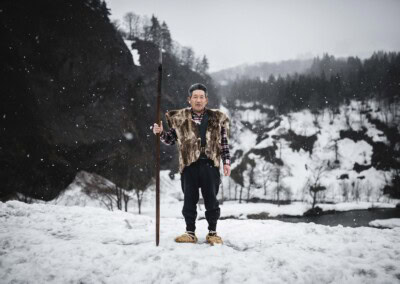 Matagi
"The word 'matagi' is derived from 'matagu', meaning to cross over, step over or straddle, bounding an image of people between two worlds — the realm of humans and that of the mountain deity: yama-no-kami." Scott Schnell, Ph.D., Associate Professor Emeritus in Anthropology This post is only available to members.
Deer Wars
Therein lies the overarching question: what does society want our landscape to look like? We seem to be moving toward a future where, in the name of "rewilding," people are disassociating with the land. This post is only available to members.