---
Scenes of what Hawaii could be construct my perception of this place. A lei of bright, living flowers draped over your neck as you emerge from a long flight over the Pacific. The raw power of Pipeline, a proving ground for surfers from around the world. Pineapple, clear blue water, and of course SPAM, a relic of WWII that is still a food staple on the island paradise. Then, the cooking of Yeshua Goodman entered my consciousness.
Yeshua — or Shua, as he is known to his friends — was born on Big Island and is intimately aware of the issues that Hawaii faces in terms of food sourcing and invasive species. That's why he makes a tremendous effort to prepare axis deer and cook over kiawe, a thorny hardwood tree native to South America that has completely transformed coastline access, making some places impassable. Both ingredients are plentiful and vital in Shua's fiery presentation of Hawaiian cooking traditions with his company, Kiawe Outdoor.
To eat with Yeshua is to experience something raw and real, an embrace of open flame that gives distinction to the food he prepares over the blistering heat of glowing coals. After he cooked for the LaCrosse team during their latest axis deer expedition to Hawaii, as featured Modern Huntsman Volume Four: The Women's Issue, I had to know more. I hope his perspective transforms your idea of this mythical place, as it has mine.
Yeshua, what sparked a passion for cooking in your life?
Sparked. Nice.
It actually started around the campfire. Camping in Maui as a kid, perched next to a waterfall, making saimin (Hawaii's version of ramen) and chili and rice for my friends. I was always around the fire, grilling ribeyes and fish that we would catch. As I grew older, the ability to be creative through food was always the easiest way to express myself. I hated recipes. I always wanted to reinvent myself and never made the same thing twice. I'd watch cooking shows instead of cartoons.
My cooking took a detour after moving to the front of the house and becoming a sommelier in California. I worked with some incredible chefs, learning the art and science of pairing wines with food. The way they've been doing it for millennia in the Old World. It wasn't until I moved back to Maui and started cooking up on the mountain over fire that I made the jump back to the culinary side. Cooking was in me since I was a kid and I fell in love with a method that has been in all of us for thousands of years.
Axis deer are an invasive/non-native species in Hawaii and despite its detrimental effects to agriculture and native flora, it has also thrived and expanded the state's hunting industry. You like to use deer in your cooking, so how do you see these animals culturally and from a sustenance standpoint?
This is a hot topic in Hawaii. The deer are so invasive and overpopulated that hunting is not just encouraged, it's necessary. The challenge is that some conservationists want the deer completely eradicated and some just want them properly managed. The deer have only been on Maui since 1959, but that's a few generations of hunters having access to some of the best game in the world and I don't see them ever completely going away. For Kiawe Outdoor, our business model is centered in an endless supply of invasive Kiawe wood and venison. We're grateful for having such an incredible resource all around us, but are completely aware of the challenges that these beautiful creatures pose. Native forests are being fenced in and farmers and ranchers are taking the same precautions. The deer eat everything. With the native plants gone, rain water runs down the mountain, causing erosion and even affecting our coral reefs. The impacts are real. The question is, how do we manage it?
How important is wild or local food when considering a meal?
Local fish, game, and produce are some of the healthiest options we have. The local axis deer is not only one of the best tasting proteins out there, it is one of the healthiest. With no predators, the deer graze on the wild flora and fauna of Maui. Why shop at the market? We call it grocery shopping when we're hunting and fishing.
Currently the state of Hawaii imports about 90% of our food. On an island chain that can grow anything, this has to change. There are amazing local restaurants that are leading the charge and we're right there with them. At our Kiawe events, about 90% of the food is local. Soon we'll do a 100% local event by gathering local salt, pressing our own olive oil, and harvesting from the abundance that Maui has to offer.
How did Kiawe Outdoor begin? What is your mission?
Kiawe Outdoor was forged in creativity and pushing the limits of what's possible. And it happened by accident. It started as a group of friends heading up the mountain with primal cuts, farmer's market produce, and extraordinary wines. And each time we would cook, we'd invite some different friends. It struck a chord with people and made them kids again, sitting around the fire with dad. The sizzle of the drippings landing in the coals, swirling a glass of grand cru burgundy, kids laughter echoing into the foggy tree-line as the sun dips into the pacific. Pure magic. Before long I was cooking for friend's get togethers and weddings. It was around this time, my longtime pal Ben Classen called and said I needed to make this a business. We teamed up and Kiawe Outdoor was born.
We don't have an official mission statement, but I'd say our mission is to connect people with nature and each other by pushing the limits of what's possible. Forging new paths. Creating. Always whimsical. Our dinners are unlike anything else. We have 1000 lbs "living tables" with herbs and flowers growing out of the center of the tables. We make sourdough in the coals. But we don't want to give away too many secrets, you'll have to come try it for yourself.
You travel around the world to host dinners that introduce people to Hawaiian cuisine. Many people understand "aloha" as Hawaiian words for hello and goodbye, but there is also a much deeper meaning of the word in Hawaiian culture. Can you explain its importance to you, and how that philosophy is represented in your food?
Our events are about connecting with nature and connecting with each other. That is the true definition of aloha. Allow me to explain.
The literal definition breaks down as "alo" meaning "presence" or "to face" and "ha" meaning breath. So aloha literally means to share a breath with someone. In Hawaii the traditional greeting, called "honi" is to briefly touch foreheads and share a breath together. It's intimate and vulnerable.
That's aloha. Connecting with each other in an intimate setting, sharing a meal, cooked in a way that strikes a primordial cord and reminds us of some of our favorite memories as kids. That's our definition of aloha.
What dish carries the most meaning in its preparation, and why?
Paiai (PA-ee-ai) and lawalu (la-VA-lu). Paiai is in essence a firmer version of poi. It's a fermented superfood that ancient Hawaiians would take with them on their sea voyages, sustaining them on the long journeys. We grill it and serve it as a side. Chewy, delicious, and deeply rooted in our culture.
Lawalu is a traditional Hawaiian cooking method, wrapping fish and game in ti leaves. With that tradition as our inspiration we will wrap local snapper that we catch with aromatic herbs, kaffir lime, ginger, garlic, and chilis and cook the individual pouches on the coals. We hang the heads and bones of the fish over the coals and make a broth to pour over the dish table side. We then hit it with fresh herbs and ripping hot peanut oil. People lose their minds. A dish rooted in Hawaiian culture but with Thai and Chinese influence. The sugarcane industry in Maui brought immigrants from all over the Pacific to tend the sugarcane fields. With them came their culture and various cooking techniques. Growing up here, I've been exposed to food from all over the world without having to travel. Hawaii is truly a melting pot of cultures and we try to showcase that in our cooking.
What are some of the organizations that you are currently working with?
The one we're most proud to work with is Uhiwai o Haleakala, who just got their 501 (c) (3) just recently. Our good friend Andrea Buckman manages the Leeward Haleakalā Watershed Restoration Partnership (LHWRP), the watershed partnership on the leeward side of the island. She'll never admit it, but she has one of the most important jobs on this island, protecting our most important resource. I've flown with her by helicopter to remote parts of the island and we'll plant thousands of native plants and trees in a day. Some of the most rewarding work you can do. And we're seeing drastic results. In the coming years, we'll witness streams that haven't flowed in 50 years.
We've been supporting them however we've been able to, cooking for their overnight events up in the mountains often when they are eradicating invasive species such as pine and wild boar. Not long ago there was a thriving forest of native plants, trees, birds, and bugs. The work that Uhiwai is doing will bring back that forest and protect the next 10 generations.
To book an event with Kiawe Outdoor on Maui and the Hawaiian Islands, you can contact Yeshua on his website
Follow Kiawe Outdoor on Instagram, @kiawe_outdoor
Lure of the Laguna
Lure of the Laguna is the first film in our four-part series with Lone Star Beer. Chapter One features angling savant Ben Paschal and his obsession with saltwater fly fishing on the coast of Texas. It's a story about hard work, dedication, and bailing on the internship his parents wanted him to take to follow his passion in the Laguna Madre.
El Observador
"El Observador" is a short documentary following wildlife cinematographer Austin Alvarado and explores his relationship with nature via his work pursuing black bears in Far West Texas. It is a visually stunning journey through the Big Bend region that highlights the incredible resilience of bears that have returned to this area. "El Observador" is a Modern Huntsman film presented by SWAROVSKI OPTIK.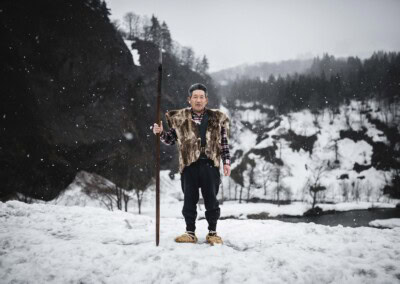 Matagi
"The word 'matagi' is derived from 'matagu', meaning to cross over, step over or straddle, bounding an image of people between two worlds — the realm of humans and that of the mountain deity: yama-no-kami." Scott Schnell, Ph.D., Associate Professor Emeritus in Anthropology This post is only available to members.