---
My kids are learning at an early age to know where our food comes from. Lobster is one of our favorite things to eat, but we refuse to simply buy it at the store. Like everything else we can take for granted, it is so much more rewarding to source it ourselves and there's no better example of that then night diving for lobster. Here in Hawaii we have more respect for the ocean than possibly anything else, especially at night. Amongst the sharks and other nefarious creatures, you're focused on scanning the reef for glowing eyes all while trying to avoid getting swept into a cave or jagged rocks.
We were fortunate to harvest three male lobsters and released any females to make lots of lobster babies, ensuring that the next generation has access to the same things we do. We want back to dry land with our catch and the kids were pumped. Lobster was on the menu.
We recently featured this recipe at an event with Louis Roederer and paired the lobster with Cristal Champagne. The perfect pairing.
Hawaiian Spiny Lobster with Seaweed
Butter Emulsion and Roasted Fennel
Serves three | 2.5 hours cook time
Ingredients
Lobster Stock
3 Lobster Bodies + Tomalley, crushed with gills removed
2 Large Carrots
2 Celery Stalks
1 Large Onion
1 Shallot
1 Can Tomato Paste
1 Cup Brandy or Dry Sherry
1 Bay Leaf
1 Sprig Thyme
1/2 Tsp Paprika
1/4 Tsp Cayenne Pepper
2 Tbl Butter
2 Tbl Olive Oil
Salt & Pepper
Seaweed Butter
2 Cups Butter, room temp
1 Cup Wakame Seaweed
Sourdough Fried Bread
1/4 Boule Sourdough
2 Tbl Butter
2 Tbl Olive Oil
Salt
Roasted Fennel
1 Fennel Bulb
2 Tbl Olive Oil
2 Tbl Meyer Lemon
Salt and Pepper
Garnish
1/2 cup Heavy Cream
2 Shiso Leaves
Directions
1. Execute lobsters by carefully splitting with cleaver or knife. Remove gills. Remove tails and blanch. Split tails and remove veins. Store tails for plating.
2. Rough chop vegetables and sweat in butter and oil in large stock pot. Add tomato paste. Crush lobster shells and add to pot. When shells turn red, deglaze with sherry or brandy. Fill with water to amply cover lobster. Add seasonings, bay leaf, and thyme. Bring to boil and reduce heat to low. Simmer for 2 hours. Add water as needed. Strain through chinois.
3. Fold minced seaweed into butter and chill until plating.
4. Quarter fennel bulbs. Season with salt, pepper, and olive oil. Roast fennel bulbs in oven at 350 degrees for 1 hour. Dress in fresh Meyer lemon and olive oil and set aside.
5. Cut sourdough into large batons. Fry in oil and butter until crispy and golden brown. Salt while hot.
6. In a saucepan poach lobster tails in butter till tender.
7. In another saucepan heat lobster stock. Add cream. Mount with seaweed butter.
8. Chiffonade shiso leaves.
9. Plate in a shallow bowl. Bottom to top: Lobster emulsion, lobster tail, roasted fennel, fried bread and shiso.
Invite friends over. Enjoy. Lick the bowl.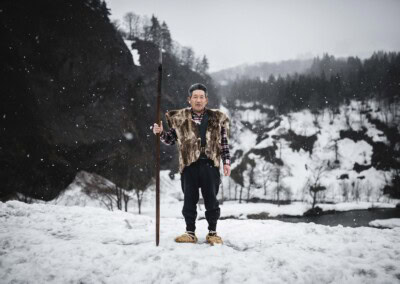 Matagi
"The word 'matagi' is derived from 'matagu', meaning to cross over, step over or straddle, bounding an image of people between two worlds — the realm of humans and that of the mountain deity: yama-no-kami." Scott Schnell, Ph.D., Associate Professor Emeritus in Anthropology This post is only available to members.
Deer Wars
Therein lies the overarching question: what does society want our landscape to look like? We seem to be moving toward a future where, in the name of "rewilding," people are disassociating with the land. This post is only available to members.