---
On the first morning, we worked our way across the mountain, over the ruthless, craggy, uneven volcanic rocks of the Hawaiian landscape (that made me thankful to be wearing a sturdy pair of boots), and up to a perch overlooking a wide-open vantage point.
As the island awoke, and the first shafts of light touched the Earth, the immense valley began to teem with life. My breath hitched, and I was left in complete awe of this magical place; it was not what I expected. Though the hunt had only just started, I found myself wishing to slow down the sun, wanting longer days to add to this incredible place. Herds of wild axis deer made their usual morning route up the mountain from the lower regions, and all the while bucks roared around us. Sierra opted out of hunting that morning to see the look on my face if I were to harvest a deer on my first rifle hunt. A chuckle escaped her as I leaned over and said, "As much as it pains me to say this, you were right about this place."
When Sierra Langbell, Erin Hutch, and the team at LaCrosse Footwear proposed an axis deer hunt on a Hawaiian island, I was apprehensive — how could hunting in a tropical paradise measure up to the rugged and rewarding hunting experiences I have had before? I had hoped for a hunt that would challenge us physically and mentally, the kind of a hunt where moments not only become milestones in your hunting history, but also change you as a person. Trusting my friends and the reassurance that I would not regret it, I agreed to join them. The island we were headed to, said to be named after Māui, a Polynesian trickster demi-god, at least seemed to have a name that challenged the definition of adventure.
Like all big game in Hawaii, the axis deer we were hunting — also known as chital — are not indigenous to the island; they're wild and free-range transplants hailing from India. These dainty, red-hided deer, with varied rows of stark white spots dotting their backs like stars, are reminiscent of what one imagines old-world hunters pursued. A herd of axis deer was brought over to Molokai as a gift from Hong Kong for King Kamehameha V in the 1860s. Over the years, the deer were translocated to Oahu, Lanai and Maui for increased hunting opportunity, and soon became a staple and prolific species on the islands. The animals adapted well, and hunting serves to help keep populations in check while also providing food for those with the skills and knowledge to harvest it.
In traditional Hawaiian culture, men were hunters and women gatherers. Yet, when outfitters and Maui natives Rodney and Dawn Perreira chose to raise their daughters, Emily and Amanda, as hunters, they defied local tradition to pass on the hunting values, the wisdom, and the Aloha Āina of their people. Aloha can mean both hello and love, and Āina simply refers to the land. Their culture embraces this concept — love of the land — and they believe that through understanding and respecting the land, you develop gratefulness in all areas of your life. According to Rodney, to develop the Aloha Āina, become successful, and earn your place as a hunter is a great honor.
As hunting is predominantly a preserve of men, to become a huntress is an esteemed position of respect for a female, if even for the rarity. Though in her early 20s, accomplished huntress and guide Emily Perreira is wise beyond her years. Her knowledge of the land and the animals, and her positive mindset, are evident in the way she interacts with her environment. Through her, I came to better understand the happy, humble, kind and optimistic way of life that the Hawaiians live; I found it to be infectious. But, like all forms of hunting, the Maui landscape can be grueling. Little did I know that by the end of this trip, our trials and tribulations on this rugged-but-beautiful jewel of an island would make us a family, an Ohana.
Success nearly evaded me that morning, as we packed up our gear and made our way down the mountain under the sweltering heat of a South Pacific July sun. We were only a few minutes from where we started when we were stopped in our tracks by a buck feeding 100 yards down the hill. After glassing him up, Emily confirmed that he was a mature deer and that someone should fill their buck tag. Trusting Emily's judgment and experience, I popped up on the shooting sticks and settled my crosshairs on his shoulder. Moments passed, and the world and sounds around me faded — blurred into a tunnel vision of calm and concentration. I exhaled audibly and squeezed the trigger.
I'll never forget standing over that deer, his flanks bathed in the tropical sun. In complete awe, I basked in the heavy silence of that special moment, surrounded by my friends, in a new place that was fast etching its landscapes into my heart. Emily threw her arm around my shoulder and whispered, "He was meant for you. You were meant to tell his story." As I looked up at Sierra, she nodded her head. She was so right, and I felt somewhat guilty for doubting her, and for doubting the possibility of this island to deliver a life-changing hunt. I think sometimes we get so anchored to a preconceived notion of adventure that we miss the unique experiences right in front of us. There's a beauty in life and death, a fragile, humbling balance that is difficult to explain, and it's moments like these that create a bond stronger than friendship.
In our home life, I've always told my son something very important about hunting, something I hope will help him understand the magnitude of responsibility for taking a life: "When you kill an animal, you lose a piece of your soul to it; but if you respect the animal, eat it, and share it with others and celebrate its life, then you will forever carry a piece of it with you." This way of thinking parallels how Hawaiian culture views hunting and the Aloha Āina, and this is when it came full circle for me.
As we sat around the table on the last night of our expedition, enjoying the fruits of our labor skillfully prepared over a wood coal fire, we shared stories of our time, and a quiet recognition of the significance of what we experienced grew among us. Hawaii had made a greater impact than we had expected. It was a palpable emotion, seen with joy and respect on the faces of our group — people I would call family from then on. I felt the weighty desire to share this experience with the world when I got home — these people, their deeply rooted connection with nature and hunting, and how effortlessly they welcomed us into their world. Cultural exchange at its finest.
Body tired, spirit filled, and carrying freshly harvested stories and exotic axis meat, my flight carried me much too slowly back to my husband, son and dog in the cornfields of the Midwest. It was a stark contrast to the vibrant gemstone shades of Maui, and I realize now that this trip has made my life better by introducing me to the Aloha Āina, sending me away with a greater appreciation for the humbling beauty of life, and forever changing the way I view myself as a hunter. I want to continue the beautiful traditions of this place, its people and their deep connection with nature. I find myself wryly thankful for the lessons that this trip has taught me, and it seems that the voice of Māui echoes back … Mahalo.
Lure of the Laguna
Lure of the Laguna is the first film in our four-part series with Lone Star Beer. Chapter One features angling savant Ben Paschal and his obsession with saltwater fly fishing on the coast of Texas. It's a story about hard work, dedication, and bailing on the internship his parents wanted him to take to follow his passion in the Laguna Madre.
El Observador
"El Observador" is a short documentary following wildlife cinematographer Austin Alvarado and explores his relationship with nature via his work pursuing black bears in Far West Texas. It is a visually stunning journey through the Big Bend region that highlights the incredible resilience of bears that have returned to this area. "El Observador" is a Modern Huntsman film presented by SWAROVSKI OPTIK.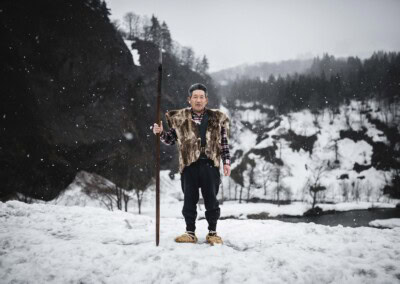 Matagi
"The word 'matagi' is derived from 'matagu', meaning to cross over, step over or straddle, bounding an image of people between two worlds — the realm of humans and that of the mountain deity: yama-no-kami." Scott Schnell, Ph.D., Associate Professor Emeritus in Anthropology This post is only available to members.