HEADSPIN Convertible Lighting System
---
Dawn had yet to break. With sharp focus despite the early hour, the hunter prepared his gear in anticipation of what may come. Turkey call — check. Facemask — check. Shotgun shells — check. He picks up his HEADSPIN kit and readies the headlamp before pocketing the flashlight mount, knowing it will be needed before reaching the blind. He embarks on the hunt, setting the lamp to its lowest setting to conserve power and to slip undetected to his blind. What happens next is unknown, but his mind is at ease knowing that darkness is no longer a factor.
This is the narrative behind HEADSPIN, a convertible lighting system designed to meet the many needs of the modern outdoorsmen and women. At its core is powerful, compact light that can reach as much as 400 lumens in flood mode, and as little as 10 lumens, helping the user adapt to changing light and situations. But what makes HEADSPIN truly unique is the SPINDOCK™ connection system, which utilizes magnets across a variety of mounts to accommodate our needs, whether it be on a bike trail, in a turkey blind, or during an early morning summit to a mountain peak. Even the light itself is magnetic, creating nearly endless possibilities for application. We require versatility. This lighting system excels in that regard.
To match its many applications in use, the product designers at HEADSPIN devised both wall outlet and USB charging, allowing for easy charging at home or in the field via portable power. Reliability is also addressed with IP66 weatherproofing and a two-meter drop rating.
The HEADSPIN Convertible Lighting System includes:
Rugged carrying case

HEADSPIN light with intuitive four-button controls

Headlamp mount

Rail / bike mount

Flashlight mount

Cordless charging station

USB cable
Lure of the Laguna
Lure of the Laguna is the first film in our four-part series with Lone Star Beer. Chapter One features angling savant Ben Paschal and his obsession with saltwater fly fishing on the coast of Texas. It's a story about hard work, dedication, and bailing on the internship his parents wanted him to take to follow his passion in the Laguna Madre.
El Observador
"El Observador" is a short documentary following wildlife cinematographer Austin Alvarado and explores his relationship with nature via his work pursuing black bears in Far West Texas. It is a visually stunning journey through the Big Bend region that highlights the incredible resilience of bears that have returned to this area. "El Observador" is a Modern Huntsman film presented by SWAROVSKI OPTIK.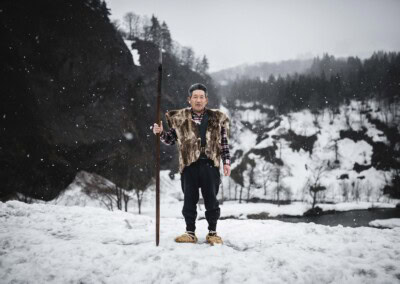 Matagi
"The word 'matagi' is derived from 'matagu', meaning to cross over, step over or straddle, bounding an image of people between two worlds — the realm of humans and that of the mountain deity: yama-no-kami." Scott Schnell, Ph.D., Associate Professor Emeritus in Anthropology This post is only available to members.