ORIGINALLY PUBLISHED IN MODERN HUNTSMAN, VOLUME FOUR: THE WOMEN'S ISSUE
GET YOUR COPY HERE
---
She pours with care. The crimson stream from a bottle of 2017 zinfandel embodies over 100 years of winemaking successes and challenges, a tradition that began with an Italian family who planted their roots in northern California with the A. Rafanelli Winery. With practiced hands, Rashell "Shelly" Rafanelli ends the pour with a slight turn so none of her livelihood succumbs to the fate of a napkin, rather than dance on her palette. A shame that would be, given the exceptional quality of her zin and its careful pairing with the table fare before her at Wing & Barrel Ranch, a 1,000-acre private club located in beautiful Sonoma, just 35 miles north of the San Francisco Bay Area.
Shelly Rafanelli of A. Rafanelli Winery, Chef Charlie Palmer during a tasting with Wing & Barrel Ranch executive chef, Scottie Romano.
Dedicated in equal parts to upland hunting, clay shooting, hunting dog traditions, seasonal food and the best-quality wine and cigars, Wing & Barrel Ranch offers an exclusive opportunity for members to enjoy casual acquaintance with world-class winemakers like Shelly Rafanelli and such top-notch chefs as Charlie Palmer.Shelly represents the fourth generation of the Rafanelli family and is responsible for every drop — from vine to barrel — of zinfandel, merlot and cabernet sauvignon resting in oak barrels within the cellars of A. Rafanelli. You won't find these bottles at your local wine shop. Her commitment to handcrafted, small batches has awarded her family's winery the luxury of selling directly to a loyal clientele and select restaurants, with Wing & Barrel proudly among them.
Wing & Barrel Ranch Vintner Members like Shelly and her family gain access to a world-class sporting clays course, seasonally curated menus by the James Beard Award-winning Chef Charlie Palmer, upland bird hunting, dog training and boarding, and a unique cigar program. A tremendous wine list from its prestigious cast of vintner and winery members and much more completes the experience, all within an hour's drive from the Golden Gate Bridge. Though she had some sporting exposure as a youth, Shelly rediscovered her connection to hunting in the fields and shooting courses at Wing & Barrel Ranch. The birds that define upland hunting — quail, pheasant, chukar — also provide an opportunity for club members to strengthen their relationships to the outdoors, while the club's talented chefs expertly prepare them in true field-to-table fashion.
Meals like Chef Palmer's blackened Sonoma County quail demonstrate how these game birds can be approached with dignity. Pair these dishes with an A. Rafanelli label, and they levitate. Zinfandel is truly a wonderful companion to game birds. With balanced body and fruit notes that celebrate rather than overpower the delicate flavor of quail, Shelly's 2017 vintage sings. "It's all about the pairing," she said with delight still clinging to her voice after she spent a recent early autumn afternoon exploring food and wine connections for the club's new menu with Chef Palmer and his executive chef, Scottie Romano, visiting from Charlie's nearby Dry Creek Kitchen restaurant.That pairing is made possible by Shelly's acute attention to detail and Charlie's ambitious take on American cuisine. Food and wine married with the best in upland hunting results in a casual sophistication and rural elegance that only Sonoma can evoke and only Wing & Barrel Ranch can deliver.
See Chef Charlie Palmer's Recipe for Blackened Quail here.
Wing & Barrel Ranch memberships are extremely limited and will sell out soon.
For more information, go to: wingandbarrelranch.com
Lure of the Laguna
Lure of the Laguna is the first film in our four-part series with Lone Star Beer. Chapter One features angling savant Ben Paschal and his obsession with saltwater fly fishing on the coast of Texas. It's a story about hard work, dedication, and bailing on the internship his parents wanted him to take to follow his passion in the Laguna Madre.
El Observador
"El Observador" is a short documentary following wildlife cinematographer Austin Alvarado and explores his relationship with nature via his work pursuing black bears in Far West Texas. It is a visually stunning journey through the Big Bend region that highlights the incredible resilience of bears that have returned to this area. "El Observador" is a Modern Huntsman film presented by SWAROVSKI OPTIK.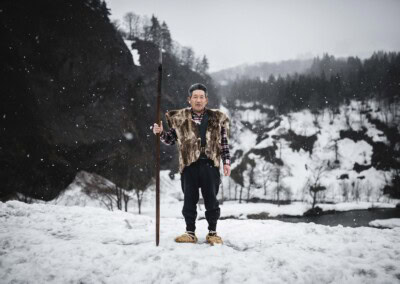 Matagi
"The word 'matagi' is derived from 'matagu', meaning to cross over, step over or straddle, bounding an image of people between two worlds — the realm of humans and that of the mountain deity: yama-no-kami." Scott Schnell, Ph.D., Associate Professor Emeritus in Anthropology This post is only available to members.