Women of the West: Rachel Ahtila
A LEAGUE OF EXTRAORDINARY LADIES
---
Spanning the generations, women have planted themselves here among the cactus and pine. They've forged unconventional paths west — hunting and harvesting stories worth remembering. Today, they are still heeding the call of their heritage, bravely shedding all that is frivolous as they head deeper into the backcountry. They pursue that which will outlive them, in faithful stewardship of the tender shoots of conservation.
This league of extraordinary women have been tested and tried in the high lonesome; blooming amidst the rugged terrain with tenacity and grace that has changed the landscape on which they reside. They are too many to name — those women who have led the way — but each month we aim to share their stories. These are Women of the West.
RACHEL AHTILA
BRITISH COLUMBIA
Born and raised in Kelowna, British Columbia, Rachel Ahtila was a "horse-crazy bush kid," who forged a winding path to becoming one of the most well-known women in hunting. Although she wasn't raised in a hunting community, her parents gave her a loose rein at the wise old age of 11. She then began traveling north for the summers to chase horses at a remote hunting lodge in the mountain valleys of the Muskwa-Kechika.
"I owe a great deal to John Devries and Garth Olafson. I wrangled for these two gentlemen when I was a kid," said Rachel. "Bless their hearts for earnestly answering and showing me that a hunt is so much more than pulling the trigger."
"As the years started to unfold, I began wrangling and tagging along on the early sheep hunts before school started in the fall — needless to say, I got the bug in a big way," she explained. By 19, Rachel had her hunting guide license, and she was walking the floor of the Safari Club International Annual Convention in Reno, Nevada in search of clients. Jim Shockey brought her on as videographer and guide, and her career began to catch its stride.
"At first, the biggest obstacle was experience. Young or old, male or female, we all go through that," she explained. "The stakes are considerably higher when you are guiding a client on a trip of a lifetime. Other obstacles included the challenge of making the different gear work in the backcountry — trying on a million packs to find the right one that would fit me, and clothes that didn't hinder my movement, but most importantly, clothes that were functional. Thankfully, a woman's needs are now the fastest-growing demographic in outdoor retail."
A full-time guide, Rachel is also a public speaker and published writer. In 2013, she was a Prois Award Recipient, and was nominated as the youngest woman to be on the Board of Directors for the Wild Sheep Society of British Columbia in 2014. She's a board member for the Rocky Mountain Goat Alliance, and has collaborated with a number of brands, including Weatherby Inc. on the creation of the Vanguard Camilla Rifle and Under Armour on the 2016 Women of Will Campaign.
Despite weeks, months and years spent in the wilderness, chasing sheep in North America still sets Rachel's heart racing. But guiding puts her into a position of care. "Safety first and foremost is a necessity. We are miles away from fast transportation, medical services, or even everyday necessities. Taking the extra time to not rush yourself, to plan your route and pursue your game is of the utmost importance. The shot placement follows next in line, making sure you have the quickest and most lethal shot on your game," explained Rachel. "It's out of respect for your prey. Tracking wounded game becomes a serious inquisition for not only you but other animals that might catch the wind."
She continued, "Remember, the hunt is about the journey. As guides, we can't control the game, but we can sure try to be in the right place at the right time. We can ensure a positive experience and an adventure of a lifetime. In a fast-paced lifestyle where many of us find ourselves struggling to keep up, simply being present makes for such a rewarding hunt."
Rachel has traveled extensively, even calling New Zealand home at one point, but she always returns to the wild and rugged landscape of her youth. "There's an internal draw to the West, stronger than the magnetic north on a compass. It was and is my first true love, and you never forget your first true love," said Rachel. "It's the history here, our culture and our heritage, yet it's still very young in comparison to much of the world. It's still a frontier in both aspects of recreation and exploration."
She added, "I truly admire the grit of the ladies out here. There is mutual unspoken admiration for their ability to walk in the shoes they fill, and they do it with grace. We've all come from different walks of life, but we share a training ground that has demanded each of us cut our teeth against the odds."
KATIE MARCHETTI | MANAGING EDITOR
Katie is a Montana-based writer and editor with a passion for people and their stories. Raised on a cattle ranch near Yosemite National Park, she's enthralled by wide open spaces and the written word. Serving as Managing Editor for Modern Huntsman, you'll likely find her, pen in hand, documenting the history and tradition, the beauty and adventure to be found hunting, fishing and ranching in the American West.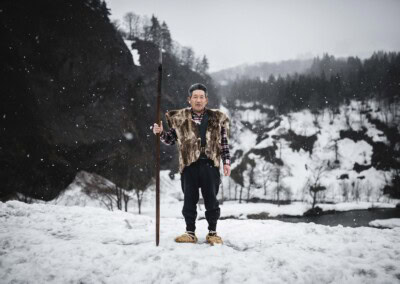 Matagi
"The word 'matagi' is derived from 'matagu', meaning to cross over, step over or straddle, bounding an image of people between two worlds — the realm of humans and that of the mountain deity: yama-no-kami." Scott Schnell, Ph.D., Associate Professor Emeritus in Anthropology This post is only available to members.
Deer Wars
Therein lies the overarching question: what does society want our landscape to look like? We seem to be moving toward a future where, in the name of "rewilding," people are disassociating with the land. This post is only available to members.