Women of the West: Mary Rondepierre
A LEAGUE OF EXTRAORDINARY LADIES
---
Spanning the generations, women have planted themselves here among the cactus and pine. They've forged unconventional paths west — hunting and harvesting stories worth remembering. Today, they are still heeding the call of their heritage, bravely shedding all that is frivolous as they head deeper into the backcountry. They pursue that which will outlive them, in faithful stewardship of the tender shoots of conservation.
This league of extraordinary women have been tested and tried in the high lonesome; blooming amidst the rugged terrain with tenacity and grace that has changed the landscape on which they reside. They are too many to name — those women who have led the way — but each month we aim to share their stories. These are Women of the West.
MARY RONDEPIERRE
In the wake of a clean shot that rendered the mountains silent, Mary Rondepierre crested the last hill, her eyes engrossed by the scene unfolding below. Her grandfather, a man of great faith, knelt in the stillness stroking the deer's head and praying over the life that was lost. Unbeknownst to her, what she observed that day would pen an indelible mark upon her story.
As a Montana native, Mary developed a lifelong curiosity for wild places and a profound respect for wildlife on the heels of her grandfather, father and brother as they explored Big Sky Country. "More than anything, I loved just being outside and looking for animals. I was constantly searching and observing, and always had a pair of binoculars in my hands," said Mary. "It's that five senses feeling that I love."
Hunting took a back seat to riding horses and sports, but Mary was always willing to tag along with her dad and brother to help pack their harvest home. It wasn't until college at Oregon State that Mary realized how good she had it. "For the first time in my life my freezer wasn't full of meat," Mary recalled. She realized if she wanted to continue eating wild game, she was going to have to get it herself. "That lit a fire under my butt to get back out there and start providing for myself."
When it comes to hunting, mule deer have risen in the ranks to become a favorite quarry for her. While she loves the meat, and exploring the high alpine landscape where the animals reside, the knowledge that she can pack the entire animal out on her own delivers a rewarding sense of independence and self-sufficiency.
The pursuit of quiet is another driving force that sends Mary to the woods, which is why she prefers to hunt alone. "I very much go to be alone. Time is precious for a working gal when you know you have a week to fill your freezer," she said while working previously as Filson's marketing and experiences manager.
While deer camp isn't her idea of a good time, she makes a point to share her time in the field with those closest to her. "My dad is a man of few words, and we have such a strong relationship. But, being out in the woods with him hunting, we don't talk much and yet I feel like we have the deepest conversations out there. It's a bond of something much deeper," Mary said, her voice soft with emotion.
Mary and her husband are in the midst of big life changes, as she begins her new career at Patagonia headquarters in California this fall. It's yet another adventure for the couple who, in years past, restored a 1971 Shasta trailer, quit their jobs and traveled the U.S. They spent 183 nights on public land, but a life in the West called them home again.
"It's all I know. I like being able to escape quickly, and be in the middle of nowhere," explained Mary when asked why she loves the West. "I like the attitude, the friendliness, and I love how healthy we are out here — that we grow our own food, and we pursue meat. I even love the literature that comes out of here, that give words to things that I can't necessarily articulate. As a Westerner, heritage is 100% in your DNA, and it's because you're a product of your environment and the hearty folks who came before us."
In her outdoor pursuits, Mary always felt welcome by those preceding her. "I've never felt a barrier to entry. I was lucky enough to grow up with a dad and a brother who introduced me right away, but regardless, I think you stand tall, put your chin up, and go join an organization to help you get started," advised Mary. "When I moved to a different state, I joined the Backcountry Hunters & Anglers chapter in Washington. All of a sudden, there's a bunch of people willing to help me out and tell me where to go."
Mentorship is important to Mary, and she is generous with what she's learned, teaching others, including her husband, to hunt over the years. For Mary, safety and respect for the animal are vital parts of ethical hunting. "I think hunter's safety is an amazing required first step into hunting, but there's an extra layer that needs to be peeled back by mentors to really help shape an ethical hunter in the field. I just hope that the reasons for new hunters getting into it are pure, and that it's 100% for the food, wildlife management and of course the joy of the pursuit, not just for the photo."
The integrity practiced in everyday life is magnified in the field, according to Mary. "There are a lot of different ways to fill a tag. You can either rush a bad shot or be discerning about taking the right shot — that's having integrity. It speaks a lot to who you are sitting at your work desk, how you treat your partner, or how you treat yourself. It's all going to be translated out there when you're on your own."
Mary explained, "All you can do is lead by example. I think that's where my role in being a female hunter lies. I want to continue to talk about the tradition, talk about the meals, and the ethics behind all of it, and most importantly feed my family and friends."
KATIE MARCHETTI | MANAGING EDITOR
Katie is a Montana-based writer and editor with a passion for people and their stories. Raised on a cattle ranch near Yosemite National Park, she's enthralled by wide open spaces and the written word. Serving as Managing Editor for Modern Huntsman, you'll likely find her, pen in hand, documenting the history and tradition, the beauty and adventure to be found hunting, fishing and ranching in the American West.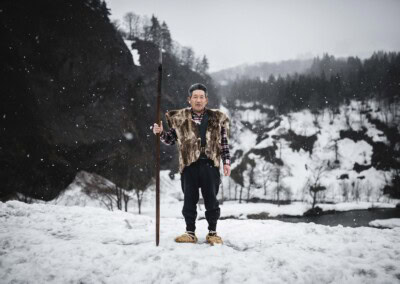 Matagi
"The word 'matagi' is derived from 'matagu', meaning to cross over, step over or straddle, bounding an image of people between two worlds — the realm of humans and that of the mountain deity: yama-no-kami." Scott Schnell, Ph.D., Associate Professor Emeritus in Anthropology This post is only available to members.
Deer Wars
Therein lies the overarching question: what does society want our landscape to look like? We seem to be moving toward a future where, in the name of "rewilding," people are disassociating with the land. This post is only available to members.