Women of the West: Kim Brannock
A LEAGUE OF EXTRAORDINARY LADIES
---
Spanning the generations, women have planted themselves here among the cactus and pine. They've forged unconventional paths west — hunting and harvesting stories worth remembering. Today, they are still heeding the call of their heritage, bravely shedding all that is frivolous as they head deeper into the backcountry. They pursue that which will outlive them, in faithful stewardship of the tender shoots of conservation.
This league of extraordinary women have been tested and tried in the high lonesome; blooming amidst the rugged terrain with tenacity and grace that has changed the landscape on which they reside. They are too many to name — those women who have led the way — but each month we aim to share their stories. These are Women of the West.
KIM BRANNOCK
OREGON
Kim Brannock pointed her truck northeast with her 13-year-old daughter riding shotgun. While their destination was unclear, they had a full tank of gas, backcountry maps, and a list of GPS coordinates for hidden hot springs and fishing holes. Thirty days of uninterrupted exploring through the windshield lay ahead, and there were just enough miles on the odometer to savor what matters most — being together. "We've been doing month-long road trips together since she was four," Kim explained. "Last year, we did a 6,000-mile trip all the way to Alaska. She's just such a good traveler, which is really fun. I can't wait to see who she morphs into over time."
Kim's own roots were planted alongside the wheat in the farming community of Daton, Washington, where "everyone knew everybody," and summers were spent working the harvest. "We grew most of the food that we ate, and then my dad hunted and fished for the rest of it. That was just a status quo where I grew up," said Kim, who took a firearms safety course in sixth grade to hunt with her dad.
Her love of adventure was instilled from the backseat of their family car, where summer family road trips exposed her to almost every state west of the Mississippi, and unearthed her love of mountains as well.
A birthday spent on a snowy hillside learning to ski made an impression long after her hands had thawed. "I fell in love with it," said Kim. "These guys kinda changed the course of my life, without knowing it."
Skiing and sewing would parallel each other throughout much of her childhood, and by her senior year of high school she decided she was going to become a designer.
Kim went to a small private school in Portland to pursue her design dreams, and returned home to work the harvest. She'd climb down from the grain truck to take job interview calls in the office; including one from Powderhorn Mountaineering.
After designing ski-wear for Powderhorn Mountaineering for a year and a half, she then went on to work for Columbia Sportswear for more than 10 years. "I had this insatiable appetite to learn the business. But I feel like the corporate world has become a wheel that just keeps turning, and pretty soon, your whole life has passed," Kim explained, observing that she was growing more passionate about sustainability and having a life for herself.
So, she quit her job and started working independently in her own design studio. The business was going well, as was her life. In 2006, she had welcomed a daughter into her world, and by 2008, Kim realized she had to make some adjustments. "It was really hard for me to manage this little human being, so I cut back on work for a year, and I had the best year ever."
The ski slopes changed the trajectory of Kim's life early on, just as moving to Bend, Oregon altered her path as well.
"My contract work started to be driven by really technical projects that were way more connected," said Kim, who began working directly with Yvon Chouinard at Patagonia. "I feel really fortunate for the inspiring people I work with in this industry — they've really helped shape the person that I am."
When LaCrosse hired her design company to create waterfowl hunting waders, Kim dipped her toes back into the hunting world. "I don't like to design for things that I don't have a deep knowledge of, so I started this project by going duck hunting," explained Kim. She hiked in thigh-deep snow, jump shooting ducks in LaCrosse men's waders to find out how to modify them for women.
"Then I got a call from Sitka to design their women's line," she said, her voice brimming with enthusiasm for all that would follow as she went on her first turkey hunt in the name of research. "I feel like it was one of the most reverent things that I had ever done in my life, turkey hunting side-by-side with my friend and my daughter.
Kim overflowed with pride, recounting that day. "My friend showed me how to clean and harvest the turkey. The only things left behind were the parts that truly weren't edible, and I took most of the bones home for the bone broth. I feel good about how much we were able to use. It was beautiful in a soulful way," Kim said, "and that broth was unbelievably magical — it had so much in it. I think we've lost this connection to the places we live, and I'm passionate about restoring that."
According to Kim, her parents contributed to where she is now, far more than she realized. She's rediscovering a way of life she experienced as a child; she's growing, stewarding, and foraging and harvesting her own food. "I didn't plan for this, but I couldn't have written a more beautiful script for my life than the one I've lived."
KATIE MARCHETTI | MANAGING EDITOR
Katie is a Montana-based writer and editor with a passion for people and their stories. Raised on a cattle ranch near Yosemite National Park she's enamored by wide open spaces and the written word. Serving as digital and print editor for Modern Huntsman, you'll likely find her, pen in hand, documenting the history and tradition, the beauty and adventure to be found hunting, fishing and ranching the American West.
Lure of the Laguna
Lure of the Laguna is the first film in our four-part series with Lone Star Beer. Chapter One features angling savant Ben Paschal and his obsession with saltwater fly fishing on the coast of Texas. It's a story about hard work, dedication, and bailing on the internship his parents wanted him to take to follow his passion in the Laguna Madre.
El Observador
"El Observador" is a short documentary following wildlife cinematographer Austin Alvarado and explores his relationship with nature via his work pursuing black bears in Far West Texas. It is a visually stunning journey through the Big Bend region that highlights the incredible resilience of bears that have returned to this area. "El Observador" is a Modern Huntsman film presented by SWAROVSKI OPTIK.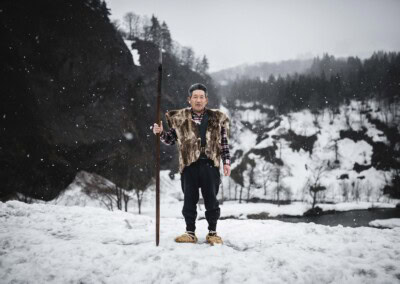 Matagi
"The word 'matagi' is derived from 'matagu', meaning to cross over, step over or straddle, bounding an image of people between two worlds — the realm of humans and that of the mountain deity: yama-no-kami." Scott Schnell, Ph.D., Associate Professor Emeritus in Anthropology This post is only available to members.