Women of the West: Kaitlynd Wilson
A LEAGUE OF EXTRAORDINARY LADIES
---
Spanning the generations, women have planted themselves here among the cactus and pine. They've forged unconventional paths west — hunting and harvesting stories worth remembering. Today, they are still heeding the call of their heritage, bravely shedding all that is frivolous as they head deeper into the backcountry. They pursue that which will outlive them, in faithful stewardship of the tender shoots of conservation. 
This league of extraordinary women have been tested and tried in the high lonesome; blooming amidst the rugged terrain with tenacity and grace that has changed the landscape on which they reside. They are too many to name — those women who have led the way — but each month we aim to share their stories. These are Women of the West.
KAITLYND WILSON
Kaitlynd Wilson rose with the sun in Huasna Valley, the morning air tinged with the salty scent of the sea; a slow bloom of warmth parted the curtain of fog to reveal the rolling hills of the central coast of California. Then, the quiet was shattered by the joyous barking of hounds as she came within view of the kennel, an unbidden smile lighting up her face — she was right where she was supposed to be.
Kaitlynd was in her final year of art school at California Polytechnic University in San Luis Obispo, and sure of just one thing — that she did not want to be an artist. The summer before her final semester, her dad introduced her to professional dog trainer, and future mentor Greg Gersbach, who offered to share what he knew. "I remember the very first time driving up his long driveway. He probably had 20 dogs out running, and it just blew my mind," said Kaitlynd, who found an alternate route in her life as well on that slow drive down a long dirt road.
"I worked with Greg for a month and a half learning how to train dogs, and right from the get-go, I knew this was what I was supposed to be doing." Kaitlynd would go on to work with Greg for three years before launching her own dog-training business, KW Dog Training. "This summer was six years total of training. The last three years, I've been working on my own to build my business. It's been incredible."
Dogs were familiar territory for Kaitlynd before becoming a trainer — her parents were both police officers and part of the police canine unit. Hunting, however, was uncharted territory for Kaitlynd until she met Joel Wilson during her sophomore year of high school. "I never had an uneasiness about hunting; it just seemed so natural. Maybe because I was with the person that I love, so if he was doing it, it's gotta be great," Kaitlynd added with a smile.
Joel continues to be Kaitlynd's role model in the field, his patience and encouragement allowing her passion for hunting to bloom. "He never tried to leave me behind. He always wants to take me hunting, to get me involved and teach me. Some guys treat it like a boys' trip, which is totally great, but I'm always his first choice to go with him, and I'm just really thankful for that."
Joel and his dad, Scott Wilson, own a bow shop, aptly named Central Coast Archery. Kaitlynd credits her husband's patience and humility to their thriving business. After years of archery pig hunts in the local vineyards alongside her husband, Kaitlynd began teaching youth archery classes at the shop as well. "I love archery — it is very addicting, and it just puts you at peace. It's been such a blessing that I had that opportunity to teach as well, because I met a lot of my dog-training clients at the shop too."
While she loves time at Central Coast Archery, dog training has become her number-one priority. Kaitlynd has trained hundreds of dogs, from off-leash control to bird and pointing dog training. Interacting with a broad spectrum of canine personalities is what keeps Kaitlynd enthralled with the process.
Kaitlynd and her husband Joel live on his family property: 5,000 acres of ground to explore, hunt and train. Kaitlynd has experienced the growing pains of a successful business as well. "It's important to me to be the best wife that I can be, to spend time with my husband — and I didn't have time for him with how much work I was taking on. I think that's a hard thing about being a dog trainer. You have this idea that you need to be out there training all the time."
After much deliberation, KW Dog Training settled into a sweet spot of carrying the training responsibilities of 10 client dogs at a time.
"The majority of my clients are guys, and it's just neat to know that guys are open to coming to a female for their dog training. I don't know if they even really think about it, since a lot of them are referrals," said Kaitlynd, who noted that on one or two occasions, men have awkwardly ignored her instructions and deferred to Greg during their training, experiences she shrugs off with ease. "Once they hear 'this person's dog did amazing after they were trained by her,' then they usually trust me."
What rings equally as true for Kaitlynd is her love of hunting; she and her husband love to hunt quail and doves on the Central Coast, but duck hunting holds a special place for her. "I really love duck hunting. It's one of the more difficult things to hunt just because of the preparation needed, but I think that it also has to do with my dog, Mo. When I was finally able to get him out there, to see all the work that we did at home training out there into the field, it was just amazing," she said, her voice flush with excitement.
"We're so fortunate where we live, and that we do have friends that can resonate with us in that," added Kaitlynd as the faint echo of a dog barking over the phone likely signalled another client rolling up the drive.
KATIE MARCHETTI | MANAGING EDITOR
Katie is a Montana-based writer and editor with a passion for people and their stories. Raised on a cattle ranch near Yosemite National Park, she's enthralled by wide open spaces and the written word. Serving as Managing Editor for Modern Huntsman, you'll likely find her, pen in hand, documenting the history and tradition, the beauty and adventure to be found hunting, fishing and ranching in the American West.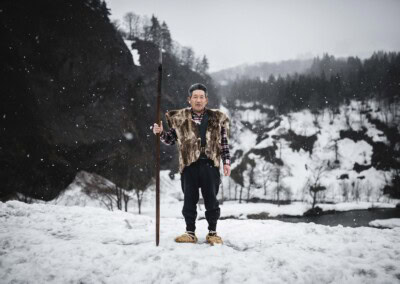 Matagi
"The word 'matagi' is derived from 'matagu', meaning to cross over, step over or straddle, bounding an image of people between two worlds — the realm of humans and that of the mountain deity: yama-no-kami." Scott Schnell, Ph.D., Associate Professor Emeritus in Anthropology This post is only available to members.
Deer Wars
Therein lies the overarching question: what does society want our landscape to look like? We seem to be moving toward a future where, in the name of "rewilding," people are disassociating with the land. This post is only available to members.