Women of the West: Christy Sing
A LEAGUE OF EXTRAORDINARY LADIES
---
Spanning the generations, women have planted themselves here among the cactus and pine. They've forged unconventional paths west — hunting and harvesting stories worth remembering. Today, they are still heeding the call of their heritage, bravely shedding all that is frivolous as they head deeper into the backcountry. They pursue that which will outlive them, in faithful stewardship of the tender shoots of conservation.
This league of extraordinary women have been tested and tried in the high lonesome; blooming amidst the rugged terrain with tenacity and grace that has changed the landscape on which they reside. They are too many to name — those women who have led the way — but each month we aim to share their stories. These are Women of the West.
CHRISTY SING
WYOMING
Christy Sing's story began in the Arkansas Ozarks. The now-respected hat maker was ushered from a happy life between the Appalachian and the Rocky Mountains and into uncharted territory, with no notion of the grand adventure that was about to take place west of the divide.
"My story is unique, and it's hard for people to digest because I felt called by God to do most of the big, important stuff in my life, including moving," Christy said. "I was about to step onto an elevator in a hotel in New York City. When I heard it as clear as anything I'd ever heard: 'You'll move to Jackson Hole, Wyoming by January 1st'," explained Christy, "a message out of the blue that plucked me right out of my life. I was never enamored with the West like a lot of people were then, but He said this is what you will do, so I did."
In 2003, at the age of 30, Christy Sing uprooted her life and moved to Jackson Hole. While living in Jackson, Christy saved her money to buy a Stetson hat, and took it to a woman who had made hats in town years ago. "She shaped it for me, and we had such a great time and a great connection," said Christy, who walked toward the parking lot afterward to find her life rerouted again. In the silence of her car, she heard, "You will make hats."
"All this joy and excitement started to brew along with that idea, and there was no turning back," Christy said, her voice still brimming with enthusiasm at the thought. According to Christy, it would take nearly a year for all the pieces to come together, and begin an internship as she sought out hatters in the West.
For the next year, Christy traveled out-of-state every chance she had to finish her apprenticeship while working and raising her two children in Jackson. "I finally found some equipment to buy. It was bare-bones, I'm telling you," Christy said with a laugh. "But I bought it, and then one week later, the oil and gas company folded, and I lost my job."
Christy was living in a spring-fed cabin on the edge of the forest at the time, and things quickly went from bad to worse. "I had less than zero money, two kids, a new business that I didn't really know how to use the equipment on — and my water went out for a month. I was melting snow on my wood stove," said Christy, incredulous even in memory.
Between working multiple jobs, she also grew a garden, raised chickens, and canned food, but it wasn't enough to fully provide for her little family. In their hour of need, a friend took it upon themselves to teach Christy how to hunt. "My story isn't that I've always wanted to hunt," explained Christy. "It's like, I guess I'll hunt 'cause I'm divorced, it's September, and our freezer is empty. It was definitely born out of necessity. I could go to the grocery store and all that, but I was kind of poor."
With the encouragement of friends, she took a hunter safety course and spent an hour on three different days at the gun range learning how to shoot. When her friend told her that she was ready, they headed out at 4 p.m. that afternoon. "I had an elk down in one hour. My story is so janky that I'm almost embarrassed to tell it, but it's true!"
Christy continued to hunt with friends, bringing home a few more elk, grouse and buffalo. "Butchering them myself was really, really amazing. It's super hard and wonderful work."
When it comes to hats, Christy has a heart for the traditional art and the slow craft of Western hat-making. "I like an understated look in my hats," explained Christy. And while Jackson Hole is a tourist destination, she's adamant that an old-style hat shop is more her style. "I keep 'mechanic hours,' because I'm building something. I'm not just standing up there, selling. I'm a custom hat-maker. I'm just trying to serve this community that's always had a hat shop — that's really where my heart is."
Though Christy has known scarcity, she doesn't approach her career that way. "I believe that there is room at the table for everyone. The same goes for hunting. I'm not a feminist," Christy said. "I really value men and the part they play … it's almost always been a man I've gone hunting with. Every man I know, who has a bit of salt, is completely excited to bring a woman along and teach them, show them, help them and empower them in every way."
Christy places a high value on women who demonstrate grace and humility. "Jillian Lukiwski is one I really respect. She's got a real solid, healthy perspective about land use, conservation, feminism and her business," Christy added, noting Orly White, Alden Ballard and her apprentice Jen Harsha as women she greatly admires as well.
"I'm putting in long days, a hell of a lot of hard work too. But I have faith that a way will appear where there's not a way — He always provides, and now my business is exploding! It's allowing me to grow as a human, and hopefully I'm encouraging others with my story."
KATIE MARCHETTI | MANAGING EDITOR
Katie is a Montana-based writer and editor with a passion for people and their stories. Raised on a cattle ranch near Yosemite National Park, she's enthralled by wide open spaces and the written word. Serving as Managing Editor for Modern Huntsman, you'll likely find her, pen in hand, documenting the history and tradition, the beauty and adventure to be found hunting, fishing and ranching in the American West.
Lure of the Laguna
Lure of the Laguna is the first film in our four-part series with Lone Star Beer. Chapter One features angling savant Ben Paschal and his obsession with saltwater fly fishing on the coast of Texas. It's a story about hard work, dedication, and bailing on the internship his parents wanted him to take to follow his passion in the Laguna Madre.
El Observador
"El Observador" is a short documentary following wildlife cinematographer Austin Alvarado and explores his relationship with nature via his work pursuing black bears in Far West Texas. It is a visually stunning journey through the Big Bend region that highlights the incredible resilience of bears that have returned to this area. "El Observador" is a Modern Huntsman film presented by SWAROVSKI OPTIK.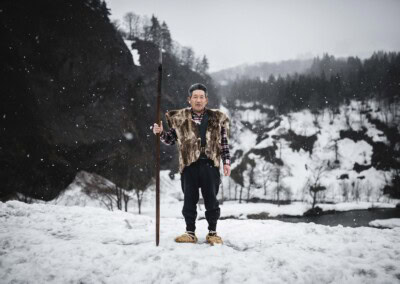 Matagi
"The word 'matagi' is derived from 'matagu', meaning to cross over, step over or straddle, bounding an image of people between two worlds — the realm of humans and that of the mountain deity: yama-no-kami." Scott Schnell, Ph.D., Associate Professor Emeritus in Anthropology This post is only available to members.