Women of the West: Bridget Noonan
A LEAGUE OF EXTRAORDINARY LADIES
---
Spanning the generations, women have planted themselves here among the cactus and pine. They've forged unconventional paths west — hunting and harvesting stories worth remembering. Today, they are still heeding the call of their heritage, bravely shedding all that is frivolous as they head deeper into the backcountry. They pursue that which will outlive them, in faithful stewardship of the tender shoots of conservation. 
This league of extraordinary women have been tested and tried in the high lonesome; blooming amidst the rugged terrain with tenacity and grace that has changed the landscape on which they reside. They are too many to name — those women who have led the way — but each month we aim to share their stories. These are Women of the West.
BRIDGET NOONAN
Bridget Noonan, a self-proclaimed city girl from Chicago, spent her summers traveling west to small mountain towns in search of rivers to fly fish and trails to bike. Year after year, the West beckoned her, but it wasn't until she and her fiancé traveled to Sun Valley, Idaho that the West finally won them over.
"Sitting at the airport, it was the first time that both of us thought, 'We don't want to go home,'" Bridget reminisced. "A year from that day, we ended up moving out here." Bridget now lives in the mountains of Ketchum, Idaho, working as the marketing director for First Lite. Within a few minutes of the office, she can be in the middle of nowhere.
"There's a special thing that you only find in the West. There's certainly a vibe to it, that wild attraction to just getting out there, having the space and seeing things that you can't in a city," she said. "As much as the West can revolve around being solo in the outdoors, a big part of it is the people and the culture of mountain-town living. There's an excitement about getting out on the weekends and outdoors after work. It's an attitude of exploration that I never had growing up."
While Bridget has been hunting for over 10 years, she still humbly considers herself a beginner. "Growing up near Chicago, I wasn't exposed to the hunting world, and I didn't really have an opinion one way or another on it." Through a random series of events and a job promotion, she became a hunting apparel buyer at Dick's Sporting Goods. "I was just totally thrown in, not knowing anything. Thankfully, I was around the right people to teach me how to do it well, how to approach it with an open mind, and how to learn to hunt the correct way. I immediately loved it," Bridget said with a smile.
She spent the next few years whitetail hunting as she moved up in the industry, connecting with top-tier brands like First Lite. "First Lite offered me a job, so I moved out West in 2016, and I've been in Ketchum since then as the marketing director."
For Bridget, the men and women who have been most instrumental in preparing her for hunting and exploring the West have been her coworkers. "I've hunted with every single person in this office at least once. Ross Copperman, our resident expert on shooting and loading ammunition, has been taking me through it step-by-step to prepare me for my upcoming sheep hunt. Even some of the guys who came from different industries are awesome training partners to run up a mountain with. Every single one of them has been part of helping me learn, and they're willing to drop everything to do that. I'm a lucky girl."
According to Bridget, there is such a depth of knowledge in the industry that she will always consider herself a beginner hunter. "There's always somebody in the room who has done more than you." However, there aren't as many who have had Bridget's luck when it comes to securing coveted tags. "It's hard to pick a favorite hunt. I have pulled really special tags, but I had an incredible season last year, chasing bull moose around here."
Bridget used nearly every day of the three-month season, grinding it out in the backcountry to get the job done. "There were certainly opportunities, but it was very far into the backcountry so I had to learn how to think through that logically and pass when it wasn't going to be possible to get everything out," explained Bridget, adding that without the help of friends it would have been much more difficult to fill her moose tag.
For Bridget, respect for the animal is her number-one priority. "It's about making sure that you're treating that moment with the utmost respect, that you take an ethical shot that ends it quickly; and it's taking every bit of the harvested animal out of the field. That's how I was taught. It doesn't always go smoothly, but it's your job to make sure that you're as prepared as possible."
When asked about the hunting community at large, Bridget acquiesced. "Women are still somewhat of a minority, and we always will be," she responded, "but it was largely a group of men who taught me to love hunting and showed me how to do everything. Ten years later, that's still the case. I don't think it's doing anybody any good to say that it's tough to be a female in the outdoors — there are women out there who are getting after it just as hard, if not harder, than the men. You can do it, you just have to be open-minded and willing to learn."
Bridget concluded, "My number-one piece of advice to a beginner hunter would be to get a mentor, and make sure that they're somebody who can teach you how to do it. That's what helped me. Find somebody who's as excited as you are to get out there, and you'll learn so much. I hope that women know that there's a low barrier to entry; all they have to do is get out there."
KATIE MARCHETTI | MANAGING EDITOR
Katie is a Montana-based writer and editor with a passion for people and their stories. Raised on a cattle ranch near Yosemite National Park, she's enthralled by wide open spaces and the written word. Serving as Managing Editor for Modern Huntsman, you'll likely find her, pen in hand, documenting the history and tradition, the beauty and adventure to be found hunting, fishing and ranching in the American West.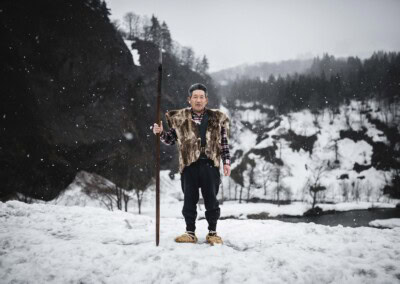 Matagi
"The word 'matagi' is derived from 'matagu', meaning to cross over, step over or straddle, bounding an image of people between two worlds — the realm of humans and that of the mountain deity: yama-no-kami." Scott Schnell, Ph.D., Associate Professor Emeritus in Anthropology This post is only available to members.
Deer Wars
Therein lies the overarching question: what does society want our landscape to look like? We seem to be moving toward a future where, in the name of "rewilding," people are disassociating with the land. This post is only available to members.