Wild Duck Tacos de Guisado
---
My approach to wild game is not all that different than it would be with packaged meat purchased at the grocery store or your local farm. For all intents and purposes, meat protein is meat protein. Of course, some is leaner, and some inherently has more fat. I grew up in South Texas, so tacos de guisado (usually with stewed beef or pork) was part of everyday life. In its most basic form, tacos de guisado is meat stewed down in liquid that can then be eaten in a tortilla as a taco. It falls into those one-pot meals that make life easy on the clean-up and leave you with killer leftovers. This process is just as versatile if you have other game meat in the icebox. Wild duck is traditionally lean, so I like to add diced bacon to help add extra flavor. Rice and beans make a great side or can go in the tacos themselves.
A quick note on ingredients: The better your base ingredients, the better the finished product. For spices such as smoked paprika, cumin and chili powders, I always lean into a company called Terra Spice. They have an incredible selection of individual chili powders such as ancho, pasilla, chipotle morita, etc., but they also have really good chili powder blends that they make in-house.
Miso: Aged dark miso can be easily procured online. Start slipping this into food preparations that wouldn't be considered Japanese or Asian, and you'll quickly realize how amazing and versatile it is.
Tortillas: This can make or break a great meal. Most grocery store corn or flour tortillas are terrible and are a tortilla only in notion. They're stuffed full of every stabilizer and preservative available, I just don't like them. Guisado is typically served with corn tortillas, but I would suggest using the best ones available. I buy my tortillas from a Sonoran buddy who started Caramelo Tortillas, based in, out of all places, Kansas City, Missouri. They are hands down the best flour tortillas I've ever had. He ships worldwide, and since we are cooking wild duck here, give his duck fat tortillas a spin. You won't be sorry.
SERVES 4-6
INGREDIENTS
6-8 Wild duck breasts, preferably bone-in
1/2 lb. Bacon, diced
1 Red onion, diced
6 Cloves garlic, minced
2 8 oz. cans fire-roasted tomatoes
2 oz. Fresh lime juice
1 Tbsp.Molasses
2 cans Fat Tire beer
1/2 cup. Pickled jalapeños, diced
2 Tbsp. Aged dark miso paste
1 Tbsp. Smoked paprika
2 Tbsp Chili powder
1 Tbsp. Cumin
INSTRUCTIONS
In a medium-sized stockpot, cook the bacon to crisp it and render the fat. Next, add the duck. Stir until brown, being careful not to burn.
Then add the red onion, and sweat it until translucent, but not browned. Add garlic and stir continuously until tender, being careful not to burn it.
Next, deglaze the brown bits on the bottom of the pan by adding both cans of beer, gently scraping them with a wooden spoon. When the pan is deglazed, add both cans of tomatoes and pickled jalapeños, molasses and lime juice. Stir to combine.
Bring the duck guisado to a light simmer and add paprika, chili powder, cumin and miso. Miso is the oddball here, as it's a traditional Japanese fermented rice or bean paste. Miso takes years to ferment. During that process, it develops some of the deepest umami flavors imaginable. I know this is not going to be found in carne guisado south of the border, but the depth of flavor it adds to stews can be mind-blowing.
Cook for 2-3 hours or until the duck easily shreds and reduces down to a consistency that would be at home in a tortilla. Season with salt and fresh black pepper to your preference.
Serve with warm flour tortillas. I like to top mine with freshly diced onions, cilantro and crumbled queso fresco (a dry Mexican cheese that can be found in most grocery stores), and hot sauce — I've been really into Yellowbird's Serrano hot sauce lately.
Lure of the Laguna
Lure of the Laguna is the first film in our four-part series with Lone Star Beer. Chapter One features angling savant Ben Paschal and his obsession with saltwater fly fishing on the coast of Texas. It's a story about hard work, dedication, and bailing on the internship his parents wanted him to take to follow his passion in the Laguna Madre.
El Observador
"El Observador" is a short documentary following wildlife cinematographer Austin Alvarado and explores his relationship with nature via his work pursuing black bears in Far West Texas. It is a visually stunning journey through the Big Bend region that highlights the incredible resilience of bears that have returned to this area. "El Observador" is a Modern Huntsman film presented by SWAROVSKI OPTIK.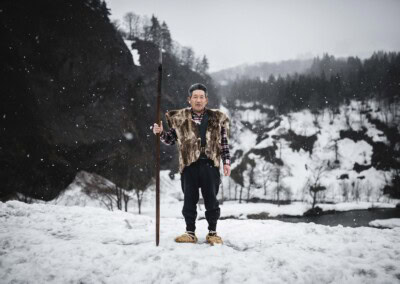 Matagi
"The word 'matagi' is derived from 'matagu', meaning to cross over, step over or straddle, bounding an image of people between two worlds — the realm of humans and that of the mountain deity: yama-no-kami." Scott Schnell, Ph.D., Associate Professor Emeritus in Anthropology This post is only available to members.