When the World is Watching
MADE POSSIBLE WITH SUPPORT FROM MTN OPS
---
Dude Perfect is one of the most popular YouTube channels in the world. At the time of publication, it had over 42 million subscribers and passed the incredible milestone of over one billion views. With such internet fame comes tremendous visibility, something that founders Ty Toney, Garrett Hilbert, and Cody Jones navigate miraculously well, especially when sharing their love for hunting and the outdoors. We sat down with these three of the five Dude Perfect founders to discuss what hunting means to them and their family, how they handle the responsibility of influence, and their future plans for promoting hunting and conservation to their diverse and engaged audience.
Tyler Sharp: Give us some background on Dude Perfect and what the journey has been like for the team, from humble beginnings to international influence.
Garrett Hilbert: We were all at Texas A&M University, basically just five guys who didn't like to go party, but loved to hang out. We decided one day to buy a basketball hoop from Academy, and split it up on our credit cards so our parents thought we were just buying clothes. Our whole backyard was grass, so you couldn't really dribble, just shoot. So we started shooting "trick shots." Ty bet me that he could stand in the corner of the yard and make a free throw — which was a terrible bet by me — and he made it, so I ended up buying him lunch. The other guys were in class at the time, and so when they got back, we thought, "Hey, we might as well film these to show our parents." YouTube had just started, and Cory put it up on there, and then the next morning Good Morning America called his phone. We freaked out, and the rest is history.
We really didn't even know we were going to do this full-time for the first five years, since we still had other jobs and just did this on the weekend. At one point, we were all in job transitions and thought that we might as well give this Dude Perfect thing a go full-time. Since we decided to do that, it just exploded.
Ty Toney: It has definitely been a learning experience for us. When we first started out, everybody said, "The worst thing y'all could possibly do is start a business with five of your friends." We have certainly seen some of the hardships from that aspect, but I think because of our friendship, faith and the relationships we have, we've been able to make it through that and do it for 10 years. Our first brand deal was nine years ago, and we had no idea what we were getting into. We sent it to my dad, who ran that first brand deal for us, and went on to become our business manager. We have a lot of family relationships in the company but I don't think we would trade it for anything.
Tyler: I know that you guys have a deeper mission throughout this. I'm curious what values you guys have tried to uphold or communicate through your videos, and what kind of response you've seen from your viewers through that.
Ty: I think our faith has been a huge part of why Dude Perfect has been so successful. All of us grew up in Christian homes, and that's a big part of who we are and what we believe in. It's not like we really made a conscious effort to create family-friendly content, but because of who we are, that's just what naturally happened. That's a testament to our parents, our grandparents, and how we were raised. I don't remember exactly what agency put it out, but we were rated the number-one brand-safe digital influence company out there. I think that's a major factor of why Dude Perfect has become not only a family-trusted company, but also a brand-trusted company.
Garrett: When we started out, we didn't really have a goal to create a specific type of video. What we believe and our values were just showing through on camera. Now that we are in a position of influence, it's cool to see how many parents come up to us and say, "Hey, I let my kids use the internet for schoolwork and Dude Perfect because we can trust y'all's content." It's also a big responsibility that we're conscious of in every video. Sometimes we still argue, and then we look at each other and say, "Hey, it's a friendly competition, let's act like we're supposed to." We're so competitive to begin with and we are also five best friends, so it's even more intense. It's really cool to go from just living your life to people looking up to you and having an influence. So you need to set the right example, especially in today's world.
Tyler: This YouTube channel has undoubtedly opened up all sorts of doors for you guys. Apart from the travel, meeting sports stars and influential figures, and collaborating with other artists, what has been the greatest reward?
Ty: One of the coolest things we get to hear is a family coming up to us and saying that they sit down and watch Dude Perfect together. With all of us coming from great families, that was definitely something important to us growing up, and now that we all have kids, it's crazy to see them start doing the same things that other kids are doing. I know my wife gets super tired of it, but my son wakes up and the first thing he asks is, "I watch Daddy?"
Garrett: We're big sports fans. We've loved every athlete we've worked with, and some are people who we looked up to when we were children: Drew Brees, Aaron Rodgers, Serena Williams. It's been a dream. For the most part, there hasn't been one athlete we worked with who wasn't just a classy, top-notch person. We continue to reach out to athletes, or they reach out to us, and they're mostly normal people that just want to have fun. But then you have people like Rob Dyrdek. We liked his show Rob and Big, and we kept pushing and pushing and luckily we got to be on his show Fantasy Factory. This led to that, and now we're now working for his production company, which has produced our Dude Perfect show for three seasons. We have a really good relationship, and he's like a mentor to us. We're very grateful for Rob and all that he's done for us as a company.
Tyler: So when did you guys get into hunting, and what does it mean to you?
Ty: I grew up hunting and fishing, and being in the outdoors has always been synonymous with time spent around my grandfathers and my dad. I can remember being five years old and taking my bb gun and just following my dad around our deer lease, thinking that I was going to shoot something with it. Being with him in the outdoors meant everything to me. We spent 15 years going out to my grandpa's ranch, and now my dad and I have our own place. Those are certainly my best and fondest memories from growing up, and continue to be really important.
Garrett: Back when I was in middle school, my dad got a deer lease and really used it as a way to get me and my two brothers out of the house. None of us had any hunting experience. For a couple years after that, I focused on sports and kind of gave up hunting, and honestly didn't get back into hunting until around when Dude Perfect started. Ty used to go out to his ranch every weekend and we started to see how much fun he had in the outdoors, then it kind of started. With the success of Dude Perfect, I've been able to get a lease for my family, and it has been fun to take my four-year-old boy out there and spend some time with him away from the city, away from all the madness. Our phones don't work at the ranch, and I use it for getting away and rejuvenating myself.
Cody Jones: I grew up in Plano, a suburb of Dallas. My family had some farmland over in West Texas, so I grew up doing a lot of duck hunting. I loved fishing and shooting my 12-gauge shotguns whenever I could, and I did a hog hunt when I was little, but didn't really get hooked on it until college. Ty took me out to his ranch, and I got to see how they were managing their deer and I knew it was in my blood early. Through the connections we've made I was able to get my first lease three seasons ago and went fully into it. Now we've been elk hunting — I think three times. We've done Africa. I've been white-tailed hunting in a stand for something like 60 days. I just fell in love with it. I really like bringing my dad out, as it's a way for he and I to connect and go to places that we would never go otherwise. It's been a blast.
Tyler: Let's talk about your relationship with MTN OPS, and how it developed into this elk hunt that I've been hearing about.
"I think there's just a whole other level of appreciation for that animal and that meat that you could not possibly have unless you do it, and I like to share that with people."

— Ty Toney
Garrett: Well, it really just shows the power of social media and marketing. I started seeing a lot of hunters I followed post about MTN OPS on Instagram, so I decided to buy some of their products, and I posted an IG story about using them. Immediately, their social team saw it and responded, and not long after, out of nowhere, they invited us to go to South Texas on an axis deer hunt. They are just such good guys with the same kind of values that we have: love spending time outside, love spending time with their families, just very well-rounded guys and they have a good product. That's how that relationship started.
They recently invited us to come bow hunt elk with them in Montana. The hunt was amazing, but it was a lot harder than we thought. We were in the backcountry walking 12 miles a day, following bugles and trying to get them to come in. I got within 44 yards and managed to bring a bull down, and we got the full pack-out experience, carrying all the meat. It was brutal, and heavy, but it was a lot of fun. Making those long-mile walks on public land with a guide or a buddy to search out elk creates a special bond with that person, and the memory lasts forever, even if you don't harvest anything. The pursuit is something that's a ton of fun, as well as mentally draining and physically challenging.
Ty: Definitely a completely different experience, but awesome to go out there and do it. The wind was pretty brutal, but there was way more visibility than when we hunted in Colorado, where it was always so thick with aspen. It was tough hunting for me. Every time it seemed like we were gonna get close and have a great opportunity, the wind would pick up and go right to them, or some other bull would come and run off the one we were going after. I think I put in over 60 or 70 miles of hiking before I was even able to get a shot at an animal. It wasn't until the second-to-last day that I finally got mine. There weren't any trees in the area, and we had to belly crawl basically 200 yards. It was almost last shooting light, so I popped up, let an arrow fly, and he went down probably 60 yards from where I initially hit him. It was certainly unlike anything we've done before. Whether it's success, misery, or failure, experiencing that together is important, and it creates a common bond.
Garrett: We're very grateful for the team at MTN OPS. Without them we wouldn't have been able to go on that hunt, so we're very thankful that they allowed us to do that. But I think that they're a great example to look at as a company that is doing things the right way, especially with the Conquer Hunger program that they do through their platform. Hunting and conservation not only can benefit animals and hunters, but all kinds of people, and seeing that come to life through their efforts is pretty impressive. Certainly looking forward to seeing those initiatives and programs grow, and help promote them where we can.
Tyler: Is cooking and serving wild game in your home part of the conversation with your kids, or your family members, and why it's important to understand where it comes from?
Garrett: Our kids are pretty young. Try to communicate to a little girl that it's elk meat on the menu tonight, but she just says "more ketchup!"
Ty: We certainly take a lot of pride in being the providers for our families. I don't care how you choose to live your life and provide nourishment for yourself or family. If you want to eat meat, that's awesome, if you want to be a vegetarian that's great, if you wanna eat rocks and dirt and you're happy and that works for you, go for it. I'll never get mad at anybody for choosing to live that lifestyle. For us it's super important that we eat what we hunt, and I'd say it's part of what we do and why do it. Going out yourself and experiencing the total process of harvesting a free-range, older animal, that has lived its life out in the wilderness, you process it, you put in the work, the effort, you clean it up, you package it, you store it, you cook and clean and feed that to your family and survive off that. I think there's just a whole other level of appreciation for that animal and that meat that you could not possibly have unless you do it, and I like to share that with people.
Tyler: With an audience size of over 40 million, it's safe to say that a good percentage of those people are not hunters. Are there people who would otherwise be fans of Dude Perfect, but conflict arises when they see you hunting?
Garrett: With the 40 million subscribers we have, I'm sure there's some hunters in there, but they're not subscribing to see a hunting channel. They're subscribing to see five guys compete, have a good time, and make fun of each other and stereotypes and stuff like that. We all have personal social media pages and we're very proud of where we come from and what we enjoy doing. For me personally, I do get some backlash when I talk about hunting, or post photos on Instagram. You're gonna get people that don't really agree with that, but I've never really had a bad experience other than the occasional internet troll. I think we all know that we do have an influence and we try to separate those worlds. Dude Perfect represents the values we have, but it's not a hunting company. It's five best friends having fun for a laugh, and competing.
Ty : It has been tough because with a platform to potentially reach 40 million people, there's a little bit of pressure from my internal pride. I was hunting and posting pictures and doing all this stuff beforehand, so why should I stop doing that now? There's no reason to change who you are just because you got a bunch of followers now. Dude Perfect is not a hunting brand, it's our social media entertainment company that we started. For the most part we've kept that separate, but you still have people that you're going to upset. You're never going to please everybody. We have learned that in multiple avenues when we've done business through Dude Perfect. We're not out there to shove anything down people's throats, but there's just things that are part of us that are naturally going to come out.
Tyler: With how quickly social media spreads, the tone and the language that we're using is more important than ever, along with the respect that we're possibly showing to someone who may not agree with something that we're doing. Is that something that you guys consider when posting on your personal channels?
Ty: Yeah, absolutely. Especially when we post a hunting picture on our individual pages, naturally with that many followers, you're going to have people who disagree with it. I've had conversations with these people online, and I feel like we actually made progress or there was a mutual understanding, or an "agree to disagree" moment. I've also had interactions with people online where it feels like I'm wasting my time, and it's going nowhere. There's no quick or easy fix to this. You have to stay after it, continue to be yourself, do things the right way, and try not only to show people what you're doing, but educate them on the why and the how and what it means to you. I think that's definitely a lot more palatable for people who are not familiar with hunting or don't have family members or friends who share those experiences with them. Unfortunately I think it's just a slow process. You gotta have people who are able to have those conversations and paint hunting in a good light that makes sense to those type of people. There has to be an approachable, friendly tone, which there isn't much of in the hunting world.
Garrett: I agree with what Ty said. You try to educate everyone on conservation and where the money from buying a hunting license actually goes, how it maintains our public land, it keeps national treasures away from big corporations. There are a lot of things you want to tell, but the story takes time, and you can't get it all out at once. I think some hunters do a disservice to their own community, and I don't even think every hunter out there understands conservation. Once you go about things the right way, you can get that conservation story out. That's what we love about Modern Huntsman: it showcases hunting and the outdoor lifestyle in such an elegant and proper way, something that other publications don't do. It's really important work, and we're glad y'all are fighting the good fight.
Tyler: Are there any opportunities for Dude Perfect to address some of these things, like educating youth about conservation, hunting, or the outdoors in general?
Garrett: We're brand ambassadors and partners with Bass Pro Shops and they're really involved in conservation. Johnny Morris does a lot for the outdoor community, and there are ways that Dude Perfect is trying to get more involved in that. It can be done in a constructive way or in a very polarized way. It's a very fine line, but it's important to keep it balanced. We don't shy away from being outdoorsmen just because we're part of Dude Perfect. Being a hunter and supporting conservation doesn't necessarily mean you have to agree with everything hunting related, but you need to understand why hunting is necessary for conservation. We tried to communicate it a few times, some have been successful, some have not, but we'll continue to try and come up with ways to present it.
Ty: I was a wildlife biology major at Texas A&M. I think part of the problem is social platforms are not the ideal place to have this conversation. So I think something like Modern Huntsman is great because people who actually want to do the research can get a lot more information out to them, but if I bring up the Pittman-Robertson Act on Instagram people are like, "No thanks, don't want to talk about that. Don't care to hear your side, I just want to leave a nasty comment." We as hunters have to get creative in reaching those people who really are open to having a discussion, or are open to hearing our side and why it's not only beneficial for us, but for wildlife too. There are so many incredible stories in conservation about species being saved through hunting dollars, and there are very few people on the other side aware of that. We just have to be creative in telling that story.
Tyler: How would you want to engage with non-hunters about hunting and conservation, and how they work together?
Garrett: I think it's in long-form video content, and telling a more complete story. Like us going on adventures and filming it, kind of like Donnie Vincent does, and trying to get a specific message out. If we're going over to Africa and doing a hunt, then it's about documenting and explaining what the safari does for African communities, and how they've been able to create jobs for locals through guiding and tracking and cleaning, or how they created a school system that was funded through hunting. There are so many different types of conservation out there and so we can't hit everything in one video. We're gonna be hunting until we pass away from this Earth, and I definitely think there will be a time when we start filming those things. But then to share that bigger message with a younger generation that comes up behind us of why we did this is a great opportunity.
Ty: We're most familiar with the video platform, so that's a natural tie-in. It's definitely telling a more complete story within a certain context, not just turning on the Outdoor Channel and see somebody blasting a huge buck and going nuts, then taking pictures with it. There is so much more than what people are seeing now, and it's up to us to get that message out, rather than a 20-minute outdoor show where they just cram 50 kill shots into one video. That's what I was talking about earlier, how as a hunting community we need to get on the same page. I think these shows will always exist, but they are damaging the reputation of hunting in a lot of ways.
Tyler: What do you guys hope to achieve in the near future? Are there any big plans or goals you can share with us in relation to improving the perception of hunting and educating folks about conservation?
Garrett: We don't take the platform we've been given for granted, and we're very humbled by the fact we have millions and millions of people who want to follow us as we have fun for a living. We don't go a day without being grateful for that. As long as that continues, the future plan is to just continue to provide entertainment and fun for this world that has a lot of dark stuff and a lot of hate going around. Just to be that glimmer of hope and light. And people who just have fun with family. As far as the Dude Perfect site goes, we'll continue to do that.
As far as the hunting goes, I would love for there to be a mending of the two, to be able to use the platform in a non-polarizing way to educate people about why conservation exists and what it's good for. And document some of these experiences we get to go on, because some people can't travel to Montana and see what that state has to offer. To be able to showcase that to the world, I hope to do that in the future with Dude Perfect.
Ty: My hope is that we are already affecting the perception of hunting in some way. Like how five college guys that created this business, and rather than taking the very first brand deal that reached out to us — which was an alcohol company — we turned that down to think a little bit differently. I would hope that kids think, "Okay wow, I don't have to go to all these college parties and get hammered, and do a bunch of dumb stuff I'll regret later." There are alternatives. I think we can post about hunting in the same way. I would hope that kids and adults alike would look at that and say, "Hey, you know what? I eat meat. Why wouldn't I give this a shot and see what this whole hunting and conservation thing is like?" Through what we're doing now, we're able to reach people who are open to hearing about that stuff.
That's what's great about this opportunity to talk about our passion for hunting. There might be people who read this, who have kids that are fans and have no idea that we're outdoorsmen. And that might be a way for them to talk to their kids about it and start a journey of their own. You never know. We are just trying to move forward in the right way and bring about this conversation in a productive manner. That is all we can really hope to do, and will continue to do so as long as we have the opportunity.
This story was originally featured in Modern Huntsman, Volume Three: Wildlife Management with support from MTN OPS
Lure of the Laguna
Lure of the Laguna is the first film in our four-part series with Lone Star Beer. Chapter One features angling savant Ben Paschal and his obsession with saltwater fly fishing on the coast of Texas. It's a story about hard work, dedication, and bailing on the internship his parents wanted him to take to follow his passion in the Laguna Madre.
El Observador
"El Observador" is a short documentary following wildlife cinematographer Austin Alvarado and explores his relationship with nature via his work pursuing black bears in Far West Texas. It is a visually stunning journey through the Big Bend region that highlights the incredible resilience of bears that have returned to this area. "El Observador" is a Modern Huntsman film presented by SWAROVSKI OPTIK.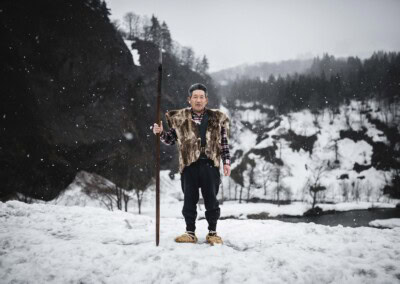 Matagi
"The word 'matagi' is derived from 'matagu', meaning to cross over, step over or straddle, bounding an image of people between two worlds — the realm of humans and that of the mountain deity: yama-no-kami." Scott Schnell, Ph.D., Associate Professor Emeritus in Anthropology This post is only available to members.