Vortex Razor HD 4000 rangefinder
PHOTOGRAPHY BY VORTEX
---
Distance can be deceiving. Unless you have a reference point, there is no sure way to guess the amount of ground between you and your target. When it comes down to the shot of a lifetime, a shooter should have the tools required to make the shot, as missing — or worse yet, wounding — an animal is not the ideal outcome.
The Vortex Razor HD 4000 rangefinder eliminates any guesswork. Accurate to around three feet at 200 yards and six feet over 1000 yards, this advanced laser rangefinder is built for those who demand precision at any distance. Those readings are delivered to a bright and easy to read display within the lightning quick speed of .25 seconds at 100 yards.
Compact and durable, the Razor HD 4000 is constructed with a strong magnesium alloy chassis that can withstand most accidental drops and impacts without compromising the delicate technology within. Even if something were to happen to your Vortex rangefinder, it is backed by the company's VIP warranty that covers the repair or replacement of any of their products due to catastrophic damage or defects. Rest assured, you will be taken care of.
With four different targeting modes including: Normal Mode, First Mode, Last Mode and Extended Laser Range Mode, the Razor HD 4000 can adapt to nearly any situation and meets the high standards of the world's most hardcore shooters.
You want reliability? This is reliability.
Full list of features can be found on the Vortex Optics website.
Includes
Protective case

Lens cloth

Product manual

One CR2 battery

Case strap

Hex wrench.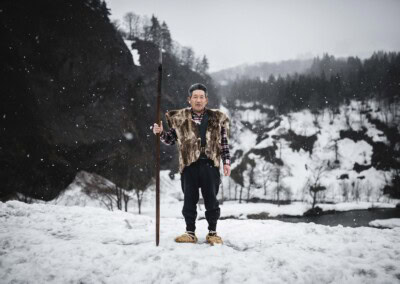 Matagi
"The word 'matagi' is derived from 'matagu', meaning to cross over, step over or straddle, bounding an image of people between two worlds — the realm of humans and that of the mountain deity: yama-no-kami." Scott Schnell, Ph.D., Associate Professor Emeritus in Anthropology This post is only available to members.
Deer Wars
Therein lies the overarching question: what does society want our landscape to look like? We seem to be moving toward a future where, in the name of "rewilding," people are disassociating with the land. This post is only available to members.