AN INTERVIEW WITH VIC KELLER
---
Serial entrepreneur, business growth guru and prolific mentor, Vic Keller has seen a thing or two when it comes to helping companies shoot for the moon. After selling a suite of his companies to Warren Buffet, Vic decided to focus his next chapter on meaningful, experiential brands, which led him in 2019 to purchase a majority interest in Christensen Arms, the family owned firearms manufacturer in Gunnison, Utah, known for their innovative rifle designs engineered from high-tech materials, and have garnered a reputation of listening to customers, solving needs in innovative ways, and not following trends.
A fellow Dallas native, I had the recent privilege to visit Mr. Keller at his new mountain home in Whitefish, Montana to talk about life after banking, his passion for business, and what the vision is for the future of Christensen Arms. I got to see an array of beautiful rifles, hike around in his backyard wildness to fire off a few rounds, then warm up over a few drams of Clase Azul tequila. Generous with his knowledge, passionate about his pursuits, and hospitable in the way only Texans can be, Vic is helping chart a course for Christensen Arms that will strengthen their reputations as a manufacturer of some of the best firearms in the world.
Tyler: You don't have a typical career for someone in the hunting and firearms industry. Tell us a bit about your path so far.
Vic: Absolutely. I have spent the past 20 years of my career starting and building companies, hiring exceptional people, and just trying to innovate in different industries. I started my career out in the financial industry, working for J.P. Morgan. After a few years, I quickly realized that I wasn't going to be a long-term banker, but really, really enjoyed working with the entrepreneurs and the corporations and the businesses that are integrated into banking. And then ultimately, made a big, bold decision three years out of college to start my first company. In 2001, I read a book, called The Experience Economy. It was a really exceptional book, quite profound at that time, but it basically talked about what opportunities existed to drive a business, and that the economy of many businesses was based on experiences. When I had the opportunity just a few years ago to have my company be successfully acquired by Berkshire Hathaway, I was thinking about what's next, and I wanted to get more involved with businesses, people, environments, and cultures that were experiential.
You seem to be a serial entrepreneur, so what led to the shift to start looking towards something like Christensen Arms and what led to that decision of buying the company?
In 2010, I was reading an email newsletter that came across my inbox. As I opened it up, I remember the top picture was a 250-foot Feadship yacht, the second picture was a Bell Euro helicopter, the third picture was a Ferrari Enzo, and the last picture was this all carbon fiber rifle. I was really intrigued that these four items were cataloged together. I was about to go on a hunting trip with my business partner, who was a very successful person himself and always had fine guns. I thought, "I need to show up with the best gun that I possibly can," so I started doing a little research on Christensen. I was a very inexperienced, very unqualified hunter, but the opportunity that I ultimately saw was that I could show up with the finest firearm that mankind has built, and this one looked like it could be it. I equate it to someone that has a beautiful set of golf clubs, is dressed to go play a great round of golf and they shoot 120.
So I called Christensen Arms and said I wanted to order the Summit TI rifle, which was their full carbon fiber. Absolute premier gun, it's a masterpiece. I waited several months to get it, and as planned, I went on the hunt. The gun looked more like a piece of art, was very lightweight, and everybody admired and loved it. Fortunately, I was able to harvest the biggest elk I've ever shot in my life, so that was kind of my early affection with Christensen Arms and really the draw to them.
Then through a series of friendships, in 2018, I had the opportunity to meet with Jason Christensen. The business was created by him and his father, and apart from a foundation of precision manufacturing, they just wanted to have a reason to get outside and hunt and be outdoors in the high desert of Utah. He really expressed to me what he wanted to see happen with the company and how he would like for it to grow, and took me through the legacy of the company and how it was built. At that time, we had about 140 people, gunsmiths and manufacturers, that I got to meet, spend time with, and see their operation. I started listening to what customers had to say about the product, and I just very quickly fell in love with the brand, the experience that they provided to the marketplace, and saw a great opportunity to take a business that was good to great, just helping them grow and implementing many things that would allow us to have more scale and produce more firearms.
The thought of being a steward and partner of that business was really exciting to me. I haven't seen many firearms companies that have built a brand around the experience, the fellowship, and the legacy and tradition of the firearm. You see some of that in the shotgun world, but in the rifle industry, I just saw an amazing opportunity to further expand on what the Christensens developed. So I appreciated where the company started from and I really fell in love with the opportunity for where we could take the brand and the product.
Tell us about the Christensen Arms culture and what makes that unique and qualified to boast some of the world's best firearms.
Christensen Arms is very unique in the sense that it's a community-driven company. Gunnison, Utah is not a big town, and I don't know what the percentage of the population that are our workers make up in the town, but I've got to imagine it's pretty high. There is a reverence within the culture, one of pride and honor. People love to be associated with the brand and with the product. And the fabrication, the craftsmanship, the work that goes into building the gun that you see on the shelves today, it's truly an art form. I believe that there's nothing about Christensen Arms that is mass production, or mass scale, and I don't know that we ever want to get there. For sure we don't want to lose this mad passion that the gunsmiths and the manufacturing team have around building a world-class product. Every product we put out is touched by many hands and it's moved all over the factory. I feel like when I see a gun put in one of our beautiful boxes and wrapped up, someone has just put their baby in a package and now it's going to hit the road. So it's a company that's driven by culture, and the culture is driven by craftsmanship and quality.
Tell us a little bit about where you'd like to see Christensen Arms go as a company.
The Christensen Arms brand today has a little bit of a different look and feel to it than the other, I would say, main line industry firearm providers. We want to be respectful. Whether it be if we're taking a picture of one of our firearms, if we're shooting a video, if we're coming up with new marketing materials, if we're hanging up our missions and purpose statements throughout our factory, we just want to be very respectful of firearms. It's a sensitive subject, even more sensitive today than it's ever been, certainly in my lifetime, and our objective is that we just want to be known as professionals respectful of firearms overall. I love the idea that we can take a non-aggressive approach to the firearms industry and attract more youth, women, or just folks from other walks of life that normally wouldn't touch a firearm. I love seeing more of that.
What is your definition of a modern firearm brand, and how should that brand behave? It would be great to see some progress on the gun conversation in terms of constructive discussions, is that something you feel like Christensen could do?
Well, when it comes to a modern firearms brand, I don't think there's a better example of it in the world than Christensen Arms. I believe that's who we are, that's what we want to be. We want to reimagine our best practices. We want to continue to evolve and get better. My passion that I advocate to all of our team members is that we don't want to stay in our lane. We want to be forward-thinking. We want to be emerging. Some of the products that we have coming out over the next several months are going to be, I would say, trailblazing types of products that are different than anything you've seen before. We want to respect the tradition, the legacy, and just the unique brand and culture that we have at Christensen Arms, but I would say that we are just as passionate about just being innovative and being a trailblazer and putting modern products out in the marketplace.
The best brands work to provide what the audience wants, not what the brand or company wants. In your experience, what do Christensen Arms' audiences want, and to what lengths does the company go to provide that?
We are extremely committed with the highest of quality personnel when it comes to understanding what the voice of the customer is. We read and listen to everything. Our customer service department is the fastest growing department in the company, and it's not because we have challenges, it's because we absolutely want to understand what the voice of the customer is, what people see in our products, what they'd like to see. So we're just relentlessly committed to understand the voice of our customers. We have a force of fans that are ready to help us in our online communities. When people ask a question, many times before we can ever think about answering it, they have the most prolific, profound, exceptional answers, and we don't need to do anything. We know that our lifeblood is the people that shoot our firearms and the experience that they have with them. That is what we protect the most. We're super passionate about that piece.
When people buy our guns, they are getting top tier American made materials, some of the best gunsmiths in the world that truly care, and a 25-year legacy of development and passion for creating the best possible products we can in the marketplace. In our business, an accuracy guarantee is really the holy grail of firearms, and we give an accuracy guarantee with our firearms. Our customers feel status when they own our rifles, and I think they feel very proud of what they have, and I'd like to believe that's because we spend so much time building a quality product. But whether they're in the field or they're on a range, it seems to be when someone puts a Christensen firearm in their hands, there's a level of passion and pride that is just second to no other brand I've seen in the outdoor sporting goods industry.
What have you learned from the family and the company working with them so far?
The Christensen family comes from a deep engineering background. They've been working with the highest quality, most sophisticated composite materials in the world, providing products for human health, products for the aerospace industry. They're really, really smart people. But I think what stands out even more is that it's been built to be a family style business, and there are deep relationships throughout the company. Over the past 18 months since I've had the privilege of being involved with the company, we've had explosive growth. We've brought in a ton of new people, and they have just been invited into the company as part of that family. So I think the most powerful thing about Christensen Arms are the people that are involved in the business. Every single one of these guns are made by hand, and we are dependent on having people that enjoy the environment they work in, that love building firearms, respect the brand and believe that they are producing the best firearm in the world.
How did COVID affect gun sales for you?
I think there's been a rising tide for the firearms industry from COVID. Handguns have definitely flown off the shelf. That's been a big, big piece of the growth. Handguns are not our core business, but people overall have really found new ways to spend time outdoors, and I believe a lot of those folks are enjoying recreational shooting. They see it as fun and inviting. It seems to be one of the highest growing segments of the outdoor industry right now. We were very fortunate that we released some new products that would be able to make it to the hands of the first-time gun owners, like our Ranger 22 LR rimfire rifle. It's very light, easy to handle, and is a great gun for youth, or for new shooters. So our timing was good with a few things like that.
What is Christensen's role in the world of hunting outside of your products? Do you guys have any plans for mentorship programs? It would be great to hear about other plans for conservation efforts or community engagement that you have in the works.
We're currently rolling out Christensen Arms University. It's an educational program that's developed by our dealers and ambassadors to educate other dealers and consumers on topics that are related to firearms but are not specific about firearms. So we're very excited to be taking that on. We have a lot of frequently asked questions that inspire the topics and things that we focus on within the university that we'll expand on. We also have a new internal brand ambassador program. A gentleman by the name of Jeff Bradley, who we are going to continuously put in front of our audience and partners, speaking about firearms and conservation topics. We're also hosting VIP training events called QUEST to teach people how to become an elite marksman.
Did you grow up hunting, and what did the outdoors mean to you then?
When I was a kid, I remember my Dad taking me deer hunting a couple of times. It was something I wasn't experienced at doing, so just showed up, and sat next to him in a deer blind in Texas, looked at beautiful animals walking around, and I felt like it was more wildlife watching than a hunting environment. But I didn't really start hunting until I was in my 20s, and my passion around hunting is really more about the fellowship, being outdoors, being around wildlife, being with interesting people, making new friends, and sitting around campfires. The actual killing part isn't really the allure to me, I like the whole ambiance and experience around it. Now with that being said, I have a lot of adrenaline, and a lot of passion running through me when I see a big elk walking up the side of the hill and I get stalk, sight in on it and harvest the animal. Ultimately, to have what I think is the best cut of meat for the rest of the year is great, and there's a ton of fun in that.
The thought of going out and hunting by myself, harvesting and cleaning the animal and then the day's over isn't as much fun for me. I want to get there the night before, build a big campfire, sip on some great bourbon, tell fun stories, some true, some not, wake up early and get to go on a hunting expedition with people that I care about and new friends and old friends, and just live a little bit of a pastime.
What do you like and dislike the most about the hunting industry?
True hunters are dedicated conservationists and have great respect for the outdoors and its inhabitants. They train for hunts like marathon runners. They take it very, very seriously. They're disciplined, they're strong. They have stamina for hunts, and they can last for days and weeks on end because they want to harvest the right animal, not just the next animal. Those are the aspects of the hunting community that deserve so much respect and praise. Those are the outdoorsmen and outdoors women that we love. But the hunting industry can be cliche at times. There's a stereotyped image of a hunter that could be solved by storytelling and focusing on the hunt instead of the kill. We are more about the fellowship, the camaraderie, being outdoors, and the process of the hunt than we are about the kill. Everyone wants to celebrate the trophy shot, and while I personally love that, the story of training, preparing, focusing on the hunt, and the harvest afterwards is what really makes hunting relatable to any other sport or activity that requires great dedication and stamina.
Do you feel that the hunting industry is too one-dimensional, and is that handicapping our ability to welcome new audiences?
Yeah. I personally do feel like the hunting industry is misrepresented overall and not as inviting as it could be and should be. But I see an amazing movement right now where people are very curious about the outdoors, they're curious about firearms, they're curious about hunting, and they seem to be more interested in general. So I think it's a tremendous opportunity to have a growing level of new people involved. I think that conservation should be as known and as understood to hunters as the practice of hunting itself is, but it's going to take many years to position hunting where it needs to be. But the reputation of hunting will improve if we all do our job and do it well. That's going to include just being professional, being respectful, being mindful, understanding conservation, and harvesting the right animal, again, not just the next animal.
To expand beyond just the hunting industry itself, the media that you see related to the hunting industry, what are your thoughts there and where do you feel like it could be better?
The last year in the firearms industry has been very interesting because there's been more first-time gun owners than ever before. So I believe that the hunting and firearms industries are evolving and changing with an entire new population of people that traditionally haven't been involved with firearms or hunting. So with that, I feel like what we see from mainstream media as it pertains to hunting and firearms is often misrepresented, and that the public opinion around firearms seems to be changing based on first-time gun owners flocking to gun stores to purchase them. So I just think there's a ton of noise right now in the way that firearms and hunting are represented.
With that being said, I look at publications like Modern Huntsman, and I do see a very intentional effort by manufacturers, media outlets, and by industry spokespeople to be more graceful and more thoughtful about how hunting is being presented to the general population. So I think that's a positive thing. But generally, I would just say public opinion is changing, and there is a conflict between people that want to talk about firearms and the people that want to talk about hunting. There seems to be a growing population of people that are interested in hunting, and those people are going to need a firearm in order to actually partake in the hunting. We think that their first rifle should be their best rifle, because it's really going to set the tone for what they need. We want to be their first investment.
What's your take on Modern Huntsman and what we're doing right now?
We're fans, and applaud the storytelling and the goal to redefine the narrative around hunting. It is very classy, it's needed, and just greatly appreciated certainly by us. We want people to be more curious about hunting. We want people to be able to identify with hunters more and not see separation there. Modern Huntsman is bridging what is a known gap in the industry. Hunters are more than outdoorsmen, they are professional athletes, skiers, race car drivers. Hunters are moms, sons and daughters. We believe that what Modern Huntsman is doing is an amazing job of presenting how hunting and the firearms element can be both a lady's and a gentleman's pursuit, as well as folks from more varied backgrounds and regions. We need to showcase the wide variety of people who are into, and are just getting into hunting and shooting, and you guys are leading the charge with that.
Is there anything that you want to close with that we didn't talk about, or anything you'd want to relay to anybody reading this about you or Christensen Arms?
Our DNA is innovation, and we've desired to be number one from the start – especially with being the original creator of the carbon fiber barrel. But most of all, this means being the most respected, professional, and quality-engineered firearm in the United States. I hope that when people look at us and shoot our rifles, they see the difference and that desire to deliver. It really is our goal. We don't want to be another firearm company; we want to be the firearms company that does it just slightly differently for every hunter and shooter.
Find Vic Online: Website | Instagram | Twitter | LinkedIn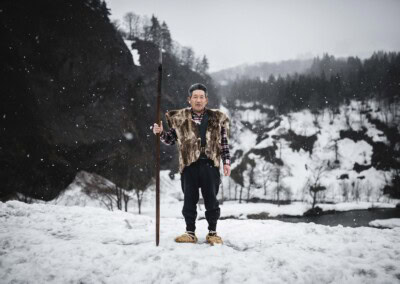 Matagi
"The word 'matagi' is derived from 'matagu', meaning to cross over, step over or straddle, bounding an image of people between two worlds — the realm of humans and that of the mountain deity: yama-no-kami." Scott Schnell, Ph.D., Associate Professor Emeritus in Anthropology This post is only available to members.
Deer Wars
Therein lies the overarching question: what does society want our landscape to look like? We seem to be moving toward a future where, in the name of "rewilding," people are disassociating with the land. This post is only available to members.