---
This incredible recipe from Matt Pittman, Pitmaster and Founder of MeatChurch BBQ is the perfect way to put rib racks to use.
This recipe is a new take on the reverse-sear method to create amazing individual venison chops. Followed by a technique that smokes an entire rib rack to 120 degrees internal temperature. Then, slice the rack into individual chops (or double chops) and sear them quickly on a hot cast iron surface to get some char on the outside of each chop while finishing them in a butter bath with fresh garlic and herbs. 

INGREDIENTS
Maui Nui Venison rib rack, whole
Holy Cow BBQ Rub by Meat Church BBQ (or your favorite meat rub)
Coarse cracked black pepper
½ stick unsalted butter
Fresh herbs for finishing—rosemary, thyme oregano
3-6 cloves of garlic
Olive oil

TOOLS
Cast iron skillet or griddle for searing

DIRECTIONS
1. Prepare your Smoker or Two Zone Fire on a Charcoal Grill
Prepare your pellet grill or smoker at a temperature of 250 degrees. We love hickory, mesquite or oak for this cook, but you can certainly use the wood or pellet of your choice.
2. Prepare the Rib Rack
Remove any excess fat or silver skin from the rib rack. Apply a light coating of olive oil to the meat to act as a binder for the seasoning.
3. Cook the Rib Rack, Part 1
Our goal in this recipe is a medium rare finish (130 – 135 degree internal temperature), but you can adjust to your personal preference. In part 1, we will be cooking to 120 internal temperature. Place the rib rack directly onto the cooking grate. If you are using a two-zone grill setup you will place the rib rack over the cooler side of the grill. Cook until it reaches an internal temperature of 120. At 250 degrees this should take 35 – 45 minutes, depending on the size of the rack. Pull the rib rack after it has reached an internal temperature of 120 degrees in the middle. Let it rest 10 minutes, lightly tented with aluminum foil while you move on to the next step.
4. Cook the Rib Rack, Part 2
Prepare a cast iron skillet over medium to high heat. This can also be done directly over the cooking grate without the skillet if you choose. Slowly melt the butter in the skillet while adding the garlic and herbs. Don't get the pan too hot or the butter will burn. Slice the rib rack into chops and sear them individually on each side in the pan. Each side will take 30 – 60 seconds, depending on your desired finish. Use a spoon to baste and coat the chops in the butter.
5. Remove the chops and allow to cool. Slice and enjoy!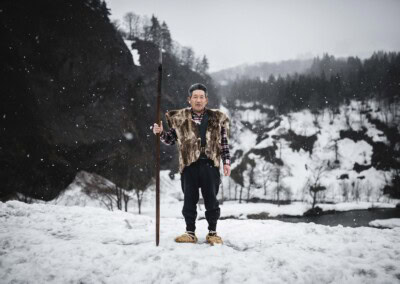 Matagi
"The word 'matagi' is derived from 'matagu', meaning to cross over, step over or straddle, bounding an image of people between two worlds — the realm of humans and that of the mountain deity: yama-no-kami." Scott Schnell, Ph.D., Associate Professor Emeritus in Anthropology This post is only available to members.
Deer Wars
Therein lies the overarching question: what does society want our landscape to look like? We seem to be moving toward a future where, in the name of "rewilding," people are disassociating with the land. This post is only available to members.