PHOTOS BY Jonathan Cabatic
---
When it comes to beautiful cuts of meat, a simple preparation is best. Especially for Axis deer, which provides a heavenly flavor and tender texture different than most venison dishes. A simple preparation also happens to be best when trying to pull together a meal the whole family will love. In this delicious dish, tender leg medallions cook in the same pan as the sauce, maximizing flavor and minimizing clean-up time.
Serves 3 to 4
INGREDIENTS
Venison medallions
Salt and pepper

SAUCE
3 cloves garlic, finely minced
2 shallots, finely chopped
3-4 thyme sprigs
Juice of half a lemon
King Oyster mushrooms sliced into desired size (see notes)
1 cup bone broth
¾ cup heavy cream
2 tbsp white miso (mild)
2 tbsp mirin
½ cup grated parmesan cheese
1 ½ tsp salt
1 tsp black pepper
1 tsp red chili flakes
4 tbsp butter
Olive oil
*Notes: Any mushroom can be used in replace of Hamakua mushrooms (King Oyster Mushroom)

DIRECTIONS
1. Start by preparing your venison medallions. Trim away any silver skin. Rinse and pat dry. Season each medallion with a generous amount of salt and pepper and let sit at room temperature for at least 15 minutes.
2. Heat a large cast iron pan on medium/high heat. When the pan is hot, add in 2 Tbsp butter and a drizzle olive oil. Place medallions in the pan and sear 4-5 minutes on each side. Remove from the pan and set aside on a plate.
3. Lower heat to medium/low. Add 1 Tbsp butter to the pan. Then add in shallots. Cook for about 1 minute, continuously moving around the pan so shallots don't burn.
4. Next add in mushrooms, minced garlic, and 1 Tbsp butter. Let cook until mushrooms have a nice golden color, (about 1-2 minutes). Be careful to not let garlic burn. If needed, drizzle a little olive oil. Add salt, pepper, and red chili flakes.
5. Pour in mirin. Stir and then add thyme sprigs. Let cook for about 1 minute. Add in bone broth and bring to a gentle simmer (about 3-4 minutes).
6. Mix in miso paste, making sure the paste is completely incorporated into the broth. Then add in lemon juice.
7. Slowly pour in heavy cream while mixing, followed by parmesan cheese. Cook for about 3-4 minutes on low heat to bring sauce together.
8. Add medallions back in pan with sauce or if preferred, slice medallions and pour sauce over.
9. Garnish with thinly sliced scallions and more parmesan (optional). Can be served over rice or oven roasted potatoes and vegetables.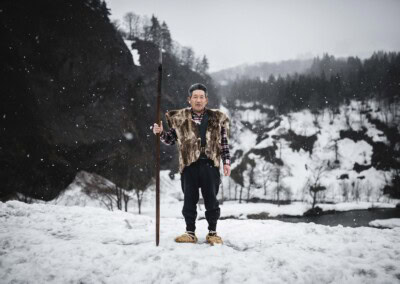 Matagi
"The word 'matagi' is derived from 'matagu', meaning to cross over, step over or straddle, bounding an image of people between two worlds — the realm of humans and that of the mountain deity: yama-no-kami." Scott Schnell, Ph.D., Associate Professor Emeritus in Anthropology This post is only available to members.
Deer Wars
Therein lies the overarching question: what does society want our landscape to look like? We seem to be moving toward a future where, in the name of "rewilding," people are disassociating with the land. This post is only available to members.