---
Growing up in the mountains around my childhood home in Bozeman, Montana taught me a great deal about the natural world around me, and how I fit into the circle of life. I've always been drawn to the feeling of being close to wild animals without them knowing I am there and being able to observe them in their calmest, most natural state, where they feel the most comfortable. I learned a lot from just sitting, observing and studying without a weapon or any intent to engage pursuit. Much of what I learned in my early years of exploring the mountains I still use today while hunting across the American West. Those early years instilled a desire to forever be close to nature, to observe and study wildlife to learn from them.
I began to document these intimate moments in nature, and slowly began to build a rich archive of footage. Through this process, I began realizing that I needed to share those moments, lessons and experiences with those who could not see what I've seen or learn what I learned.
Over the years, my work has started to be less about the kill and more about what we can do to give back to our way of life, the wildlife and wild landscapes we are drawn to. Working with different conservation organizations like the Rocky Mountain Elk Foundation, Wild Sheep Foundation, and the Mule Deer Foundation has afforded me the chance to work alongside and learn from some of North America's leading biologists. I've come to learn what makes these animals tick. Through these opportunities, I now have a greater understanding of how fragile some of the species truly are, and that the North American Model of Wildlife Conservation truly works.
I've learned a great deal about the ways in which funding raised by hunters & conservation organizations transforms our conservation landscape, and how important this support is for the future of these great animals. Hunting and conservation is more complicated than many people may understand, yet it is so extremely important that they come to understand these truths. From the billions of dollars in funding to the boots-on-the-ground work, hunting truly is a powerful driver of effective conservation. Do the research and you'll see for yourself. You'll find, it takes a monumental collaborative effort to plan and implement large scale, widespread conservation efforts, and through my work, I aim to help spread increasingly important and relevant messages of conservation whether it be focussed on protecting mule deer and their travel corridors or helping give wild sheep the habitat they need. There is so much work to be done to ensure future generations can enjoy the wildlife and wild landscapes we have enjoyed.
Not only has hunting helped shape conservation, but because of hunting in North America the very term conservation has been able to flourish into what it is today. It was these early American hunters who recognized the need to conserve this land and the amazing animals who call it home, and it's still the hunters today who continue to fund many key the programs necessary to see this legacy continue for future generations. For example, through the Pittman Robertson Act, which established a revenue stream generated from excise taxes apportioned to state wildlife agencies for their conservation efforts, hunter education programs, and operation of archery and shooting ranges, as well as several hunter-based organizations, hunters help generate billions of dollars a year for state and federal wildlife agencies to aid in their conservation efforts. Yet, there are many other ways hunting can have a greater influence on conservation moving forward. I am already seeing a growing trend in conservation awareness in today's hunting and outdoor community. I believe much of this shift has been inspired by efforts that illuminate conservation threats in new, exciting and approachable ways. Coming up with new ideas to bring attention to an animal or place is always appreciated. Whether it is a cool t-shirt design or feature film, successful communication leans on many takes all different kinds of ideas and efforts working toward a common goal. Buying a hunting or fishing license is awesome, and every single one that is sold is huge when it comes to the big picture for sure, but if everyone did just a little bit more, it would be amazing the difference we would see.
Hunting recruitment is steadily declining, and that is an alarming statistic in itself. It concerns me not only for the future of our magnificent wildlife, but also for the future of my children and the society around them. There is no doubt that the quality of life begins to diminish the more we distance ourselves from the natural world around us. There is also no doubt that fewer and fewer people are immersing themselves in wild places, connecting with the land, and the ones that do have increasingly become the minority. The future of hunting truly lies in the hands of the 95% of people who don't hunt a subset of society whose approval or disapproval of hunting is based on what they see and hear from the media and a small group of people who do hunt. With this truth in mind, we must understand that as hunters we are ambassadors, and the actions of every single one of us affect the future of hunting.
If I had to tell my boys one thing, it would be to always remember hunting, keep the tradition in mind as you hunt and interact with others, and protect our heritage. Get involved, use your voice, and give back far more than you take. If you don't, no one else will.
This story was originally featured in Modern Huntsman, Volume Three: Wildlife Management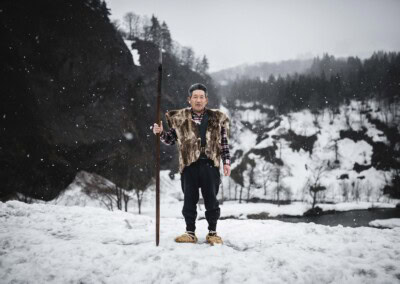 Matagi
"The word 'matagi' is derived from 'matagu', meaning to cross over, step over or straddle, bounding an image of people between two worlds — the realm of humans and that of the mountain deity: yama-no-kami." Scott Schnell, Ph.D., Associate Professor Emeritus in Anthropology This post is only available to members.
Deer Wars
Therein lies the overarching question: what does society want our landscape to look like? We seem to be moving toward a future where, in the name of "rewilding," people are disassociating with the land. This post is only available to members.