WORDS BY Katie Marchetti
PHOTOS BY Jonah Bell
PRESENTED BY First Lite
We're down two cars, the rental has a flat and the weather promises snowfall by morning.
It's Turkey Opener in Montana, which means that if the Eastern Montana gumbo doesn't snap your u-joint, the wind will endeavor to shred your enthusiasm with a roar, silencing even the loneliest of toms.
Only hours before, my fiancé Rick Hutton and I had rolled slowly down a dirt road where wooden signs nailed to fence posts informed us that Bob and Betty lived 9.7 miles thataway. It was 70 degrees and sunny when we reached the pin on our map, congregating with First Lite's Conservation Director Ford Van Fossan; Videographer Max Benz and photographer Jonah Bell; and Meateater's Director of Hunting Ben O'Brien. It was the turnout that we'd call home for the next few days.
We pitched tents before lacing up our hunting boots and shouldering our packs for an evening ruck to get the lay of the land. Hopefully we'd roost some birds, marking their location before returning at first light.
We head out across the flats and follow a cattle trail up into the hills. The air is warm and still, and we march single file, Ford, Rick, Max, Jonah and then me. We whisper as we crest the ridge, hanging just below so as not to skyline ourselves. There is no movement, and Rick and Ford take to debating the merits of locator calls.
"I like to sit there and listen first," Rick says in a hushed voice, "I find — " His eyes dart and hold; his body freezes mid-sentence. "There are birds right there! Everybody step back this way, slowly. Very slowly," he instructs with all of the intensity of a marine in combat. There's no mistake, we're in a battle of stealth and precision against these wiley birds of Eastern Montana.
Binoculars reveal hens congregating in the meadow below, clucking and pecking daintily through the thinning trees. We plan to RSVP by dawn the next day.
We unzip the tent door to find camp frigid and dark but devoid of snow — the storm is delayed. We whisper good luck as Ford, Ben and Max go their separate ways for the day. Rick, Jonah and I retrace our steps from the night before, and as we catch our breath just below the hillcrest, the silence is broken by a single gobble. Then the dark sky is suddenly filled with the boys' choir in the loft. Rick pops a diaphragm call in his mouth to cluck a throaty hen's reply. An eager chorus of jakes almost tumble from their roost in their enthusiasm for a morning tryst.
There's a deep ravine yawning between their place in the trees and our refuge from sight. We're tucked up beneath a ponderosa, obscured by a Phantom Leafy Suit while holding a hopeful breath that the break of dawn will rouse a tom to pitch down at our feet.
Rick clucks, and then clucks again over the top of their reply, and just like that there's a beat of wings and two jakes float through the trees, landing with earnest naivety a few dozen yards away. Shotgun to shoulder, I have them in my sight. Their heads remain crossed in an "x marks the spot," and a shot would take two instead of one. They strut farther from my perch as Rick clucks quietly to them over my shoulder. They separate, and I wait for stillness; with a steady squeeze, I fire. As the shot leaves the gun, he stretches his neck in a demanding gobble and the pellets go right on by. Utter chaos ensues following the Weatherby roar, and the jakes tear up the hill and out of sight. My heart sinks to my feet at having missed my opportunity, but relief soon follows, knowing our tussle left them unscathed.
I beg Rick to take the next at bat. I can't bear the weight of postponing his turn while I get my head right at first light. With the toms gone from the trees, we gather our things. The sun climbs and we do too, charting a zig-zag course directed by OnX in hand. We sit on a rocky outcropping, and Montana falls away beneath our feet, a vast expanse of forested hills and dry meadows considering their first shoots of green. Small clearings and strut zones yield nothing, and elk move like a mirage in and out of view.
The temperature drops, the wind howls, the birds are silent and the search continues as the miles rise to meet our feet. Without even tipping its hat, the weather moves in with a vengeance; snow pours from the heavens in thick swirls, obscuring our vision as we soldier on. Single file, we walk through the 9 a.m. shroud and call to no answer, the wind snatching the conversation before it reaches our ears.
We skirt the edge of a meadow and drop our packs, then sneak through the trees to see what can be seen. My mind is on my numb fingers, and the sandwich in my pack, when Jonah whispers excitedly, "Birds, birds, birds, up ahead on the right!" Rick takes the lead, tucking his head under juniper needles and crawling forward for a better view.
Through the snow globe, a silent congress of hens and toms takes shape, not 35 yards ahead. Rick stands, hidden in the snow and leaves, his swaying almost imperceptible until his eyes locate the target. Moving as though made of molasses, he wipes the snow from his barrel to reveal his sights. One beat, two beats more, and the copper-plated lead cuts a path through the birds, leveling a tom right where he stands. We rush out of the trees, but there is no need — he's dead on his dinosaur feet.
Rick holds the bird high and yells, "Longbeard!" as the blizzard ensues.
At camp, we find our bird is the only bird that's been carried home. My spring legs are weary after a twelve-mile day, and I breathe a sigh of relief in the shotgun seat of the truck with heaters all aimed at me, relishing Rick's offers to bear the brutal cold and dark to make our dinner for the night. A sleeping bag full of hand warmers does little to fend off the single-digit cold. Our breath decorates the interior of the tent with crystals that sparkle in the headlamp glow.
Day two, we rise in the dark and I reorient myself to camp life after a long winter at home. We lean our weight against the car doors until they almost imperceptibly click, shoulder our packs and silently begin our elevation gain. Rick and Jonah pick the spot, and we pick a good tree on which to rest until the turkeys decide to fly from their rest.
Senses on high as the sky fills with songs, we bear witness to another dawn. The wind picks up, the air charged with another impending storm. One gobbler cracks off from high in his loft, and then silence — they're holding tight as clouds obscure the light. We decide to move, and the miles we add to our boots are steep and rocky climbs, descending into peaceful meadows and up again without a track or scratch to be found.
Rick calls into the wind, and a gobbler immediately replies. He chats with us frequently, and I wait for him to come in, but he holds his strut on high ground, refusing to leave hens for hens it seems.
We repeat this all day — following their tracks through the snow, jumping birds to find its only bunches of bachelorettes, and Montana toms aren't leaving their best girls at home alone on a Saturday night. The hours and miles pass, and we start making our way back to the truck. My shoulders relax, my eyes no longer searching for red but a place to lay my head. Our voices rise as the conversation flows uninhibited by the hunt, and I'm wondering if I'll find a shed when Rick's excited whisper breaks my train of thought: "They're right there!" He points through the trees, but the subject is obscured from me. He pushes me up around a grove of trees, and I see movement crossing single file on the trail ahead. There's only one spot devoid of brush with a clear shot. I step closer, freehanding my shotgun as they trot through my window of view. Rick is behind me, whisper-shouting, "Hen, hen, hen, hen, jake —" Before he can close his mouth around the word, I take a step and pull the trigger. With a flurry of wings, the bird tumbles down the steep incline and out of sight. We run and slide in the shale after him to find him dead in the brush that cradled his fall, ribbons of blood streaming from his peppered head.
We stop to catch our breath and laugh at the imperfect circumstances that delivered a bird. All those miles and mountains logged, and our harvest occurs a mere mile from the truck. I grasp him by the spurs and raise the jake high as the snow yet again begins to fall from the sky.
Eight hunters, two days, one tom, and one jake taken over the course of 50-plus miles. Weapons, apps and years of training, and the trek for turkeys continues.
Turkeys were once unrivaled in their impact on North American culture, an important source of food for Native Americans and immigrants alike in their native 39 states. As our fledgling nation grew westward, turkeys were nearly extirpated in their wake. By the 1930s, the woodlands were cleared and the gobbles had disappeared.
Before it was too late, conservationists penned a marvelous comeback story. Turkeys were returned to their former glory, planted and adapted; they now join the canopy chorus in 49 states. In 1973, the National Wild Turkey Federation was founded to continue that work of saving the habitat to save the hunt. It's an endeavor that becomes harder by the day, as a growing populus chips away at what little habitat remains.
Despite the unpredictable weather, steep miles and wiley birds, we repeat our steps east each spring, watching as the world unfurls from a long winter, and listening intently for a gobbler's spit and purr. This year, there is the added intent of illuminating the National Wildlife Turkey Federation's work on the ground, which facilitates habit restoration for a myriad of wild species. We hunt to encourage those to join, and donate, but most of all to care.
The calendar pages are flying by, as there are three states full of turkeys that remain. Rick and I return home, but the First Lite crew rolls across county lines, in hopes of earning NWTF another dime.
South Dakota, Nebraska and Wyoming are pinned on the map, and in between scouring the landscape for birds, Ford visits the habitat restoration projects funded by NWTF memberships and banquets.
In Montana, the work of the local chapter of NWTF established a riparian buffer to protect spring heads that quench the summer thirst of as many species as these hills and ravines hold. Quality and quantity of water mean that turkeys thrive, and deer and elk reap the downstream benefits too. In South Dakota, they work to keep meadows devoid of upshoots; in Nebraska, their focus is on forest restoration. Wildlife doesn't acknowledge property boundaries, so Wyoming works to assist landowners in habitat management to create healthy ecosystems that extend farther than public land.
With our two turkeys on the board, Ford and Ben put in 17 hours a day for another four days, but the black hills weren't willing to reveal their hidden cache of birds. On the fifth day, the walls came tumbling down, and although the snow tried in vain to obscure their view, their aim was clear and true. Two toms were laid to rest in the back of the Tacoma as they continued west.
They drove farther into spring, weather nipping at their heels until Nebraska and Wyoming offered a brief reprieve of three birds apiece. As they pointed the rig toward home, they had more to show than a freezer full — 1,300 new memberships and nearly $46,000 in revenue raised to conserve this tradition of hunting the craftiest birds that reside this side of the divide.
We break bread and bone, joining the generations that have come before, finding sustenance roosting in the trees and carrying it home. Winding tags around dinosaur claws, we marvel at the colors of jade, the likes of which have never been seen in the prism of their wings. To have sacrificed a bit of ourselves in the retrieve, our comfort and innocence of what it means to eat. To have entered their harem the lesser beast, to outwit them although their sight and hearing often bested me. We find that while the seasonal trek for turkey ends, the trek for conservation is an endless road ahead, and we breathe a sigh of relief as a gobble echoes beneath a battalion of ponderosa trees.
Originally published in Modern Huntsman Volume 7
Lure of the Laguna
Lure of the Laguna is the first film in our four-part series with Lone Star Beer. Chapter One features angling savant Ben Paschal and his obsession with saltwater fly fishing on the coast of Texas. It's a story about hard work, dedication, and bailing on the internship his parents wanted him to take to follow his passion in the Laguna Madre.
El Observador
"El Observador" is a short documentary following wildlife cinematographer Austin Alvarado and explores his relationship with nature via his work pursuing black bears in Far West Texas. It is a visually stunning journey through the Big Bend region that highlights the incredible resilience of bears that have returned to this area. "El Observador" is a Modern Huntsman film presented by SWAROVSKI OPTIK.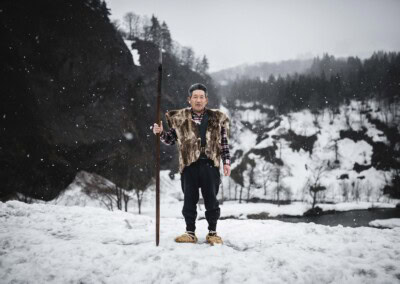 Matagi
"The word 'matagi' is derived from 'matagu', meaning to cross over, step over or straddle, bounding an image of people between two worlds — the realm of humans and that of the mountain deity: yama-no-kami." Scott Schnell, Ph.D., Associate Professor Emeritus in Anthropology This post is only available to members.