The North Platte Corridor
WORDS BY James Elledge
PHOTOGRAPHY BY John Dunaway
PRESENTED BY Duck Camp

"If you bastards miss this bird, you're never getting invited back," Ed snarled as he poked his head through the corn-stalk-brushed goose pit. With a Beretta 20-gauge tucked in his corner and a dog whistle lanyard covered in goose bands around his neck, Ed moved his hand counter-clockwise, indicating the direction that the solo goose was flying. The three black Labs started shaking uncontrollably. The hunters' left hands held their gun barrels tight while their right hands grasped the handles on their respective sliding pit panels overhead. Everything got quiet, and time stood still.
"Take him."
Ed and Kyna, a husband-and-wife farming and hunting dynamic duo, had dialed in the perfect waterfowl and upland hunting trip, half work, half pleasure for our group from Texas — my Duck Camp coworker, a couple of buddies and me. These fertile lands were ripe for testing our products in a new part of the country while enjoying some first-class hunting. Some would call it "field testing." I call it just plain fun. At the border of Colorado and Nebraska there lies a mix of wheat and corn fields full of long-tailed roosters and bedded down mule deer. The manicured strips of grain teem with a mirroring excitement — equally inviting and ruthless. The vast expanse of country is as humbling as it is ripe for adventure. From the pheasant-infested grain fields to the ducky warm water sloughs to the posh goose pits, the North Platte corridor lived up to its birdy reputation and sent us home wanting more.
Our crew took a trip to this special place to hunt with some farmer friends of ours, but we found a lot more than just birds. "Hunting. Firearms Supplies. Deli. Liquor." The sign at the grimy gas station on the Colorado/Nebraska border certainly understands its audience. These product categories encapsulate what's essential in this area of the world; it's a slower pace of life by design. As we drove through Northeast Colorado, I began to think about what to expect on our trip to hunt the North Platte. I envisioned massive tractors, denim overalls and black clouds of green head ducks. What I did not anticipate then would become so evident later: the human connection to the land. 
Ed and Kyna go together like fried chicken and hot sauce — Kyna's perfect amount of spice complements Ed's crispy outside and tender inside. These two Nebraska farmers live a lifestyle that both values and depends on the land. They farm a hard nine months out of the year and hunt hard the other three. Similar to their relationship with each other, they are both grateful and respectful of the land and everything it provides. I've been with other couples who hunt together, and it's always a joy to witness, but the dynamic between Ed and Kyna left a lasting impression on me. The mutual level of respect was very evident from the start, as Ed never tried to tell Kyna what to do, or vice versa. The couple pursues their passions with an internal fire that gets them through the long, arduous months of farming.
Ed and Kyna work as a perfect team with the ultimate goal of having fun with their dogs and advancing the training. As we were hunting geese on day one, these two were tucked in the left side of the blind with their three labs, talking strategy and talking to the geese. Kyna led the commentary on patterning the geese and their flight paths of choice. Ed piggybacked in agreement and with a similar take on the mallards that were circling over the slough we were planning to hunt the next morning. On the first group of greater Canada geese, I unloaded my gun and knocked one down. Yes, it took three shots. Kyna, on the other hand, deftly dropped two with her 20-gauge and then finished off a winged bird with her third shot. Ed wasn't surprised in the least and started cracking jokes at the guys on the right side of the blind for missing altogether. Kyna echoed and gave a couple of extra jabs, like "pull the heater out for these Texas boys!" She then asked for a breakfast burrito that my colleague Brandon was whipping up on the griddle. These little moments are what we conscientious hunters remember — more so than how many birds we harvested.
Kyna and Ed have a symbiotic relationship with their most prized possession: the land. This became most apparent to me when we went out to the cornfields for our afternoon pheasant hunt. I had never seen an organized wild rooster hunt with blockers, but that one will definitely not be my last. Kyna whipped us over to the fields in an old 1980s Suburban and Ed followed in his F-250. We stopped on the road to hear the game plan and then quietly proceeded to the corner of the field. "Now, don't slam your doors when you get out. Just leave it open," Kyna instructed. A buddy and I, who would later be dubbed "Tommy Two Guns," walked in a line with Kyna as the black labs pogo-sticked through the tall corn. "Rooster!" Kyna yelled out as one of the Labs flushed a bird to Tommy's right. "Too slow, you gotta have a quicker draw," she told Tommy after he just barely shot behind his first flushed wild pheasant. Once he got faster on the draw, Tommy was able to knock down his three roosters in just that one field — a testament to the great habitat. When we got to the end of the field, to the blockers, a few birds flushed and the blockers were able to take some long shots and harvest a few more roosters. Ed and Kyna looked at each other with beaming smiles, as their three-year-old project of a food plot had produced in a big way. Their teamwork led to an incredible day in the field with new friends, and you could tell that made them as happy as anything — save for maybe their bird dogs.
That evening, we went to a local dive bar/restaurant/pool hall in Chappell, NE. Our camo and blaze orange-clad crew would have stuck out anywhere else, but no one raised an eyebrow. We grabbed some Jameson and sodas, put in a few orders of fried chicken, and started recounting the day. What we had done that day was not indicative of a typical hunting day, and a far cry from my usual type of waterfowl hunting in a flooded field or coastal marsh. My point of view on waterfowl and upland hunting will forever be changed in a positive way, as I was able to see how much the preparations and land management can positively affect the harvest and foster camaraderie. If Kyna and Ed hadn't cut the field off the North Platte and patterned the geese, we wouldn't have been able to work them. If they hadn't meticulously planted and managed the tall cornfields for pheasant habitat, we couldn't have harvested those delicious roosters. Admirably, Kyna and Ed eat every part of the pheasant. The fried pheasant innards — gizzards, livers and hearts — that we ate the second night rocked my world. This appreciation for the land bleeds over to an appreciation for the birds that the land provides, and so the nourishment loop continues.
Toward the end of the night, a lady walked over to our table and started joking around and poking fun at Ed. She then asked what everyone was drinking and offered up a round of drinks on her. "Thank you for your support of our local businesses; it truly means a lot," she said with a big smile on her face. As the waitress brought out our round and she walked off, Ed casually told us that the lady was the mayor and loved to hunt. The warm embrace of a dive bar in a small town is something special. Akin to a good pork ribs and white bread joint in my home state of Alabama, this divey spot left me with a lasting feeling of comfort and gratitude.
Back in the goose pit, we concentrated as hard as we could on the solo goose Ed had called in. It was the last day of the trip, and Ed's ultimatum was weighing heavy on us. We sure as hell weren't going to let this bird fly out of the spread. The sliding doors flew open, and gun barrels rose. The goose flew right to left at 35 yards over the silhouette decoys and got hit a couple of times, but kept flying with tenacity to the left. This was my opportunity to make sure we'd get invited back to this fertile land. Above all else, I wanted to go back to hang out and learn from Kyna and Ed. I concentrated harder on that shot than any other shot I've ever taken. One eye fixated on the goose's head, I swung through and the bird landed with an emphatic thud. Our shiny black retrieving rocket shot out of the pit to pick up the bird, and all was right in the world. The land had provided, and we had taken away, only to give back another day.
Originally published in Modern Huntsman Volume 7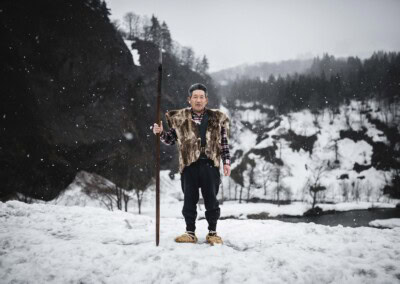 Matagi
"The word 'matagi' is derived from 'matagu', meaning to cross over, step over or straddle, bounding an image of people between two worlds — the realm of humans and that of the mountain deity: yama-no-kami." Scott Schnell, Ph.D., Associate Professor Emeritus in Anthropology This post is only available to members.
Deer Wars
Therein lies the overarching question: what does society want our landscape to look like? We seem to be moving toward a future where, in the name of "rewilding," people are disassociating with the land. This post is only available to members.