Skeleton Optics Decoy – Blaze Orange Edition
---
by brad neathery  //  Photo  Josh Abel
---
The first pair of sunglasses I've ever worn that don't slide down my nose and scratch when the wind blows up the dust. In contrast to the Skeleton Decoy Tortoise frames featured earlier this month, the Blaze Orange Special Edition frames present a much more active physique with a matte black shell and orange Skeleton shield logo on the templates and nose pads.  Every pair of Skeleton Decoys include polarized polycarbonate lenses by Zeiss, designed using an advanced Tri-pel coating to promote clear vision, amazing visibility and clarity, while reducing discomfort caused by glare during outdoor activities. See the outdoors differently.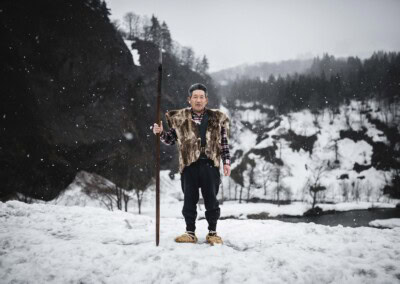 Matagi
"The word 'matagi' is derived from 'matagu', meaning to cross over, step over or straddle, bounding an image of people between two worlds — the realm of humans and that of the mountain deity: yama-no-kami." Scott Schnell, Ph.D., Associate Professor Emeritus in Anthropology This post is only available to members.
Deer Wars
Therein lies the overarching question: what does society want our landscape to look like? We seem to be moving toward a future where, in the name of "rewilding," people are disassociating with the land. This post is only available to members.