ORIGINALLY PUBLISHED IN MODERN HUNTSMAN, VOLUME FOUR: The Women's Issue
GET YOUR COPY HERE
---
Seared Duck, Wild Chili Gastrique & Butternut Squash Puree
Serves 4
"Every year, I pick chiltepins that grow wild at my ranch in Texas. I use them often in my cooking and either pickle or dehydrate them so that I can enjoy them throughout the year. These tiny, spicy peppers infuse the red wine gastrique that I drizzle over seared wigeon breasts. Serve with a silky butternut squash puree, candied pecans, and fried sage leaves for a decadent meal that embraces the flavors of fall." — Danielle Prewett
Ingredients
4 Dabbling Duck Breasts, plucked (could be mallard, wood, pintail, wigeon or teal).
12 Oz. Butternut Squash
1 Cup Water
2 Oz. Goat Cheese
2 Tablespoons Cream
8-12 Fresh Sage Leaves
1 Cup Dry Red Wine
1 Teaspoon Dried Chiltepins or Pequins, or substitute with Chili Arbol
1/4 Cup Red Wine Vinegar
1/4 Cup Honey
1 Cup Candied Pecans
Kosher Salt And Pepper to taste
Butternut Squash Puree
1. Peel and roughly chop the winter squash into 1-inch chunks until you reach about 12 ounces in weight (or about half of a large squash). Add to a large pot with water and bring to a simmer. Reduce the heat to the lowest setting, cover with a lid, and cook until the squash is very tender, roughly 30–45 minutes.
2. Drain excess water from the squash and add it to a high-powered blender or food processor. Add the goat cheese and cream, and blend until silky smooth. Taste the puree and add more cream to thin the consistency if needed, and season with salt and pepper to taste.
Gastrique
1. In a small saucepan over medium heat, reduce the red wine and dried chilis down to half a cup. Remove the wine from the pot, and strain the chilis out.
2. Wipe the pot clean and add the honey. Cook over medium heat until it turns a dark amber color, about a minute or two, and then pour in the vinegar and spicy red wine. Let the liquid simmer for a few minutes, or until it coats the back of a spoon. It will continue to thicken as it cools, turning into a syrup-like consistency.
Duck
1. Pat the surface of the duck breasts very dry with a paper towel. Using a sharp knife, score the skin of the ducks into cross-hatch patterns about 1 inch apart. This allows the fat underneath the skin to render out. Season the duck with salt and pepper just before cooking. If you do this step in advance, be sure to blot any moisture the salt pulled from the skin just before searing.
2. The amount of fat available and the method of cooking ducks will depend on where they were shot during migration. If you have very fatty ducks, place them skin-side down in a cold pan, and turn the heat to medium-high. You do not need to add any fat. However, if the duck breasts have little to no fat, or fat under the skin, you will want to preheat the pan to medium-high. Add a drizzle of cooking oil or duck fat to the pan and sear the breasts, skin-side down first.
3. If the duck breasts begin to contract or dome up in the center, press them flat with a spatula. Flip after 2–4 minutes, or once the skin is golden brown and crispy. You will continue to cook on the opposite side until cooked through to medium-rare. A very small duck may only take an additional minute, while a large mallard or specklebelly will take 2–4 minutes longer. Transfer the duck to a cutting board to rest.
4. Drop fresh sage leaves into the hot pan with the rendered duck fat or oil. Fry for 5–10 seconds on each side; don't let the sage burn, or it will turn bitter. Transfer the fried sage leaves to a paper towel to blot excess fat.
5. Serve the seared ducks with the butternut squash puree, candied pecans, fried sage leaves, and chili gastrique.
Photo by Danielle Prewett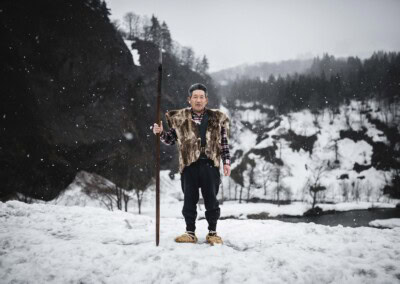 Matagi
"The word 'matagi' is derived from 'matagu', meaning to cross over, step over or straddle, bounding an image of people between two worlds — the realm of humans and that of the mountain deity: yama-no-kami." Scott Schnell, Ph.D., Associate Professor Emeritus in Anthropology This post is only available to members.
Deer Wars
Therein lies the overarching question: what does society want our landscape to look like? We seem to be moving toward a future where, in the name of "rewilding," people are disassociating with the land. This post is only available to members.