Sautéed Halibut with Lemon-Pesto Butter
RECIPE BY Emma Teal Laukitis and Claire Neaton, The Salmon Sisters
PHOTOS BY Brian Grobleski & Dawn Huemann
---
We used to spend the afternoons jigging for halibut from our mom's skiff in Ikatan Bay, sometimes bringing home a forty- to hundred-pound fish that would feed our family for many meals. One reason we love halibut so much is that it's incredibly versatile but also easy to cook. This recipe is a good example of how tasty it can be with a simple preparation—all you really need is halibut, butter, herbs, and a good pan. Paired with lemon or pesto pasta, this is one of our family's favorite weekday dinners.

Makes 4 to 6 servings

INGREDIENTS
3 tablespoons unsalted butter, softened, plus 1 tablespoon for coating the pan
1 tablespoon homemade or store-bought pesto
1 1/2 teaspoons finely chopped fresh basil
1 teaspoon finely chopped shallots
1/2 teaspoon grated lemon zest
6 (4-ounce) skinless halibut portions2 teaspoons flaky sea salt
1 teaspoon freshly ground black pepper

DIRECTIONS
1. Combine the butter, pesto, basil, shallots, and lemon zest in a small saucepan over low heat, stirring until the butter is melted and all is well blended.
2. Heat a large cast-iron pan over medium-high heat. Sprinkle the halibut evenly on both sides with the salt and pepper. Coat the pan with butter. Once melted, add the halibut and cook for 5 minutes on each side. Test doneness by cutting into the center of a fillet with a knife. The fish should flake apart and appear opaque white, not translucent. Pour the lemon-pesto butter over the fish before serving.
(c) 2020 by Emma Teal Laukitis and Claire Neaton. All rights reserved. Excerpted from The Salmon Sisters by permission of Sasquatch Books.
Lure of the Laguna
Lure of the Laguna is the first film in our four-part series with Lone Star Beer. Chapter One features angling savant Ben Paschal and his obsession with saltwater fly fishing on the coast of Texas. It's a story about hard work, dedication, and bailing on the internship his parents wanted him to take to follow his passion in the Laguna Madre.
El Observador
"El Observador" is a short documentary following wildlife cinematographer Austin Alvarado and explores his relationship with nature via his work pursuing black bears in Far West Texas. It is a visually stunning journey through the Big Bend region that highlights the incredible resilience of bears that have returned to this area. "El Observador" is a Modern Huntsman film presented by SWAROVSKI OPTIK.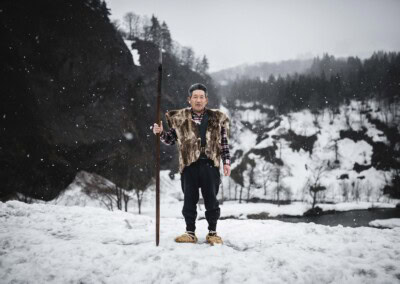 Matagi
"The word 'matagi' is derived from 'matagu', meaning to cross over, step over or straddle, bounding an image of people between two worlds — the realm of humans and that of the mountain deity: yama-no-kami." Scott Schnell, Ph.D., Associate Professor Emeritus in Anthropology This post is only available to members.