Red Pepper Wild Boar Stew
---
Down on all fours, I crawled, carefully peeking ahead. There were two massive wild boars on the edge of the forest, so I picked the bigger of the two, and sent a bullet into the vitals. My aim was true, the death was clean, and together we celebrated success on the last day of the hunt.
One hundred and eighty pounds of boar meat fed my wife and I through the winter. Meals shared with loved ones are always a pleasant reminder of when time stood still, or instead went back to the only future worth living. One with nature, a simpler one, as the luckiest man alive.
Makes 4 to 8 servings
INGREDIENTS
2 lb / 1 kg wild boar meat cut into cubes, plus some boar bones
Lard (can find at butcher)
Smoked fat (or bacon/pancetta)
1 large onion
5 large red bell peppers
4-5 cloves of fresh garlic
Late autumn sweet tomato puree/sauce. If you don't have the puree, add some brown sugar
Salt & Pepper
Smoked paprika, Hungarian if possible.
Caraway seeds
Bay leaves
Fresh thyme
Brandy
Red wine
Beef stock
8 oz / 250 ml organic tomato purée

INSTRUCTIONS
There are two ways to do it: cast iron pot over the open fire, or in the oven. If cooking over open fire, you have to add some stock from time to time. If using an oven, you just need one cup of stock reduction.
1. Sweat the peppers: Char the peppers over an open fire or on a gas stove flame (alternatively, grill in the oven on the top shelf with top broiler only — watch and turn when blackened)
2. When charred, move to a large bowl and cover with wrap or a tight-fitting lid. Let rest for 10-15 minutes.
3. Gently peel off the loose skin and de-seed the peppers, saving only the meat.
4. Melt the lard at high heat, adding the smoked fat and boar meat.
5. When everything starts to caramelize, add the brandy and flame it. Keep flames until the liquid begins to evaporate.
6. Remove and store the meat.
7. Reduce to medium heat.
8. Add to the pot smoked paprika, caraway, salt and pepper — one teaspoon each — and fry for a couple of minutes.
9. Add tomato puree / a teaspoon of brown sugar, followed by the chopped onions. Fry them till soft and translucent.
10. Add peppers, and stock.
11. Cook for 10 minutes, then blend to smooth sauce with hand-blender.
12. Add the meat and a few bay leaves to the sauce.
13. Now, if you are cooking in the oven, just put the lid on or cover with tin foil and cook at 400F / 200C for 3-4 hours.
14. If you have time, slow cook at 250F / 120C for eight hours.
15. The best way is, of course, to cook over an open fire, for flavor and for the soul of the chef.
16. If over an open fire, remove the lid, keep the flame small, turn frequently, and add stock as you go along. For an expedited version, put the lid/tin foil on.
17. 30 minutes before the finish, crush the garlic and mix with salt, fresh thyme, and a bit of olive oil.
18. For the last 15 minutes, add 1 healthy glass of red wine — Zinfandel or Pinot Noir are both good.
19. Add the garlic mix.
20. Taste and add salt & pepper as preferred. For a little heat, use crushed dried chili and let cook for minimum 30 minutes before serving.
21. Serve with a glass of red and a thick piece of toasted day-old bread.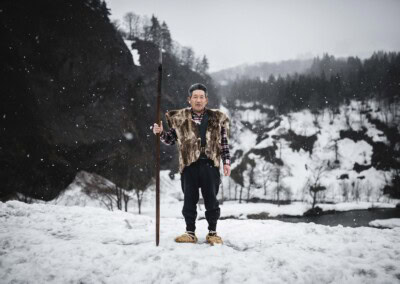 Matagi
"The word 'matagi' is derived from 'matagu', meaning to cross over, step over or straddle, bounding an image of people between two worlds — the realm of humans and that of the mountain deity: yama-no-kami." Scott Schnell, Ph.D., Associate Professor Emeritus in Anthropology This post is only available to members.
Deer Wars
Therein lies the overarching question: what does society want our landscape to look like? We seem to be moving toward a future where, in the name of "rewilding," people are disassociating with the land. This post is only available to members.