Oskar Blues X Modern Huntsman: The Outrider Brew is Finally Here
---
We're proud to present our recent collaboration with Oskar Blues Brewery in honor of our inaugural Field Outrider creative competition. Crafted with locally sourced ingredients like Montana malt, spruce needles, and local wildflower honey, this a truly distinctive and flavorful brew. It's as hearty as those who roam Montana's rugged lands in relentless pursuit of its wild game and as refreshing as the creatives who bring home stories to share from their time afield. The Outrider brew even boasts a potent 8.2% ABV. It's a strong spiced ale at home in the field, along the river, and at the table alongside wild game and great conversation.
Public lands and sustainability have shaped Oskar Blues Brewery since day one. These values, and their passion for finding the best ingredients possible, led to this exclusive collaboration in recognition of our shared belief in staying as close to nature as possible. Oskar Blues Brewery also shares our belief that new voices and ideas always have a home in the outdoors. They were a fresh, new voice in the outdoors the moment Dale's Pale Ale opened craft beer to outdoors-people everywhere in 2002. Oskar Blues is a legendary brewery known as the first brewer to place craft beer into portable, crushable, infinitely recyclable cans. Thanks to Oskar Blues, hunters, campers, and sustainably-minded outdoor enthusiasts who practice "pack it in, pack it out" can enjoy some of the world's best craft beer in wild places. This Outrider brew stays fresher for longer while keeping to the rules in place for the betterment and health of our wildlands.
The Outrider brew is an exclusive, limited-edition beer available on draft and in four-packs of 16oz cans at Oskar Blues Brewery taprooms in Boulder and Longmont, Colorado and Brevard, North Carolina. We hope you enjoy it as much as we do.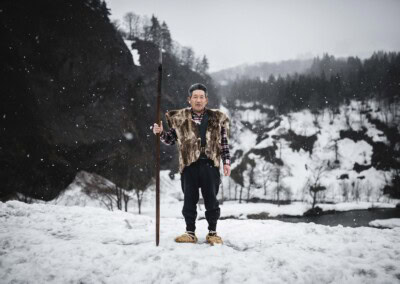 Matagi
"The word 'matagi' is derived from 'matagu', meaning to cross over, step over or straddle, bounding an image of people between two worlds — the realm of humans and that of the mountain deity: yama-no-kami." Scott Schnell, Ph.D., Associate Professor Emeritus in Anthropology This post is only available to members.
Deer Wars
Therein lies the overarching question: what does society want our landscape to look like? We seem to be moving toward a future where, in the name of "rewilding," people are disassociating with the land. This post is only available to members.