PHOTOS BY EPIC Provisions
---
The scientists, farmers, ranchers, and meat processors of EPIC Provisions continue to innovate with nature. EPIC supplier White Oak Pastures' vast grasslands are managed through regenerative agriculture practices by the world's foremost land stewards, while their animals graze under the watchful eye of experienced ranch hands.
EPIC's innovations are born from a pursuit of a biodiverse eco-system designed for scale with future generations in mind. Their mission lies in connecting people with food made the way nature designed it in the first place. For years EPIC has been a committed supporter of the legendary Savory Institute, a global network of conservation-minded farmers and land managers facilitating large-scale regeneration of the world's grasslands and the livelihoods of their environments through holistic management. This relationship yielded the first-ever EPIC bar made with beef verified by the Savory Institute's uncompromising Land-to-Market program. Developed in collaboration with leading agricultural scientists and conservation-minded researchers, the EOV seal on the new EPIC Beef Barbacoa-inspired Bar establishes a new benchmark for transparency and quality. EPIC prefers flavors and products that are defined by the animals themselves.
This distinctive new bar checks even more boxes for the most demanding eater. It's Whole30 approved, paleo-friendly, gluten-free, and features 11 grams of protein. As more and more seek greater balance with the world's food sources, mother nature continues to provide.
We're honored to showcase this innovation within our food supply and provide Modern Huntsman readers with a 20% discount on all EPIC bars. Simply use HUNTSMAN20 through 5/1/2021 at epicprovisions.com. It's another way EPIC proves out their belief that everyone deserves food. These bars don't last long in our offices and won't last long in your pantry, field pack, or soft-shell pocket. Give them a try and let us know what you think.
Lure of the Laguna
Lure of the Laguna is the first film in our four-part series with Lone Star Beer. Chapter One features angling savant Ben Paschal and his obsession with saltwater fly fishing on the coast of Texas. It's a story about hard work, dedication, and bailing on the internship his parents wanted him to take to follow his passion in the Laguna Madre.
El Observador
"El Observador" is a short documentary following wildlife cinematographer Austin Alvarado and explores his relationship with nature via his work pursuing black bears in Far West Texas. It is a visually stunning journey through the Big Bend region that highlights the incredible resilience of bears that have returned to this area. "El Observador" is a Modern Huntsman film presented by SWAROVSKI OPTIK.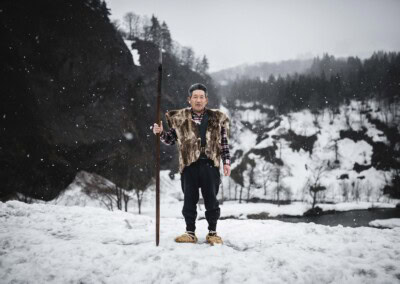 Matagi
"The word 'matagi' is derived from 'matagu', meaning to cross over, step over or straddle, bounding an image of people between two worlds — the realm of humans and that of the mountain deity: yama-no-kami." Scott Schnell, Ph.D., Associate Professor Emeritus in Anthropology This post is only available to members.