WORDS BY Jens Heig
---
Uncertain times require extraordinary leadership. This pandemic is testing us as a country, as individuals, and as companies to rise to a higher level of responsibility to ourselves and communities. The minds at Mystery Ranch — a high quality backpack manufacturer in Bozeman, Montana, and a partner of Modern Huntsman — asked themselves what could be done to create positivity in this situation, even as the coronavirus brought their production facility and the world around them to a halt.
The answer was face masks.
Shortages of personal protective equipment, or PPE, has been a common story across the nation and across the world as producers struggle to keep up with demand for this small piece of gear that is vital for the safety of medical personnel and essential workers. Utilizing a light, breathable and anti-microbial fabric in ample supply at Mystery Ranch and a pattern approved by the Gallatin Quilt Guild, the company is part of an effort to mobilize manufacturers and individual sewers to donate as many masks as possible to those on the front lines of covid-19 at Bozeman Health Deaconess Hospital. Over 8,500 masks have been donated in a matter of weeks and the collective effort is only growing. We decided it's time to do our part, as well.
Until the crisis abates, Modern Huntsman will be donating 10% of all sales to Mission For Masks, which is our contribution to the efforts of Mystery Ranch and the Bozeman community as they come together for those who put themselves at risk for the greater good. This is the right thing to do.
We need your help to continue this critical endeavor in the fight against covid-19. Here's what you can support the mask effort:
Subscribe

to Modern Huntsman

Purchase and preorder back issues of Volumes One – Four, or preorder Modern Huntsman Volume Five: Traditions
Warm your home with a fine art print from our new Print Shop

,

which also supports freelance photographers

If you can sew, download the mask patterns from the Gallatin Quilt Guild
We will be providing more information about Mission for Masks and Masks for Bozeman as the programs continue. If you lack a connection to Bozeman, we hope it inspires you to explore ways to support medical personnel in your own community.
The cliché will always be true: we are stronger together.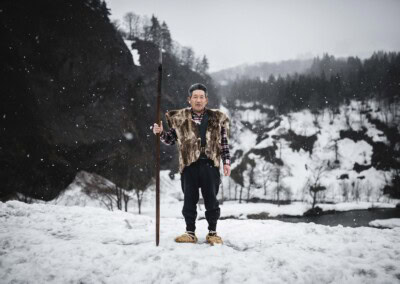 Matagi
"The word 'matagi' is derived from 'matagu', meaning to cross over, step over or straddle, bounding an image of people between two worlds — the realm of humans and that of the mountain deity: yama-no-kami." Scott Schnell, Ph.D., Associate Professor Emeritus in Anthropology This post is only available to members.
Deer Wars
Therein lies the overarching question: what does society want our landscape to look like? We seem to be moving toward a future where, in the name of "rewilding," people are disassociating with the land. This post is only available to members.