ORIGINALLY PUBLISHED IN MODERN HUNTSMAN, VOLUME FOUR: THE WOMEN'S ISSUE
---
"Elk! Get down," Rick hisses behind me. Dull reflexes take over, and I freeze in my tracks. I see Seth crouched ahead, arrow nocked, its perfectly poised broadhead illuminated by one sparse sunray seeping through the dark timber canopy. Thirty or so elk filter directly toward us through the dense forest. At ten yards, I notice the whites of their eyes as their labored panting overwhelms the sound of rustling leaves. In the same moment, the faintest breath of wind alights the back of my neck, and the herd explodes uphill in chaos. I was hooked.
As an adult-onset hunter, I started my journey the previous season; killing my first whitetail and thus solidifying the connection between life and food. The pursuit and the community surrounding it opened doors to organizations advocating for ecosystem conservation, land access and stewardship. Once I stepped foot on public land, I started to understand the importance of its existence. I fell in love with a man whose deep hunting knowledge fueled my fast-paced learning. What species of tree is that? Is it native? Would this be a good mule deer habitat?
Over time, a sea of questions morphed into small accomplishments — reading tracks and signs; understanding proper gear; tasting schnitzel from my first successful turkey hunt. Although admittedly underdeveloped, my confidence grew steadily through the pursuit of wild game. My love for the outdoors made more sense, and as an unexpected side effect, I began to draw. Inspired by the places we went and the animals that inhabited them, I revisited my childhood passion for art. My pencil spun into a scribbling fever-pitch. Between commissions of working dogs, I drew from photos taken on our many adventures: bison from the Black Hills of South Dakota, a bighorn ram from Yellowstone's Lamar Valley, a curious mule deer from Colorado's Rocky Mountains. My drawings could never be detailed enough, as the memory of each encounter lingered so vividly behind my eyes.
My style has broadened as time goes on, and it will continue to reflect my ever-changing passions. I find now that as the initial rush of romanticism dampens, a deep thirst for a historical understanding of these places is revealed. With each stroke of my pencil, I explore these evolving interests. I often remind myself of moments like that day in the elk woods when in the throes of an intricate pencil drawing. Memories of adventures past relieve the sedentary and monotonous work. Much like the first hint of pink in the sky of a cool September morning, the beginnings of a piece of artwork awaken stirrings of anticipation. An unfinished piece is reminiscent of a long hike with one soggy boot.
Laying down that final signature feels like approaching your quarry, knowing the shot was clean. Although they are such vastly contrasting pursuits, art and the outdoors, I cannot have one without the other. And when I lay down my pencil and lace up my boots, all is perfectly right in the world.
KELSEY JOHNSON
Kelsey Johnson is a professional agriculturalist, artist, photographer and outdoorsman. Her realism-style pencil works depict the people and wildlife that inhabit Western landscapes. You will most likely find Kelsey hiking, camping or hunting on public lands that surround her home in Bozeman, Montana.
Follow her on Instagram: @K_RaeJohns
Shop her online store at Kraeartworks.com
Lure of the Laguna
Lure of the Laguna is the first film in our four-part series with Lone Star Beer. Chapter One features angling savant Ben Paschal and his obsession with saltwater fly fishing on the coast of Texas. It's a story about hard work, dedication, and bailing on the internship his parents wanted him to take to follow his passion in the Laguna Madre.
El Observador
"El Observador" is a short documentary following wildlife cinematographer Austin Alvarado and explores his relationship with nature via his work pursuing black bears in Far West Texas. It is a visually stunning journey through the Big Bend region that highlights the incredible resilience of bears that have returned to this area. "El Observador" is a Modern Huntsman film presented by SWAROVSKI OPTIK.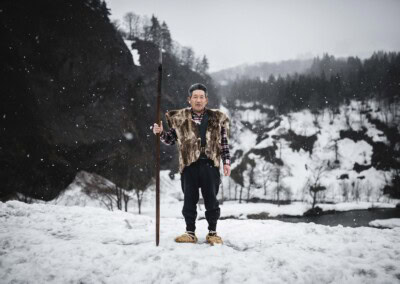 Matagi
"The word 'matagi' is derived from 'matagu', meaning to cross over, step over or straddle, bounding an image of people between two worlds — the realm of humans and that of the mountain deity: yama-no-kami." Scott Schnell, Ph.D., Associate Professor Emeritus in Anthropology This post is only available to members.