---
My great-grandparents were some of the earliest homesteaders in the Jackson Hole area (they settled there in 1912 and the town of Jackson became incorporated in 1914). I've heard stories from my grandfather Walter (who was born in Jackson) about those early days. His stories gave me a real appreciation of what it meant to be a "cowboy" – working hard from sun-up to sun-down, living in concert with the land, looking out for neighbors and them for you, and the importance of ethics. Those men and women were hearty folk. My grandfather rode a horse to school. On the way he would set traps for small game; and on the way back from school he would collect whatever game the traps had caught.
My father grew up in California, and moved to Wyoming after college to take a job punching cattle on a ranch just outside of Jackson, where he met my mom. He learned to rope cattle and started competing in the local rodeo. I'm told I was riding horses even before I could walk. So it has always made sense to me that I would feel a deep connection to horses and to the west. I grew up following my dad around the ranch, and my folks taught me the western way of life. In the spring I got to help brand cattle, and in the summers we'd go watch the local rodeo. It was a rich upbringing full of big, wild, Wyoming forests and fields to explore.
When I was about 5, my parents got divorced. My mom, younger brother and I bounced around a bit. The hardest part about the divorce was that I didn't see my dad as much, but he was still very present in my life. My grandfather also took on a more active role in my life. As I look back now, I think a lot of what our fathers and grandfathers do is prepare us for the moments when they won't be there – the decisions we'll be required to make and the loads we'll be asked to shoulder.
When I was in high school, my mom got remarried to an outstanding horseman named Grant Golliher. Grant and I share a passion for horses and the outdoors. He's taught me a lot, and we've become great friends over the years. Probably the motto that I'm most fond of when I think of Grant, is "just keep on ridin'." We see it out in the pastures and fields, and I think it's true of life – no matter what happens, you keep riding and keep moving forward. You do that and you'll get to see some incredible trails and vistas. There's always the temptation to look back or wonder "what if" – but if we stop moving, we miss all the beauty and adventure that lies ahead.
Needless to say, I feel lucky because I have two great dads and I get to celebrate them on Father's Day; to cherish the trails we've ridden down together and to look forward to the adventures ahead.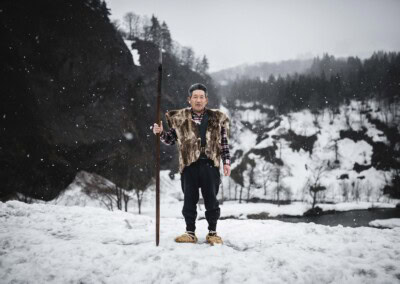 Matagi
"The word 'matagi' is derived from 'matagu', meaning to cross over, step over or straddle, bounding an image of people between two worlds — the realm of humans and that of the mountain deity: yama-no-kami." Scott Schnell, Ph.D., Associate Professor Emeritus in Anthropology This post is only available to members.
Deer Wars
Therein lies the overarching question: what does society want our landscape to look like? We seem to be moving toward a future where, in the name of "rewilding," people are disassociating with the land. This post is only available to members.