Modern Huntsman Holiday Gift Guide 2021
It was fun putting this gift guide together.
Many of these recommendations are made right here in the USA by people who communicate their passion for the outdoors through craftsmanship and quality. Some of the selected brands have also been stalwart supporters of Modern Huntsman, and we believe it's vital to take care of those who take care of us. Our goal was to put together a selection of items that embody and strengthen our relationship with the outdoors, with friends, and loved ones. With any luck, some of these selections will lead to grand experiences and adventures, as well as the subsequent stories around crackling fires. We'll leave it up to you to decide on the level of embellishment.
Over the past year, we have collectively become aware of how essential it is to make things at "home." Whether it's a new technical jacket, a dog kennel, pack, or leather wallet, American-made has acquired new meaning in the covid economy. At the time of publishing, most of these items were available for shipping, but please bear in mind that stock may change as we approach the holidays. Take it in stride.
Be well and enjoy.
This gift guide features products from: Modern Huntsman, First Lite, GUNNER, MYSTERY RANCH, FORLOH, SOG Knives, Swarovski Optik, Traeger, Goal Zero, Wilkinson's Fine Goods, Raggio Custom Calls, Russell Moccasin, Salmon Sisters, Sarah Glover, Westland Whiskey, Tecovas, FHF Gear, Abel Reels, Garmin, Canvas Cutter, and Frost River Trading Co.
Modern Huntsman /
Volume 7 Artist Edition
This original oil painting by painter Morgan Irons was adapted into our Artist Edition cover for Volume 7. As the winner of the art & illustration category of our Field Outrider competition last year, we commissioned Morgan to bring this to life. Entitled "Drought," this 18×24 oil painting addresses the themes of water shortages in the West. Supplies of the artist edition are limited.
Modern Huntsman /
Nicholas Coleman Lithographic Print
We're excited to release a small run of limited edition lithograph prints from highly collected western artist Nicholas Coleman, made from the original oil painting 'The Huntsman,' which was commissioned as the limited edition cover of Modern Huntsman Volume Six: Resilience. Only 125 are available and each print is numbered and signed by the artist.
GUNNER / All-Weather Kit 2.0 Bundle
GUNNER's founder, Addison Edmonds, designed this kennel because he wanted the safest, most durable kennel for his dog, Gunner. The result of his efforts is the G1™ Kennel, which is basically an armored truck for your dog that is made in America. Heavy duty rotomolded plastic, tie down placements, multiple locks and a really satisfying latch make this kennel feel indestructible. If you want to get the ultimate gift, GUNNER offers a bundle that includes the G1™, the All-Weather Kit 2.0, tie down straps and even a personalized nameplate to make it extra special.
MYSTERY RANCH /
Pop Up 28
We selected the MYSTERY RANCH Pop Up 28 because of its versatility. It will spend most of its service time as a day pack, with its thoughtfully designed pockets, durable materials and comfort. However, if you put an animal down, the Pop Up 28 does double duty as a load-hauling system and quickly converts to get your meat out of the backcountry. Every MYSTERY Ranch pack is made in Bozeman, Montana.
FORLOH / ThermoNeutral Down Jacket
FORLOH has taken the down jacket to the next level. As a mid-layer, the ThermoNeutral Jacket keeps you warm with 650 fill RDS organic duck down, while its DWR coating makes it entirely appropriate to wear as a jacket. Like many other items on this list, it is also 100% sourced and made in America; the down comes from an Amish farm in Indiana. All important when considering what goes under your tree.
SOG Knifes / Aegis AT
The inspiration for SOG Knives came from an elite special ops unit from the Vietnam War and a specific blade they carried on covert missions. While you may not be conducting secret operations deep in the jungle, a SOG knife is designed and purposefully built for your next adventure. With its patented lock system and ambidextrous lock, the Aegis AT is engineered to make sure the incredibly sharp, carbon steel blade stays exactly where you intend it to be. The friendly clip also keeps the Aegis AT secure on your pocket for easy carry.
Swarovski / Curio 7×21
Dainty yet powerful, the Curio is a fantastic companion for the adventures where every ounce matters and when convenience is paramount. These are straightforward binoculars that are easy to use and with the optical magnificence that you can expect from Swarovski. Their foldable, simple design make them easy to stick in your pocket for a day afield if you want to leave your larger 10x42s at home. They also come in a clean burnt orange and silver colorway if you want something a bit more flashy than the standard black.
Traeger / Collective
Issue No. 1
Where there is great food, there's a great story to tell. Traeger recently released Collective, its new publication that shines light on some of personalities that are reimagining our relationship with food. From pitmasters, to oyster farmers and foragers, this book will give a healthy serving of inspiration to the aspiring chef in your life.
Goal Zero / Nomad 10 Solar Panel
In our modern world, certain electronics are not only enhancing our outdoor experience, but GPS and other emergency devices keep us safe on every adventure. The Goal Zero Nomad 10 makes it easy to keep those batteries charged. Lightweight, foldable and durable, this portable solar panel is perfect for your phone, headlamp, and even power banks. If you're on the move, it's also designed to strap to your pack for on-the-go charging. Pair this with the Garmin InReach® Mini below for a truly remarkable safety combination.
Wilkinson's Fine Goods / Hickory Wallet
Since he was a child, high quality leather overwhelmed Clint Wilkinson's senses. He grew up inside his grandfather's saddle shop, standing next the the legendary Weldon Burgoon as he spent countless hours in front of his harness machine. Today, Clint honors and continues his grandfather's legacy of leather craft with Wilkinson's Fine Goods, located in Denton, Texas and the same building as the old saddle shop. The hickory wallet is a starting point for you to explore everything that Clint has to offer.
Raggio Custom Duck Call
For the waterfowl hunter, owning a call that has been crafted by Josh Raggio is a pinnacle moment. Each call is one of a kind, handcrafted and perfected with not just years of experience, but also intense passion for the birds. This is an extraordinary gift and while we can't guarantee when you would actually receive your order, we can truly say that it will make its new owner speechless.
Russell Moccasin / Signature South 40 Birdshooter
The bird hunter has a special relationship with the boots on their feet. They are the interpreter between foot and field, forging a connection to the land and the wild birds within. Handmade in Wisconsin, Russells are boots that get better with every step. What makes them unique is the moccasin construction, where the leather is sewn and molded entirely independent from the sole, which is then adhered separately. The Birdshooters are the result of years of refinement, combining traditional construction with the durability of modern materials like its Vibram© sole.
Salmon Sisters / Fishing, Feasting and Living in Alaska
If you've read their masterfully written story in Modern Huntsman, Volume Four: The Women's Issue, you know that the Salmon Sisters are special. Emma and Claire were born, raised and shaped by the ocean, and this cookbook is the manifestation of their life experience in Alaska. If your loved one worships halibut, salmon, and the many other fruits of the sea, these recipes will give proper respect to the foods they cherish.
First Lite /
Alpine Cold Weather Glove
If you have ever hunted elk and mule deer in Colorado's fourth season, you would appreciate the First Lite Alpine Cold Weather Glove. The warmest professional-grade glove that First Lite offers, the shearling wool lining of the Alpine creates a miniature furnace for your hands. Also, see the zipper on the top? The glove perfectly integrates with the cuff of the Catalyst jacket for a seamless, tight fit. Cold hands have officially met their match.
Westland Distillery / American Oak Single Malt
This whiskey is meant to be paired with a warm fire and rich conversation. Distilled in the state of Washington, Westland is leading a new charge on single malt whiskey and challenging the idea that a good single malt can only come from Scotland. With nose notes of custard filling and maple brittle, along with the taste of almond nougat and crème brûlée on the palete, the Flagship is a perfect starting point for someone that relishes the complexity of single malt but also wants to experience something uniquely American.
Tecovas / The Jamie Boot
Want to turn heads when you turn your heel? Meet The Jamie. Designed in Austin, Texas and handmade in Léon, Mexico, this is a classic cowgirl boot defined by an iconic Western cording pattern and soft, supple leather. Why do we choose Tecovas? First, they stand by everything they make and by selling directly to the customer, they can slash their prices to make Western wear much more approachable without compromising quality. The Jamie is also available in a sharp-looking goatskin leather, which begs to become a canvas that tells tales of your adventures.
FHF Gear / Bino Harness
An effective bino harness is an entirely underrated part of the hunting kit. Not only does it protect your glass from the elements, but it is critical to have them available at a moment's notice. This harness from FHF Gear is available in three different sizes to accommodate the size of your binoculars and is entirely adjustable to ensure correct fit. Great consideration went into its materials, as well. Cordura makes sure it's light, durable and silent, while the absence of elastic keeps the harness in place if you have to run or ride. Finally, the MOLLE panel on the bottom of the harness allows for easy accessory attachment, like a bear spray or pouch, also available from FHF.
Abel Reels / Casey Underwood Editions
Landing a gorgeous rainbow can already be a transcendent experience, but when you do it on an Abel Reel with art from Casey Underwood, it takes on an entirely new meaning. Abel Reels are designed and built in Montrose, Colorado by people that are passionate about fly fishing, the mountains and providing an exceptional product. To ensure complete product integrity, each part of an Abel reel is machined in-house after meticulous R&D. These reels are truly in a league of their own.
Garmin / InReach® Mini
For anyone that spends time in the wilderness, the Garmin InReach® Mini is an absolute necessity. Using GPS, the Mini features two-way communication, SOS alerts, location sharing and even weather forecasts of your current location. Accidents and emergencies can happen, regardless of preparedness, and communication is essential in those types of situations. As a lifeline to the civilized world, this device could easily save someone's life.
Canvas Cutter / Fortress 2.0 Sleep System
Canvas Cutter has the goal to change the way people camp and experience the outdoors. The Fortress 2.0 Sleep System does exactly that. At its core, it's a water resistant canvas bedroll, but the bundle also comes with a foam pad and the tent system, making this possible one of the coolest lightweight excursion setups on the market. Canvas Cutter also offers some lightweight bedroll systems if you're looking for something lighter than canvas for summer expeditions.
Frost River / Fly Wallet
Every Frost River product is hand cut and sewn in a small brick building in Duluth, Minnesota. Its roots are in the canoe culture of northern Minnesota (think the Boundary Waters) where heavy, waxed canvas is the preferred material for packs, bags, and other accessories. While the heavy duty canoe packs are still at its core, Frost River has also expanded into a full line of luggage, day packs, hats, mittens and more. The fly wallet here is a perfect entry into the brand and is available as either a trifold or bifold version.
Sarah Glover / Wild Adventure cookbook, First Edition
To share a meal with Sarah Glover is to experience the spirit of a place. Her style of cooking is to put emphasis on local ingredients, flavors and tradition, then put it together over a roaring fire. It will probably burn a little bit, but that's part of the character and magic of cooking over open flame. Wild Adventure is a 340-page behemoth of a cookbook with stunning photography and inspired recipes. It's so nice that it should probably live on your coffee table between meals.
Lure of the Laguna
Lure of the Laguna is the first film in our four-part series with Lone Star Beer. Chapter One features angling savant Ben Paschal and his obsession with saltwater fly fishing on the coast of Texas. It's a story about hard work, dedication, and bailing on the internship his parents wanted him to take to follow his passion in the Laguna Madre.
El Observador
"El Observador" is a short documentary following wildlife cinematographer Austin Alvarado and explores his relationship with nature via his work pursuing black bears in Far West Texas. It is a visually stunning journey through the Big Bend region that highlights the incredible resilience of bears that have returned to this area. "El Observador" is a Modern Huntsman film presented by SWAROVSKI OPTIK.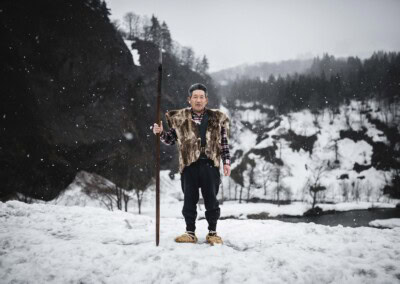 Matagi
"The word 'matagi' is derived from 'matagu', meaning to cross over, step over or straddle, bounding an image of people between two worlds — the realm of humans and that of the mountain deity: yama-no-kami." Scott Schnell, Ph.D., Associate Professor Emeritus in Anthropology This post is only available to members.