Our Holiday Day Gift Guide is curated with products for the hunter and the outdoor adventurer.
If you've been around for long, you know that we only share products we truly believe in. We are honored to partner with brands who share our same passions and work hard day after day building something great to share with the world.
This year, don't just buy stuff. Buy products you believe in from brands you trust.
See you in the field.
First Lite Men's Catalyst Soft Shell
The Men's Catalyst Soft Shell Jacket changes the paradigm of technical hunting softshell jackets. Silent, breathable, insulating, and engineered to stretch and move with you, the Catalyst changes what is possible in a softshell jacket. The revolutionary, 2-layer construction creates a jacket that is warm and breathable while also being lightweight and completely silent.
Lacrosse Men's Aero Timber Top
They've aged well since Lacrosse introduced them back in 1910. Back then, they were made with rubber and a lace-up leather upper. They kept the classic look but swapped the rubber for an AeroForm shell made with polyurethane. This provides more flexibility and will keep feet warmer because the polyurethane won't transfer cold to your feet like rubber can.
First Lite Women's Catalyst Soft Shell
The Women's Catalyst Jacket brings dead silent, breathable soft shell protection to the First Lite Women's outerwear collection. Engineered to fit female hunters while implementing the same exact functionality and performance as the Men's Catalyst.
Lacrosse Women's Aero Timber Top
Introduced back in 1910, Lacrosse kept the classic look but swapped the rubber for an AeroForm shell made with polyurethane. This provides more flexibility and will keep feet warmer because the polyurethane won't transfer cold to your feet like rubber can.
Weatherby Mark V®
Weathermark
The Weathermark historically represents the first Mark V® to feature a Cerakote® finish ready for the nastiest weather conditions. The #2 contour barrel provides accuracy combined with the hand-laid fiberglass Monte Carlo stock with aluminum bedding blocks.
Purdey Kudu Bushcraft Set
A beautiful bushcraft set made from highly patterned and ornamental Damascus steel and kudu bone. Comes with a firesteel and lanyard chain with leather tab. Limited edition of 25.
EPIC Venison Sea Salt & Pepper Bar
Based on a simple recipe that allows the natural flavor of deer meat to shine bright and true. A tribute to the "classic" venison jerky recipe, this bar offers a unique carnivore experience and makes it more convenient to consume wholesome protein often not found in the grocery store. Made with 100% grass-fed venison and spices., contains 15 grams of protein.
Oak & Eden In-Bottle Finished Whiskey
Wood infuses most of the flavor in whiskey, making the barrel aging process essential. Oak & Eden has taken this process one step further, building on the flavor by adding a hand-placed, seasoned and toasted spire of wood into each bottle. The spire finishes the whiskey inside the bottle for 6 weeks, imparting a unique and aromatic finish for a deeper, richer taste.
Mystery Ranch Beartooth Pack
The BEARTOOTH 80 pack is built for the hunter who values organization and varied access to the essentials. Built on the new Guide Light MT Frame™, this pack offers major load-hauling capability and features a quick-attach frame capture.
Hilleberg Nallo 3 GT
The Nallo GT models are known for their light weight. But it's their remarkable strength that makes these tents the first choice for anyone needing the lightest weight tents that still offer all-season, all weather functionality.
Force of Nature Bison Bacon Burger Patties
Perhaps the most memorable meat you will ever eat, the Bison Bacon Burgers are legendary. By combining the nourishing properties of lean grass fed bison with the flavorful and moist nature of bacon, these pre-made burger patties are conveniently ready for you to toss onto a hot grill or skillet and quickly prepare a meal you will never forget.
Force of Nature Regenerative Ancestral Blend
Ancestral Blends are developed to conveniently incorporate the nourishing properties of organ meats into a modern diet. With careful attention to detail, Force of Nature created a product that has comparable taste and texture to what you would expect with regular ground meat while enjoying the health benefits of their most nutrient dense product. Regenerative, grass-fed, grass-finished.
Tingley Badger Boot
Ultra-comfortable Badger Boots™ are 100% liquid-proof and feature breathable Neoprene uppers with extra width in the calf area for a more relaxed fit. A cushioned footbed helps absorb impact shock and a steel shank (in certain styles) provides added arch support.
Kryptek XP1 Trooper Flashlight
The XP-1 Trooper Max is a universal tactical flashlight with Power LED technology. This single function, high intensity flashlight puts out a smooth, brilliant, pre-focused, tactical-level beam almost double as bright than a giant 5-D-cell flashlight.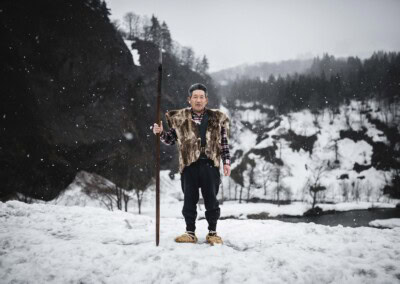 Matagi
"The word 'matagi' is derived from 'matagu', meaning to cross over, step over or straddle, bounding an image of people between two worlds — the realm of humans and that of the mountain deity: yama-no-kami." Scott Schnell, Ph.D., Associate Professor Emeritus in Anthropology This post is only available to members.
Deer Wars
Therein lies the overarching question: what does society want our landscape to look like? We seem to be moving toward a future where, in the name of "rewilding," people are disassociating with the land. This post is only available to members.