Grilled Pheasant Leg with Brussels Sprouts, Cabbage, Dill and Yogurt
ORIGINALLY PUBLISHED IN MODERN HUNTSMAN, VOLUME THREE: WILDLIFE MANAGEMENT
GET YOUR COPY HERE
FOR MORE WILD GAME RECIPES, VISIT DANNY'S WEBSITE, THE URBAN HUNTSMAN
---
INGREDIENTS
4 Pheasant legs
1 Small savoy cabbage
1/2 lb Brussels sprouts
1 Bunch dill
1/2 Cup strained yogurt
Salt, pepper, oil
DIRECTIONS
Season legs with salt and pepper, grill over embers for a very long time. This process is similar to the confit process but dry and does you cannot allow the temperature of the grill to rise above 250°F.

Grill for roughly 2 hours, basting the legs with fat (either duckfat or olive oil) every 15 minutes to ensure they don't dry out. This will be worth it because the leg is too tough to cook quickly and the smoky, slow-cooked flavor will do wonders, if you are patient.

Trim any bruised or wilted leaves from the brussels sprouts, as well as some nice-looking outer leaves to use as a raw garnish and textural foil for the vegetables. Also clean and cut the outer leaves of the savoy cabbage, creating bite-sized pieces that will be blanched in rolling, boiling, heavily salted water.

Halve the brussels sprouts and sear them cut-side down in a fair amount of fat, seasoning with salt and pepper, then basting with butter once the cut side gains good caramelization. While both are still hot, serve with dollops of the yogurt, raw leaves, and sprigs of picked dill.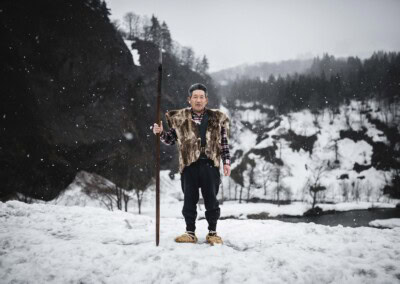 Matagi
"The word 'matagi' is derived from 'matagu', meaning to cross over, step over or straddle, bounding an image of people between two worlds — the realm of humans and that of the mountain deity: yama-no-kami." Scott Schnell, Ph.D., Associate Professor Emeritus in Anthropology This post is only available to members.
Deer Wars
Therein lies the overarching question: what does society want our landscape to look like? We seem to be moving toward a future where, in the name of "rewilding," people are disassociating with the land. This post is only available to members.