Good Bourbon for a Good Cause
---
"The environment is where we all meet; where we all have a mutual interest; it is the one thing all of us share." — Lady Bird Johnson
Nature is fascinating. She plays by her own rules and sets her own pace. There is wonder in her wilderness and marvel in her charm. There is no arguing with nature, no room for interpretation. She simply and unapologetically is. Like with any good gift, she is ours to enjoy, but also ours to steward and protect. We cannot have one without the other.
In far West Texas lies a captivating landscape called the Trans-Pecos region. Home to dust storms, tumbleweeds and apparent lifelessness, this dry desert plain morphs suddenly into the grandeur of the Davis Mountain range, which is home to a plethora of vegetation, birds, reptiles and mammals. The habitat and the species populations seemingly don't fit together. However, scattered around the base of the lofty vistas lie a series of rich springs, providing precious water to the surrounding ecosystem. Most notably, just a few miles outside the Davis Mountains, in the city of Balmorhea, runs a collection of lush, artisanal springs with a flow rate of around 15 million gallons per day, called the San Solomon Springs. In 1933, the Texas State Parks Board purchased the springs and 46 surrounding acres, creating Balmorhea State Park. Shortly after, under FDR's New Deal, The Civilian Conservation Corps was hired to construct a 1.3-acre freshwater pool around the springs, which would become one of Texas' most popular destinations for locals and tourists alike.
While being a gathering spot for recreational use, San Solomon Springs, and specifically the Balmorhea Pool, is something so much more symbolic for conservation in Texas. Not only does the pool provide a place of tranquility for recreational use, but it is also home to several rare and endangered species, including the Pecos gambusia and the Comanche Springs pupfish. Through Texas Parks & Wildlife Department, Balmorhea State Park and the Balmorhea Pool have become yet another success story in the protection and management of the many species that make up such a biodiverse ecosystem in protected regions across Texas.
In May 2018, the pool was undergoing an annual draining and cleaning when crews discovered that the concrete apron underneath the diving board, stabilizing the walls of the pool, was damaged, causing an immediate shutdown with an indefinite timeline on reopening. After months of geotechnical evaluation, it was discovered that the damage had been caused by decades of erosion from the flow of water from the springs. The news spread like wildfire throughout Texas, causing an immediate public response from individuals and organizations pitching in to help restore this treasure. Texas Parks & Wildlife Foundation (TPWF), the nonprofit funding partner of the state agency, immediately began a fundraising effort to get the pool back into operation as soon as possible. Once the information was made public, the rally of Texas-based philanthropic and conservation-minded organizations commenced. Garrison Brothers Distillery, a craft bourbon distillery in Hye, TX, formed a 501(c)(3) nonprofit called "Good Bourbon for a Good Cause," which campaigned for the restoration of Balmorhea State Park and accepted donations from people and organizations who wanted to help in the cause. This movement catalyzed a snowball effect that inspired other large Texas-based organizations to make contributions, including a $1 million challenge grant from the Apache Corporation through TPWF. In a matter of months, Balmorhea State Park was the recipient of a $2 million collective donation that allowed the resurrection of this Texas charm to begin.
After months of repairs, the pool was reopened in March 2019, and the surrounding habitat was not only restored, but also improved upon, allowing for a more protected environment for native species, including the endangered species that reside in the pool of the San Solomon Springs. Historically, state parks, wildlife departments and conservation organizations have existed separate and apart from private organizations and individual collaboration in a lot of cases. However, as the population and recreational activities continue to increase in both public spaces and wild places, it is becoming more and more apparent that we, as the users of the wild, must also be stewards of it, playing a significant role in helping to rebuild what we've torn down. We can no longer be consumption-minded recipients without the expectation to pull our own weight in replenishing any negative impact we may have caused. It takes time, money and energy, but collectively, we can leave behind a legacy for generations to come.
Shortly after the opening of the Balmorhea Pool, I interviewed Dan Garrison, founder of Garrison Brothers Distillery, to discuss the role that private organizations and individuals play in stewarding the land and wildlife.
Brad: Can you introduce yourself and tell me a little bit about Garrison?
Dan: Sure thing. My name is Dan Garrison, and I founded Garrison Brothers Distillery back in 2003 in the Texas Hill Country. We're the first bourbon whiskey distillery in America outside of Kentucky, which is a pretty big deal. We got our federal permit to distill alcohol in 2007, sold our first bottles in 2010, and now we're distributing in about 26 states across America and six foreign countries.
Brad: What do you believe is your personal role in protecting and conserving natural Texas landscape and wildlife habitats?
Dan: I grew up in Texas, my family is from Texas, and my wife is fifth-generation. There's beauty here in Texas. It's becoming increasingly crowded, and our population is growing so fast that it's becoming more difficult for us to maintain these beautiful, natural places that we have, so protecting this state and the wildlife inside its ecosystem is really personal for me. It's a legacy I want to leave.
"It is our role to leave a net-positive impact on the local ecosystem to ensure that we are continuing a legacy for generations to come."
Brad: How have you been able to apply your personal passions into corporate philanthropy at Garrison Brothers?
Dan: So it's a long story, but before the Balmorhea Pool was discovered to have any damage, we decided to name one of our bourbon products "Balmorhea." I named it after I saw the shimmering color of this bourbon. It's a double-oaked bourbon, meaning it's been in one barrel for four years, and then it's transferred to another barrel for one more year. It has this beautiful shimmer to it. We call it crimson candy. It reminded me of swimming at Balmorhea and watching my kids learn to swim there — it's just a nostalgic spot for me.
Balmorhea State Park is one of my favorite places in Texas. I've always loved it and want to do my part to take care of it. So we immediately launched this bourbon, and it was extremely popular. It was named the American Whiskey of the Year in Jim Murray's "Whiskey Bible," right after it was first released. And then we had this idea. We thought, "What can we do to really pay homage to Balmorhea through this bourbon?" We had lunch with Carter Smith, the Executive Director of the Texas Parks & Wildlife Department, and talked about what could be done. We were hoping to host a fundraiser for Balmorhea State Park, where we would invite people to the park, , have a big festival on the grounds, and try to raise about a quarter million dollars for Texas Parks & Wildlife Department.
We were hoping to have the party in May. But when they did empty the pool for the annual cleaning, they discovered that the concrete apron around the pool had completely collapsed into the pool due to the water issues.
I knew we had to do everything we could to help bring the pool back to life. This was not only personal for me, but we had named one of our bourbons after Balmorhea and were hoping to hold a fundraiser at the park. We did a series of what we call Bourbon 101 classes at liquor stores across the state, and we would ask everyone at those events to donate to the park for the pool repair. We did a series of dinners with Truluck's restaurants called Balmorhea Blue Dinners. People would come to the dinner, they'd pay $200 a plate for a fantastic meal, and $50 of their contribution would go toward the Balmorhea State Park rebuilding effort.
By the end of 2018 we ended up raising $30,000. Then TPWF announced that Apache Energy Corporation was going to provide a million-dollar match grant to TPWF, so our $30,000 grant that we raised was matched, turning it into $60,000. That was pretty damn cool. And we're not a big company. We only do this for causes we really believe in, and one of them is Balmorhea.
Brad: Do you think the pool restoration would have happened without brands like Garrison Brothers and other philanthropic organizations partnering with Texas Parks & Wildlife?
Dan:. The funds that Texas Parks & Wildlife have to work with are totally insufficient. Working with brand partners is a new venture for them; they're not used to having companies come to their aid. But I think they're open to it, and they're seeing what can happen when passions align.
Brad: What did it mean to you when the Balmorhea Pool reopened?
Dan: Oh, it was such a relief. I mean, that's a Texas treasure. Generations of Texans have been going out to Balmorhea State Park since 1935 when the Civilian Conservation Corps built the place. It's the largest spring-fed pool in North America. So, yeah. I'm excited that it's back open, and I'm excited we can go visit it. But now, we've got to get serious. We need to have a public discussion with Texas Parks & Wildlife about how to maintain it and how to take care of it for future generations.
Brad: Balmorhea State Park and the pool are home to a lot of native wildlife and plant species, some of which are endangered. Through the efforts of Garrison and TPWF and others, projects like the pool restoration can have a major impact on protecting lands and ecosystems for generations. How would you empower others to better understand how they can do their part to properly protect the places and wildlife that help make a healthy, diverse ecosystem?
Dan: Well, they could certainly go adopt a park near them. There are hundreds of parks throughout the state that need help. It's not just Balmorhea, it's not just West Texas that we should focus on, but in East, South, and North Texas too. It's our local parks right here. We can all pitch in to help protect these wild places and species we all love. For those of us who have the privilege to live in this great state, we also have a responsibility to steward and protect it. It is our role to leave a net-positive impact on the local ecosystem to ensure that we are continuing a legacy for generations to come.
This story was originally featured in Modern Huntsman, Volume Three: Wildlife Management with support from Garrison Brothers Distillery
Editor's Note: Some corrections have been made from the original story in Volume Three. These corrections include opportunities for fundraising in Texas state parks, funds available as a result sporting goods tax, and an increase in the legislative appropriation of funds to the Texas Parks and Wildlife Department.
Lure of the Laguna
Lure of the Laguna is the first film in our four-part series with Lone Star Beer. Chapter One features angling savant Ben Paschal and his obsession with saltwater fly fishing on the coast of Texas. It's a story about hard work, dedication, and bailing on the internship his parents wanted him to take to follow his passion in the Laguna Madre.
El Observador
"El Observador" is a short documentary following wildlife cinematographer Austin Alvarado and explores his relationship with nature via his work pursuing black bears in Far West Texas. It is a visually stunning journey through the Big Bend region that highlights the incredible resilience of bears that have returned to this area. "El Observador" is a Modern Huntsman film presented by SWAROVSKI OPTIK.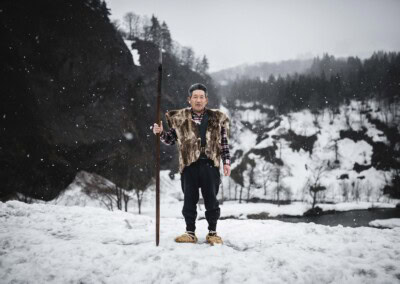 Matagi
"The word 'matagi' is derived from 'matagu', meaning to cross over, step over or straddle, bounding an image of people between two worlds — the realm of humans and that of the mountain deity: yama-no-kami." Scott Schnell, Ph.D., Associate Professor Emeritus in Anthropology This post is only available to members.