Ginger Beer Mussels with Corn off the Cob
PRESENTED BY FINEX
---
Winter is the time to explore new frontiers in the culinary world. Hints of ginger, coriander, Indian red chili powder, and turmeric add a surprising touch to a cast-iron pot of delicate mussels. This distinctive recipe is filled with exotic ingredients yet simple to make in a cast-iron Dutch oven. We're all looking to impress in the kitchen while passing time until the next season opens. This unexpected yet savory recipe is sure to deliver.

INGREDIENTS
2 tablespoons coconut oil
1 shallot, thinly sliced
2 garlic cloves, minced
2 teaspoons minced ginger
2 teaspoons ground coriander
1 1/2 teaspoons ground turmeric
1/4 teaspoon Indian red chili powder – I like Mumbai Spice Company (or cayenne pepper)
Large pinch of sea salt
2 cups ginger beer
1 1/4 cups unsweetened full-fat coconut milk
2 1/2 pound mussels, scrubbed and debearded
1 pint cherry tomatoes, halved, divided
2 ears of corn, kernels sliced off the cob
2 tablespoons lime juice
3 tablespoons roughly chopped cilantro leaves
Chopped cilantro and flat leaf parsley

DIRECTIONS
1. Heat the coconut oil in a dutch oven over medium heat. Add the shallot and cook, stirring constantly until translucent, around 1- 2 minutes. Add the garlic, ginger, and spices and stir to combine. Add the ginger beer and stir, scraping up any of the bits stuck to the bottom, then bring to a boil.
2. Cook for two minutes, then add the coconut milk and mussels, discarding any mussels that do not close when you touch them. Mix in half of the tomatoes. Give it all a big stir to coat the mussels and tomatoes with liquid, bring to a boil then cover with a lid. Cook for 5-6 minutes, until all of the shells have opened. Stir in the rest of the tomatoes, the corn, and lime juice.
3. Divide the mussels among bowls, ladle the broth on top, and garnish with cilantro.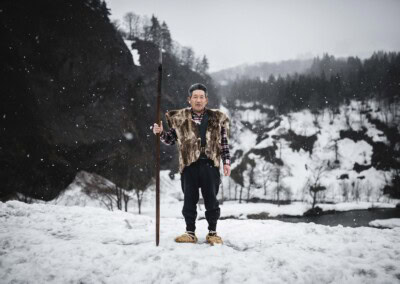 Matagi
"The word 'matagi' is derived from 'matagu', meaning to cross over, step over or straddle, bounding an image of people between two worlds — the realm of humans and that of the mountain deity: yama-no-kami." Scott Schnell, Ph.D., Associate Professor Emeritus in Anthropology This post is only available to members.
Deer Wars
Therein lies the overarching question: what does society want our landscape to look like? We seem to be moving toward a future where, in the name of "rewilding," people are disassociating with the land. This post is only available to members.