Pro Skater, Knife Maker, Conservationist
WORDS BY Brad Neathery  | PHOTOS BY Tanner Johnson
---
Odds are, you know his name, or you know his brand(s). From every area of his pursuit, he's not easily overlooked. From the intentionality that he puts into everything he does, to the raw talent that he has been given, Geoff Rowley is quite the force of nature, and he is a really fun person to follow.
At the age of 13, Geoff picked up skateboarding in his home city of Liverpool, England. In the mid-90s, Rowley made his way to California, where he had come to skate. Two weeks into his move to California, Rowley was featured on the cover of Transworld, and just a few short years later, he was crowned Thrasher Skater of the Year. This young prodigy had challenged and inspired millions of people around the world, and his legacy wouldn't end there. There's something else that stirs up Rowley's heart.
In Rowley's early years, he was introduced to a new desire for a different type of outdoor lifestyle by a dear friend and U.K. game warden. Rowley quickly developed a passion for wildlife, hunting, and conservation, and was convicted towards his next pursuit: Civilware.
Brad: What made you go from pro skater to knife maker?
Geoff: I wouldn't say I've gone from one to the other as I'm still actively hammering it on my board year round – and making knives creatively inspires me to keep pushing it on my board. I've always been deeply involved and interested in how product is made and marketed to the consumer, ever since I was a kid. I've designed everything with my name on it in skateboarding and take pride in seeing those results, good or bad. So designing, developing and putting to market knives was just an extension of that prior experience and interest. The major difference is our knives are marketed directly towards the serious outdoorsman whereas all the skate product I had worked on in the past was strictly marketed in the action sports and broader youth-oriented lifestyle consumer market.
Brad: What catalyzed the idea for Civilware?
Geoff: I didn't like the general design and marketing of knives at the time and thought there was room for improvement. I also hoped my experience in action sports and product might give the brand some new ideas and a younger take on how best to market the product. I have a massive amount of respect for the big players in the knife space and what they have achieved; I just don't like the cold feeling I get from a lot of their product, branding, and marketing efforts. I live Civilware – I'm a hunting guide here in California, we create all of our own content and I use our knives daily for many different tasks. The fact that we live the lifestyle we promote is as important as the product to me. We conspire to inspire.
Brad: What was the first Civilware knife you ever made? What made you decide to make that particular knife?
Geoff: I had a design idea that I thought was a good starting point; that design was our current Striker Fixed Blade, which was influenced by a houndsmen by the name of Ben Lilley. Ben made his own knives, as his father was a blacksmith, and he believed in the design benefits of a 'wavy blade' in self defense situations or when his firearm would lock up when hunting bears. The offset lines of the recurve design allow the knife to bleed and cut concurrently without much work from the user; perfect when he needed to step in and finish the animal off when his firearm jammed and his precious hounds were at risk of injury. I hound hunt and had a pretty hairy and similar experience happen to me unarmed on a hunt in Colorado. During that moment, I'd have given an arm and a leg to have our current Striker in hand. Now we all know…in hand-to-hand combat with a large predator, our ability to defend ourselves is slim…but I'd take a little help over none, right? The knife design is also weight balanced to put control on the index finger, so the blade isn't front or back heavy. I like that in a bushcraft or general purpose field knife. We chose AEB-L steel for it's corrosion resistance, ease of sharpening and edge retention. This steel performs really well on most field tasks making it perfect for utility designed field knives like the Striker.
Brad: You guys are getting some international exposure and are seeing some pretty great success. What's on the horizon for Civilware and/or Geoff Rowley?
Geoff: We're fortunate enough to have worldwide support from guys like Eamon Waddington, Adam Greentree, Dallas Hemeyer, Jake Franklin, Lincoln Tapp at YoungWild, Tanner Johnson, David Sharp, Shane Dorian and many other amazing professionals that believe in our product and actively help promote it. We have a lot of new knife designs in the works that I'm excited about, including a new knife for skinning game that's being manufactured right now. I'll be guiding and helping on hunts for Kika Outfitters this upcoming California hunting season as we're booked solid with Bighorn sheep, Tule Elk and mule deer hunts. So lots of pre-season scouting in those units for the next few months.
Brad: How do you manage the work-life balance between being a husband, dad, business owner, hunting guide, and pro skater?
Geoff: Family comes first at all times. The rest is being diligent and extremely hands on with calendar scheduling. It's also a lot easier to handle business dealings from the road now than it was in the past. I utilize those modern conveniences to my benefit and to maximize efficiency.
Brad: What got you into hunting? What drives you as a hunter?
Geoff: Andrew Warrington, one of my best friends growing up in England, worked for the forestry commision in the north of England and also guided out in the U.S. for Judd Cooney. He taught me more than he'd likely admit about integrity, morality, hunting and wildlife management. I'd say my desire to understand the game in pursuit is the number one driving force. I like the challenge of figuring out how to be a better hunter, it's a lifelong process and I'm humbled daily in the field.
Brad: What is your vision for hunting & conservation?
Geoff: We're in the middle of a global shift in both hunting and conservation efforts. I'd like to see hunting respected for it's global contribution to wildlife management first and foremost – but there'll always be negativity from the anti-hunting community towards this due to hunting being blamed for diminishing wildlife populations in the past. It's up to us to stand up and do what's right to protect our natural resources and public/private land access moving forward. Hunting is a privilege and not a right, we sometimes forget that. Some battles we'll win and some we'll lose…when we lose we have to be able to accept defeat graciously, or our intent will be questioned and used against us. We also need to be realistic with regards to population growth and expansion into hunting areas; especially out here in the west. I'm guessing the large ranches may have to change the way they run hunting leases on their properties in the near future and may also need to take the lead in conservation efforts. Progress stops for no man.
Brad: What would you leave people with?
Geoff: Our motto of 'All The Best' is a commitment to our customer to strive to manufacture the best possible product. We aim to fulfill that commitment through solid design, great product and an inspirational brand. I'd also like peopIe to actively enjoy our brand, engage with it and feel like they're being clearly and respectfully educated on our product and its intended purpose – and at the same time be inspired to live and pursue their own dreams.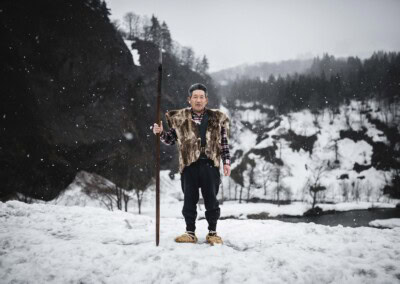 Matagi
"The word 'matagi' is derived from 'matagu', meaning to cross over, step over or straddle, bounding an image of people between two worlds — the realm of humans and that of the mountain deity: yama-no-kami." Scott Schnell, Ph.D., Associate Professor Emeritus in Anthropology This post is only available to members.
Deer Wars
Therein lies the overarching question: what does society want our landscape to look like? We seem to be moving toward a future where, in the name of "rewilding," people are disassociating with the land. This post is only available to members.