Forloh Women's AllClima 3L Rain Jacket
---
PHOTOGRAPHY BY PAIGE SMITH
---
This is a technical jacket without compromise, proudly designed, sourced and entirely made in the United States.
New for 2021, the Forloh Women's AllClima 3L Rain Jacket has the foundation of its award-winning men's counterpart with added refinements for a lady's needs, namely comfort, fit, and warmth. Since it has been designed and tested by women, the AllClima jacket provides superior protection from wind, rain, sun and snow, while the fit is cut specifically for women, making it easy to wear all day long. The three-layer membrane, combined with Forloh's proprietary technology, also makes the AllClima waterproof yet incredibly breathable and quiet. We were surprised by how soft it was at first touch.
Packable and lightweight, it can easily be tucked away in a daypack after a cool morning or in preparation for foul weather. All that said, perhaps the most impressive element of this jacket is the RECCO® reflector, something that is typically found in ski/snowboard and mountaineering outerwear. RECCO® is technology employed by search and rescue professionals to help locate people buried in avalanches or lost in the outdoors. So if you hunt primarily in the mountains, this feature alone should be enough to add the AllClima to your gear list.
Forloh has made this rain jacket available in five different patterns and colors, so you should be able to find one that fits your needs. And, like its other offerings, the AllClima is proudly made right here in the United States.
Features:
Featuring RECCO® technology which makes you searchable to professional rescuers with RECCO® detectors.

Airadigm™ Pulse Plasma provides waterproof protection and exceptional breathability

Double DWR Water-repellent treatment using pulse plasma technology that coats every fiber of the 3 layer individually, creating a more permanent waterproofing solution

YKK AquaGuard® water resistant reverse coil zippers

Reinforced with Double fabric for durability – Elbows, Cuffs

Bonded interior 7d tricot backer fabric (military spec) for added durability

Raglan sleeve construction for extra comfort and mobility

Asymmetrical "wrist hood" cuff with "quiet" hook and loop closure

3 way adjustable hood with bonded and reinforced brim

Welded seamless pocket construction creating a superior weather barrier

Secure chest pocket – 1

Secure hand warmer pocket – 2

Secure arm patch pocket – 1

Underarm ventilation – 2

100% sourced and Made in America
Modern Huntsman is proud to feature the latest selections from Forloh, especially having experienced them in the field. It's important to us to partner with brands that share our same mission and values and Forloh has proven to be exceptional.
Lure of the Laguna
Lure of the Laguna is the first film in our four-part series with Lone Star Beer. Chapter One features angling savant Ben Paschal and his obsession with saltwater fly fishing on the coast of Texas. It's a story about hard work, dedication, and bailing on the internship his parents wanted him to take to follow his passion in the Laguna Madre.
El Observador
"El Observador" is a short documentary following wildlife cinematographer Austin Alvarado and explores his relationship with nature via his work pursuing black bears in Far West Texas. It is a visually stunning journey through the Big Bend region that highlights the incredible resilience of bears that have returned to this area. "El Observador" is a Modern Huntsman film presented by SWAROVSKI OPTIK.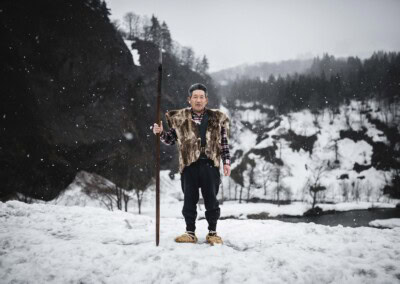 Matagi
"The word 'matagi' is derived from 'matagu', meaning to cross over, step over or straddle, bounding an image of people between two worlds — the realm of humans and that of the mountain deity: yama-no-kami." Scott Schnell, Ph.D., Associate Professor Emeritus in Anthropology This post is only available to members.