Turkey Hunting with First Lite
Opening weekend of the spring turkey hunting season in Montana can be sunny and 60 degrees — so I've heard. The last few years the wind has sent the temperature scuttling away into the single digits and we've spent our time hiking, hoping to spot silent birds in a blizzard.
Layers are key when preparing for hunting in Montana's unpredictable weather conditions.
The Phantom Leafy Suit has worked so well for us while turkey hunting. It's easy to pull on over your other First Lite layers quickly and quietly. The 3D camouflage is incredibly effective at keeping you hidden from a turkey's impeccable vision — there is nothing more exciting than to have a strutting gobbler closing in on you while you're hidden in plain sight.
I live in my FL Women's Kiln Baselayers while hunting. They are soft, ward off the chill and smell of exertion, and are designed to keep you comfortable and dry while logging miles a day.
I stole my husband's Catalyst Softshell Pants because they're so comfortable and as I tend to run (very) cold I never hunt without my Aurora Puffy and more often than not I'm also wearing the Men's Chamberlin Down Jacket. These gaiters are a must have for hiking in thick country or bad weather, and throughout the changes in weather I switch back and forth between the Shale Touch Glove and the Grizzly Mitt. When we get back to camp, I almost always pull on the Puffy Pants, which have been a game changer for my ability to stay comfortable at night or on a windy glassing knob.
Explore each product of the kit below, and head over to firstlite.com for the full selection of hunting outerwear and apparel.
Modern Huntsman is proud to feature some selections from First Lite's 2021 line, especially having experienced them in the field. It's important to us to partner with brands that share our same mission and values and First Lite has proven to be nothing less than exceptional.
Lure of the Laguna
Lure of the Laguna is the first film in our four-part series with Lone Star Beer. Chapter One features angling savant Ben Paschal and his obsession with saltwater fly fishing on the coast of Texas. It's a story about hard work, dedication, and bailing on the internship his parents wanted him to take to follow his passion in the Laguna Madre.
El Observador
"El Observador" is a short documentary following wildlife cinematographer Austin Alvarado and explores his relationship with nature via his work pursuing black bears in Far West Texas. It is a visually stunning journey through the Big Bend region that highlights the incredible resilience of bears that have returned to this area. "El Observador" is a Modern Huntsman film presented by SWAROVSKI OPTIK.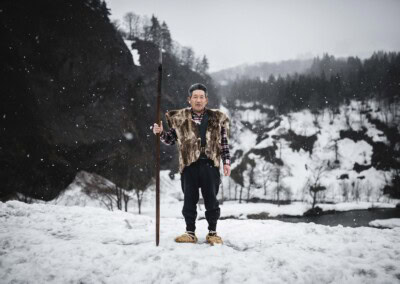 Matagi
"The word 'matagi' is derived from 'matagu', meaning to cross over, step over or straddle, bounding an image of people between two worlds — the realm of humans and that of the mountain deity: yama-no-kami." Scott Schnell, Ph.D., Associate Professor Emeritus in Anthropology This post is only available to members.