---
The secret to professional ice climber, Aaron Mulkey's remote first ascents is to follow the wildlife; a strategy that most professional ice climbers don't possess, and one that Mulkey learned from a lifetime of hunting. In the ice climbing world, Mulkey is known as one of the pioneers of the South Fork. A valley that extends from the Thorofare, a place known to many as one of the most remote areas in the lower 48 states. During the winter season, sheets and pillars of ice form on mountain faces and the amphitheaters of the peaks that rise from the valley floor, soaring to 11,000 feet. Mulkey has established over 100 first ascents deep in the valley's canyons.
His dedication to exploration stems from a childhood of chasing wild game in the backcountry of California, where he learned to hunt with his dad. "My dad taught me how to hunt but, in those experiences, I learned more than just the proper ways in which to harvest an animal. It became clear to me that I had a passion for discovering the unknown," Mulkey says. As a child, he spent almost every weekend he could in the mountains and as a young adult with a passion to be outside and surrounded by wildlife, Mulkey found himself in the Gros Venture Mountains outside of Jackson Hole, Wyoming as a hunting guide.
Mulkey's style of long days in the mountains traversing through rough terrain was not always what his hunting clients wanted. "I frequently had clients that only cared about getting a record size bull or buck in the easiest and fastest way possible. They didn't care about the meat or the experience per se," he said. Mulkey struggled to find the balance between creating an experience and teaching conservation ethics while also fulfilling the desires of his clients. "They [Mulkey's clients] would try to shoot an animal from too far away, often wounding it badly instead of putting in the work to get close enough to ensure a clean shot," he added.
For Mulkey, who has a deep respect for wildlife, being surrounded by people who disregarded his ethic and style took its toll. Burnt out and tired of what the community of hunting represented, he refused to be a part of it. It was at this junction that Mulkey turned his attention to chasing ice instead of wild game. He moved to a popular town in Colorado where professional ice climbers' trained on ice and rock every day.
But even here Mulkey felt unfulfilled — instead of looking for fresh ice, and exploring new landscapes, his climbing partners were content to climb the routes that had already been established. In the late '90s, Mulkey left his urban neighborhood for the little mountain town of Cody, Wyoming situated at the mouth of the South Fork Valley; a new place on the map for ice at the time. "My climbing partners thought I was crazy to move to this little tiny town with the hopes of establishing routes in one of the wildest and most remote places in the West," he said. But Mulkey knew that the valley provided what he needed the most — solitude and endless opportunities of undeveloped ice.
With so many remote drainages to explore, Mulkey dedicated himself to training not only for climbing the ice but also for hiking and running on steep alpine terrain. His dedication to the sport paid off as he started putting up first ascents left and right; making a name for himself in the ice climbing community and becoming a sponsored athlete for brands like Rab, Scarpa, and Hyperlite Mountain Gear.
The valley is not only full of world-renowned ice climbing, but it's also home to some of the most treasured wildlife populations migrating in and out of Yellowstone National Park. The game trails that wind through the difficult alpine terrain created by herds of mule deer, bighorn sheep, elk, and large predators have helped Mulkey access some of his most remote climbs. "If it weren't for the animals, I would have spent twice as long trying to move through the valley's drainages and in ice climbing, time is fleeting. Some ice only forms and is safe to climb for a two- or three-day window," he explained. While following these game trails and bushwhacking up hillsides Mulkey often stumbles upon carcasses of elk and bighorn sheep, deaths caused from hungry predators or the environment itself. "I have found dead elk at the base of frozen waterfalls where it looked like they had been crossing above the ice falls on the edge of the cliffs and had slipped. When you come upon this animal, you think, how in the world did you make it back here; these are drainages that without ice axes and crampons are completely inaccessible," he marveled. The presence of these carcasses is a reminder to Mulkey and his climbing partners — "it puts us on edge, especially in the early and late seasons of ice when grizzly bears are still wandering around the hills before and after their hibernation period."
In between training for his professional ice climbing pursuits, Mulkey retained a full-time executive position as the Vice President of a healthcare company. With a high-stress job, ice climbing had become more and more of an addiction for Mulkey; a way to re-charge, but it wasn't enough. "I needed more connection to the wild," he said. Inspired by watching the Sitka-produced film 'Connected', Mulkey started having conversations with close friends about getting back into the hunting scene. One of these friends was Mark Seacat, a well-known photographer and filmmaker in the hunting community who ended up surprising Mulkey with a brand-new bow. Ten years after Mulkey laid down his gun and bow, he decided it was time to re-establish his hunting identity and to start living with a deeper connection to the outdoors.
Mulkey's familiarity with the valley's topography and network of game trails acquired from years of exploratory ice climbing worked to his advantage as he started to plan hunts for elk and deer deep in the backcountry. Similar to his ice climbing style, Mulkey chooses to hunt in very remote drainages, some of the same drainages that he spends all winter in, ice climbing. "It was an easy transition for me back into hunting, once I set my mind to it," Mulkey says. With a renewed perspective on the hunting community, he built a network of close friends that share in his ethics and style of hunting. "Just like establishing new ice climbing routes, the pursuit of a successful hunt comes at a price of numerous days of hiking," he said. Whether Mulkey ends up harvesting an animal or successfully completing a new ice climbing route is beside the point — it's more about the exploratory mission, it's about pursuing 'wild.'
---
You can follow Aaron Mulkey on Instagram @coldfear and coldfear.com
EMILY REED
Emily Reed was born into a fifth- generation working ranch family, spending her days on the fringes of the prairie and alpine landscapes of Wyoming. She is a conservationist by training and a writer by passion, drawn to stories that illuminate modern-day life in the West, where humans and nature intersect.
Connect on Instagram: @Emily_N_Reed
Lure of the Laguna
Lure of the Laguna is the first film in our four-part series with Lone Star Beer. Chapter One features angling savant Ben Paschal and his obsession with saltwater fly fishing on the coast of Texas. It's a story about hard work, dedication, and bailing on the internship his parents wanted him to take to follow his passion in the Laguna Madre.
El Observador
"El Observador" is a short documentary following wildlife cinematographer Austin Alvarado and explores his relationship with nature via his work pursuing black bears in Far West Texas. It is a visually stunning journey through the Big Bend region that highlights the incredible resilience of bears that have returned to this area. "El Observador" is a Modern Huntsman film presented by SWAROVSKI OPTIK.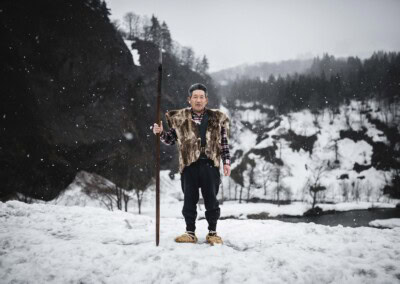 Matagi
"The word 'matagi' is derived from 'matagu', meaning to cross over, step over or straddle, bounding an image of people between two worlds — the realm of humans and that of the mountain deity: yama-no-kami." Scott Schnell, Ph.D., Associate Professor Emeritus in Anthropology This post is only available to members.