Field Use: The First Lite Sawbuck Brush Pant review
---
To effectively hunt ruffed grouse and woodcock over a pointing dog, mobility is key. As I gained experience as a hunter, then later as a guide, I found that a traditional brush or field pant constructed with denim or similar materials didn't enhance my hunting experience. Ruggedness and extreme durability were not always beneficial.
First Lite's Sawbuck Brush Pant is the first product I had ever owned and used from this hunting apparel maker. Though largely known for a suite of products centered around big game hunting, I was excited to see a pant that had an application in upland bird hunting. The company gifted me the pants to try, and while neither I nor Modern Huntsman were paid to test this product, the fact that I liked them enough to purchase a second pair in the conifer colorway warranted a review. That said, here's what you need to know about the First Lite Sawbuck brush pant review.
First, some background on me. I wore these pants during my season as a ruffed grouse and woodcock guide in northern Minnesota between October 1st and November 8th. The northwoods of Minnesota are different from the fields of South Dakota or the Montana prairie, where hunters typically walk through tall grass or other low, dense brush. While there are certainly pockets of thorns, burrs and the like, I am mainly walking through young aspen forests and hazel where stem density is high, meaning the cover is tight. I tried to wear the Sawbuck pant as many days as I could and I limited how much I washed them, as I wanted to see how they held up with sustained use. The Sawbuck also came with me to Tanzania, where I put the pants to the test in the African bush.
---
REVIEW
For ruffed grouse and woodcock hunting, the Sawbuck pant was fantastic.
Pros: Tailored fit for a modern hunting pant, articulated knees for freedom of movement, durable materials and sound construction
Cons: Limited effectiveness in the DWR finish, fitted pant may not be for everyone

FIT
I am 5'11,'' 175 pounds and wore a size 32×32 and I found the fit to be true. In the pant's product description from First Lite, it is stated to be an athletic fit and I would completely agree with that claim. These are not baggy or relaxed, and fit more like a pant I would wear casually, which was a huge positive for me. I do not like excess material in any of the clothes I wear while hunting these birds, as it can easily snag and pull as I move through tight cover. The leg opening easily fit over the Danner Pronghorn boot I wore for the season, although I would guess that a bulky or insulated boot might be snug when pulled over the laces. With any pant I wear in the field, using a belt is a must but in a pinch I could have gotten away without one while wearing the Sawbuck.
In regard to fit, my favorite feature is the articulated knee. An articulated knee refers to some additional seams sewn into a pant that allows for better freedom of movement while walking, crouching down or lifting your feet. Basically, your knee is afforded a bit of extra space to bend in a way that does not pull or restrict other areas of the pant. I am regularly stepping over logs and deadfall in the woods, so I immediately noticed and praised this mobility feature.
Reading some of the customer reviews on the First Lite website, a common comment was that the pant would be tight fitting. I can understand that sentiment, even though it was not my experience. While definitely not a skinny jean, this is a trim, fitted pant. If you are a larger guy and are worried about how the pant will fit through the leg, try them on before purchasing or removing the tags.
MATERIAL AND CONSTRUCTION
The Sawbuck Brush Pant is made of 100% nylon. That includes the chap material in high-wear areas in the front leg, cuffs and waist, along with the lighter weave used around the waist and seat of the pant. First Lite also incorporated the more durable chap weave in the waist and belt loops, reinforcing the waist for a true fit that won't stretch out over time. The remaining material in the seat, pockets and other parts of the pant is fantastic. Light, stretchy and breathable. After wearing the Sawbuck pant for approximately 30 days in the woods, there are no snags or pulls as a result of thorns, however there is some pilling on this lighter material. Totally cosmetic, but I think it is important to note. It was also quick to dry, although the chap material held moisture longer.
First Lite incorporated triple-stitched seams in critical parts of the pant, including the sides, inseam, crotch, the back of the knee, and where the chap material meets the stretch nylon on the front and back of the pants. This is an important construction element to extend the life and durability of the pant and all the seams survived the duration of the season. There is some normal abrasion wear and tear around the front of the pant, but nothing to cause concern over the product's integrity. Other less critical seams are single or double stitched, like the pockets, and there is no evidence of deterioration on any of them.
A couple small features that I found to be particularly beneficial included the waist button and knife clip gussets. The button is riveted to the pant rather than sewn on, giving it a strong and permanent feel when I secure the waist. I found it hard to imagine this blowing out and my pants falling down. I also never leave the house without my Leatherman, so having a comfortable place to clip it on my pants was a thoughtful feature for the First Lite design team to include.
At the time of this review, the pant comes in four styles, two camo patterns and two that would be appropriate for upland hunting: First Lite Cypher, First Lite Fusion, Conifer and Dry Earth.
FIELD USE
I wore the Sawbuck nearly every day in this season, except on rainy days when I wore either GORE-TEX® field pants or chaps. Though the pants have a DWR (durable water repellent) finish, I wouldn't trust them in heavy rain or when walking through tall, wet grass. They may keep you mostly dry in light rain or splashing water, but as the material gets more wear from abrasion, any water-repelling properties will deteriorate. For a more waterproof option First Lite also offers the SEAK Stormtight Pant, although I personally wear Stone Creek chaps in heavy rain.
After going out of my way to walk through wild raspberry patches and other thorny plants, I can say the chap material is tough. There may have been a handful of occurrences when I felt a thorn through the pant, but nothing to cause severe discomfort, pain or injury. Would I say they are impenetrable? Probably not. However, the chap material in these pants was certainly designed to keep most thorns and brambles from going through without sacrificing comfort or mobility and I was never concerned or wary of what I could walk through.
The articulated knee made it easy to raise my legs over logs and deadfall, while the stretch nylon in the upper portion of the pant always accommodated my movement. Late summer rains left considerable amounts of standing water in the woods and the bottom of my pants got wet nearly every day. Over time, the material below the knee stiffened from water and dirt and seemed to become more durable, which made me hesitant to wash them. As a personal preference, I don't wash most of my outer hunting clothing — unless completely filthy — and did not want to do so for the sake of the test. I never lost my Leatherman, they never fell down, and they were roomy enough for a light baselayer on cool days.

FINAL THOUGHTS
The First Lite Sawbuck brush pant exceeded my expectations. The people that designed it did their homework and it was easy to recommend the product to my clients and friends. From a performance standpoint, any concerns have yet to arise. No tears or blown seams after repeated use tell me that these are pants that were built to last. The Sawbuck brush pants are easily the best hunting pants in my wardrobe.
The fit was a net positive for me, although I can see why it may not be for everyone. If you have reservations regarding how it fits your legs or style, order a pair and try them on. While First Lite's products are only available online, the company's return and exchange policy is geared for that and allows customers 14 days to return any items for a different size.
For continued use, I will be wearing the Sawbuck pant on safari in Africa, as well as the west Texas prairie while hunting bobwhite quail. I have full confidence that they will continue to perform under those conditions, and I look forward to putting them to the test both at home and abroad for many seasons to come.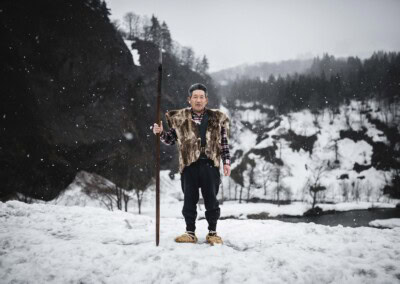 Matagi
"The word 'matagi' is derived from 'matagu', meaning to cross over, step over or straddle, bounding an image of people between two worlds — the realm of humans and that of the mountain deity: yama-no-kami." Scott Schnell, Ph.D., Associate Professor Emeritus in Anthropology This post is only available to members.
Deer Wars
Therein lies the overarching question: what does society want our landscape to look like? We seem to be moving toward a future where, in the name of "rewilding," people are disassociating with the land. This post is only available to members.