Field Use: The Danner Pronghorn boot review
Words and photos by Jens Heig
---
Boots can make or break a hunting season. I spend nearly every day in the woods during the month of October guiding hunts for ruffed grouse and woodcock in northern Minnesota. The intensity of a hunt can vary depending on the client, but I average between six to 10 miles per day, meaning it's critical to have footwear that meets my demands in a variety of conditions.
This year, I wore the Danner Pronghorn and decided to review the product from my perspective as an upland bird hunter. My first hunting boots were Pronghorns, which were strategically purchased by my father in his size so when my brother and I grew out of them — my feet were big for my age and grew quickly — he could add them to his inventory. Since then, I've worn other brands like Irish Setter and Lowa, but wanted to return to a boot that my dad has trusted for much of his 35 years as a professional upland guide.
I put miles on my boots and tried to make them fail me. Standing in water, slipping around in mud, letting the leather dry out before treating it, putting them away wet — my goal was to put them through the gauntlet and see how the Pronghorn could hold together. This was the perfect season to do it. For the sake of transparency, Danner did send me these boots to use and I did not purchase them. However, this review is entirely on my on accord and neither I nor Modern Huntsman were paid by Danner to test this product. My review, thoughts and experience are entirely my own.
After a month in the Pronghorn, I was pleased with the boots on my feet. Just like any leather boot, they require care to keep them in top performance. The best boot is the one that works for you, not necessarily for me or anyone else. Go to your local Danner retailer and try them on, for the last thing that should shake your confidence on a hunt should be your boots.
Pros: Comfortable right out of the box, multiple sizing options, durable construction with high quality materials that make the Pronghorn versatile in conditions and activities
Cons: Softer boot that depends largely on care of leather, some deterioration of the boot's waterproofing took place halfway through season
Product Test details
Where: Northern Minnesota
When: October 1st to November 8th
What: Ruffed grouse and woodcock hunting
Terrain: Deciduous forests, swamp edges, soft and uneven ground
Days hunted at time of review: Approximately 35 days
Initial Impression
The Pronghorn has been a flagship boot in Danner's line for decades. Now in its fifth generation, I could immediately tell how the design has been refined as I took it out of the box. Supple yet firm leather wraps around the bottom and toe of the boot before giving way to synthetic material in at the ankle and above, which cuts some weight where leather is not necessary. The bottom lace hook is set back, allowing me to choose how snug I want my heel to sit in the back of the boot without over tightening the rest of the lacing system. The tread pattern on the Vibram® outsole (bottom of the boot) is aggressive but shallow enough to keep mud from caking underfoot. It looks sharp and streamlined, which is a great selling point as I'm doing everything I can to make my feet look smaller than what they are.
Fit
This boot fits like a slipper. My first stride found the leather to be soft and pliable, while the Vibram® sole is more flexible than what you would find on the Pronghorn's upland contemporary, the Grouse. There was no break-in period, although I wore the boots for about a week to dial-in how tight I liked them to fit before going into the woods. The toe box is spacious, which gave me options for sock weight depending on the temperature. Most days I wore a mid-weight merino wool sock, both crew length and over the calf. Each step was light and springy, which can be credited to the rubberized EVA midsole, which is a layer of foam that provides some additional cushion and comfort between the Vibram® outsole and the footbed.
A fantastic option that Danner offers in the Pronghorn is the flexibility between normal, wide and narrow width options. Take the time to measure your feet at home or do it at your local retailer that carries Danner. I found the boots to be true to size but still tried them on before ordering so I knew I was getting the correct fit.
Field Use
With heavy rains throughout the summer, there was a considerable amount of standing water in the woods. Streams, swamps and beaver dams were all swollen and the soil was soft and often muddy, although the ground was firm in higher areas. The cover was thick and borderline impassible, a standard characteristic of the young aspen forests, hazel, alder and other habitat that ruffed grouse and woodcock call home.
The woods were wet this year. Really wet. On the days when I knew there would be deep water that could cover the top of my Pronghorns, I kept a pair of the LaCrosse AeroHead Sport rubber boots in the truck as backup. Otherwise, I was counting on the GORE-TEX® waterproof membrane to keep my feet dry both from moisture getting in, and to wick sweat away from my feet on warmer days.
I didn't go out of my way to avoid stepping in water, which had collected in most depressions in the woods along with all the places that traditionally held water: ash swales, alder edges and beaver ponds. After about the two-week mark I noticed some slight dampness in the front of the boot, which was expected as that area gets the most abuse. Short of standing in water all day, I was trying to get my boots wet and would not consider what I did to be normal use. You have to remember that these are leather boots, and like all leather boots, they need to be treated accordingly if you plan to be walking in wet conditions. I treated my boots with Obenauf's Leather Preservative (Danner also offers various leather treatment products) and made it the rest of the hunting season before needing another application. I highly recommend using a leather conditioner to prolong the life of your boot, especially on the toe and crease that will eventually form after your stride has broken in the boot.
Sometimes, to the dismay of my hunters, I don't always use trails. The cover often has a significant amount of deadfall, which means I am constantly lifting my legs and feet over logs, downed trees and brush. At 53 oz per boot, I found the Pronghorn to be light enough to do this day after day without experiencing terrible fatigue. Walking in them was a delight. The arch support was adequate, and the midsole basically cups your foot in place for a secure fit. I was confident and sure-footed on wet logs and muddy, soft ground, and believe that the tread pattern was well-suited to northwoods hunting. With the TERRA FORCE® NEXT™ platform — which is new for the fifth generation boot — the sole was stable and not once did I worry about rolling my ankle or losing my footing.
Totally cosmetic, but the upper portion of the tongue features leather that begins to show marks based on where the laces sit. Character additions that appear throughout the life of the boot is what makes them yours, forming a bond through use and experience that few other pieces of gear can create. Leather is tried and true. Combined with the added modern technologies of the Pronghorn, you get the best of both worlds.
Final thoughts
The Danner Pronghorn boots treated me well. I kept this review in mind throughout the season and put the boots through more rigorous use than I would normally, but they still maintained their integrity. Knowing what they can handle here in Minnesota, I am confident to wear them on the Texas prairie for quail, or the grasslands of Montana for sharptail grouse. If I need to use them for a deer hunt that doesn't require insulation, I would trust them to keep my feet dry and my footing true.
These boots are built well and no detail has been overlooked, not material not scrutinized for durability and lasting performance. The leather, GORE-TEX®, Vibram® outsole, the foundation for a quality, long-lasting boot is definitely there, but I found that it is essential to take proper care of the Pronghorn to ensure their reliability for many seasons. Oil them, dry them when they get wet and you will have a boot that can withstand serious use.
Overall, my experience with these boots was positive and I would recommend them for any upland hunter that takes their footwear seriously. For the big game hunter, the Pronghorn also comes in 400, 800 and 1200g PrimaLoft® insulation to keep your feet warm when the hunt calls you to go higher and deeper.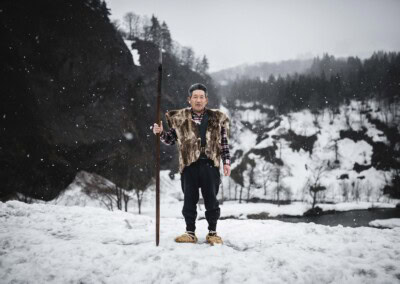 Matagi
"The word 'matagi' is derived from 'matagu', meaning to cross over, step over or straddle, bounding an image of people between two worlds — the realm of humans and that of the mountain deity: yama-no-kami." Scott Schnell, Ph.D., Associate Professor Emeritus in Anthropology This post is only available to members.
Deer Wars
Therein lies the overarching question: what does society want our landscape to look like? We seem to be moving toward a future where, in the name of "rewilding," people are disassociating with the land. This post is only available to members.