Field Outrider: Sofia Jaramillo
AN INTERVIEW WITH PHOTOGRAPHER SOFIA JARAMILLO
Originally published on A Photo Editor blog
---
Congratulations on being named Field Outrider Creative Competition Portraiture category winner!
Tell us more about this portrait series and why it has been important?
Sofia: This image is from a photo story I shot for Stetson. This series is important to me because both myself and the model, Emilé Zynobia, wanted to create imagery that challenged the traditional notion of what a cowgirl is and who should be included in the narrative of the American West. Emile is a Jamaican-American cowgirl. She grew up riding horses and first learned to ride at Puzzle Creek Ranch in Wilson, Wyoming. Black cowboys are rarely included in the oral and written stories of the west. With these images, we want to rewrite that cultural script.
How has your love for the outdoors grown and how have you used your photography to change the narrative about representation in the outdoors?
I grew up partially in a small mountain town called Ketchum, Idaho (a.k.a Sun Valley) with my dad. My parents split when I was very young. When I was with my dad, he would put me in various outdoor sports camps and teams while he was working. During the winters, I spent most of my days in Ketchum on Baldy Mountain with the Sun Valley ski team. In all of the outdoor sports I did, I always felt a little bit like an outsider. The population in Ketchum is mainly wealthy caucasian folx. Besides my dad, there were very few skiers of color that I saw on the ski hill. The people I looked up to in the ski industry were mainly white women and I just didn't see myself in them or in my peers. The experience of growing up in Ketchum as a Latina inspires the direction of my work today.
I want to make the images I wished I had seen as a kid, to hopefully inspire and encourage BIPOC youth to get into outdoor sports.
There is more attention for representation in front of and behind the camera. How has the conversation progressed for you, I know you're aligned with Diversity Photo, Authority Collective and Women Photograph.
I am definitely seeing more representation in front of the camera, but I am not really seeing as much behind the camera. I have seen more inclusion in the photojournalism world, but definitely not in the outdoor industry. It feels like outdoor companies are pretty set on working with the same photographers they have worked with for a long time. That's great to form lasting relationships, but if all of those relationships are with cis-gender white male photographers then there is a problem. By hiring who you are comfortable with, you are perpetuating the lack of diversity in the outdoor space and inhibiting the growth of BIPOC creatives in the outdoor space. If companies want to be inclusive in an authentic and non-tokenizing way, they need to form real relationships with BIPOC photographers and then hire them. Take a chance on BIPOC creatives. Believing is a form of supporting and uplifting. There is a reason there are not many BIPOC creatives at the same level as our counterparts and outdoor companies play a big role in that.
You started out as a photojournalist at a newspaper, what project kicked off your solo career, and how did you approach it?

I worked on a project called PNW Sheepherders for about two years before transitioning to freelance and outdoor adventure photography. At the time I was working full-time at the Yakima-Herald Republic and I would spend all of my free time photographing the project. I would drive anywhere from 1-4 hours away after work or on the weekends to shoot the project.
The project documented the lives of Peruvian migrant sheepherders who produce wool in the mountains of the western United States. The men come to the United States on the H-2A visa. They work 365 days a year, 24 hours a day, 7 days a week taking care of their flocks of sheep for 2.5 years straight. After their visa is up, they return home to Peru for a short 3 month period to renew their visa and then come back to do the work all over again.
I was interested in this story because there is lots of sheepherding in Idaho. I grew up seeing the sheep in the hills where I mountain biked and always wondered about them. During this project, I took a lot of time to get to know the herders. I spent the first summer getting to know the seasonality and steps of the shepherding process, where they go in the spring, where they are in the summer and then when they return. By the second season, I had formed a trusting relationship with one of the herders. I ended up focusing on his story and spent the most time with him. I'd camp next to his trailer and walk for miles through the forest with him. Somedays, I didn't even take a photo. This was the first project I worked on that made me realize I was not meant to be a staff photograph on a newspaper and that I needed to work on more projects on my own. It is what led me to love documentary photography and ultimately pushed me to pursue freelance work.
What would you tell your younger self?
Make the work you love and trust it will take you where you are supposed to go.
The sheepherding project was the work I loved and it led me to where I am today. Once I finished it was published in The New York Times and in Outdoor magazine. I knew I had given it my all and I needed to transition to freelance and try outdoor adventure. I interned at the Jackson Hole News & Guide in 2014. While at that internship I got an assignment to photographer and climb The Grand Teton. That assignment had a lasting affect on me and I never forgot about how much I loved photographing outdoor sports. After PNW Sheepherders published, I knew it was time for me to take the leap into outdoor adventure photography. I decided to drop everything in Yakima and I moved back to Jackson Hole to work on my outdoor portfolio. That was in 2018.
I share the PNW Sheepherders project with clients to show them that my photography is more dynamic than just beautiful outdoor photos. I am here to tell stories and that is what I love to do.
What are you working on these days?
I am actually working on a lot of film projects nowadays. I am working on three ski movies this season. All are non-traditional ski films and have storytelling narratives to them. I felt I needed to switch things up and try out a new medium. I am really excited about film right now, but photography will always have my heart.
What projects do you hope for in the future?
For my personal growth as a photographer, I want to focus on film and portraiture in the next few years. I'd like to create some movies that challenge the notion of what outdoor film should be and a few portrait series that I am proud of. Additionally, I'd like to work on large productions in the Tetons and get hired for more commercial photography work.
In between all of that, I want to keep planting a garden every spring, throwing pottery in my free time and adventuring with my wonderful partner in the Tetons.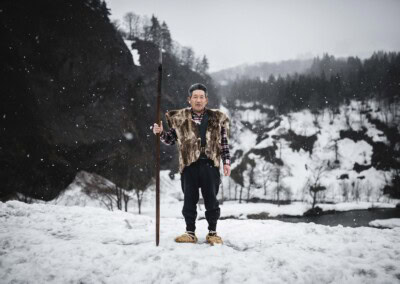 Matagi
"The word 'matagi' is derived from 'matagu', meaning to cross over, step over or straddle, bounding an image of people between two worlds — the realm of humans and that of the mountain deity: yama-no-kami." Scott Schnell, Ph.D., Associate Professor Emeritus in Anthropology This post is only available to members.
Deer Wars
Therein lies the overarching question: what does society want our landscape to look like? We seem to be moving toward a future where, in the name of "rewilding," people are disassociating with the land. This post is only available to members.