The Importance of Father's Day
MADE POSSIBLE WITH SUPPORT FROM Daneson
---
Stephen Holley doesn't come across as someone that knows how to sew. But his time in the service of our country demanded it. This often under appreciated skill that was vital in the military has helped him continue his passion as a civilian.
Service is a defining aspect of Stephen Holley's life. He has served his country as a Navy SEAL. He serves his family as a father, role model and provider. He serves the hunting community as an entrepreneur who demands nothing but the best in the apparel he produces, SIXSITE, right here in the USA. And he serves his fellow veterans through Carry the Load, a non-profit that has raised millions of dollars to support servicemen and women. Stephen walks the walk.
That's why we decided he is deserving of recognition on Father's Day. He represents its importance in countless families across the country, how men are continuing the traditions of their fathers and beginning their own. We hope that Stephen's words, at the very least, inspire you to give your father something that may be the most important gift of all: time.
Blake: What does hunting mean to you?
Hunting is a couple different things to me, but at a very fundamental level it is to recreate, get away from work, and enjoy time in the outdoors with family and friends. The opportunity to unplug. Secondly, it's the opportunity to provide food for my family. Third, for me there's a little bit of a chess game. Based on the hunting that I like to do — elk hunting specifically — where I'm able to interact and talk with the animals by calling back and forth. That interaction is always intriguing and exciting.
Blake: Do you find it important to instill that love and respect for the outdoors with your kids?
I think it's important to expose them to it. Obviously to teach them about it, and hopefully I can provide them with the opportunity to spark their interest. It's not something that I want to force down anyone's throat, but as long as I'm doing it, its importance to me is something that will always be reiterated. It's a great way for us to spend time together. They've had plenty of exposure and so far, my oldest couple of kids have enjoyed doing it as well.
Blake: How does your service to your country influence your life now?
My service, or my time in the military, instilled a desire and need to continue to serve. I didn't necessarily realize or put my finger on it when I got out of the service, but as I made that transition and moved further way from my time in uniform it became very obvious to me that continuing to serve in some capacity was going to be very important for my life.
Blake: That's why you started Carry the Load? Can you tell me a little bit about that?
We started Carry the Load for people to connect and have a meaningful Memorial Day experience. It started with one event in Dallas in 2011. Nine years later, we have three national relays that all take place simultaneously during the month of May. It covers about 11,000 miles between our East Coast, West Coast and Midwest route. All of those are walking 24/7 during the month of May, making their way to Dallas. Those three relays culminate in our flagship event, which is the Dallas Memorial March. Through those events, we raise money for other non-profits that are supporting military veterans, as well as first responders and their families. Over the last nine years, we have raise about 25 million dollars, which is pretty phenomenal growth.
Blake: What do you hope to contribute to the hunting and outdoor community?
I think my top priority would be a positive influence to hopefully grow the community. When you look at the population of the hunting community over the past couple of decades, it has continued to decline. I think there are a lot of different reasons for that. If I could say anything, it would to be a positive influence within the outdoor industry to get people who haven't thought about it or had the opportunity, to encourage them to learn about it and hopefully join the ranks.
Blake: And SIXSITE specifically makes high-end gear tailored towards hunting.
We make technical outdoor and hunting apparel. That combines two loves of mine. I've spent a lot of time outdoors but also wanted to provide a product that's uncompromising in its quality, functionality and versatility.
Blake: What does Father's Day mean to you and what do you hope to pass on to your children?
I think my top priority would be to help grow the community by being a positive influence. The population of the hunting community has continued to decliner over the past couple of decades, and I think there are a lot of different reasons for that. If I could say anything, it would be that more people could be a positive influence within the outdoor industry to encourage people who haven't thought about it or had the opportunity to experience hunting to learn about it and hopefully join the ranks.
Blake: Maybe you're a little young to understand the sacrifice that you have made, but as a service member, how do you feel that your patriotism and service affect your kids?
My oldest two are 13 and 11 now — the younger three, not so much yet — and having grown up around Carry the Load, that's all they know for Memorial Day. They have learned why some of dad's friends and guys that I have served with didn't come home, what that service and sacrifice really means for our country. It was an unintended consequence of Carry the Load. I didn't really think about that when we were starting it, but it's something that we're extremely proud of; to be able to have an influence on a younger generation who, from a very young age, can appreciate what that service and sacrifice means.
Give your dad something memorable. Explore our Father's Day gift guide.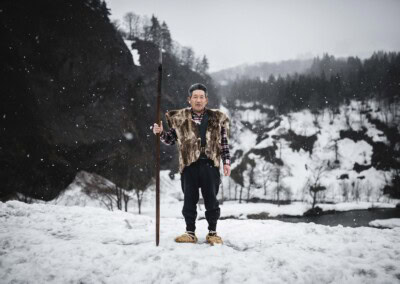 Matagi
"The word 'matagi' is derived from 'matagu', meaning to cross over, step over or straddle, bounding an image of people between two worlds — the realm of humans and that of the mountain deity: yama-no-kami." Scott Schnell, Ph.D., Associate Professor Emeritus in Anthropology
Deer Wars
Therein lies the overarching question: what does society want our landscape to look like? We seem to be moving toward a future where, in the name of "rewilding," people are disassociating with the land.