Father's Day Gift Guide 2020
Our Father's Day Gift Guide is curated with products that we believe in.
These men deserve that.
These gift ideas are for men who steadied our wits before harvesting our first deer, and for those who will someday do the same for their children. The men that guided us through our first backcountry experience and those who dream of future adventures with their own sons and daughters. To those that showed us how to be stewards of the natural world. To the traditions they have created and those yet to be. Fathers that enjoy the outdoors have a special opportunity to pass on their experience. We want to give you some gift ideas to not only show your appreciation for all that he has done to enrich your life, but to encourage special memories to be made together as well. Happy Father's Day from your friends at Modern Huntsman.
Be well and enjoy.
5% discount on hats/shirts from June 1 – June 21
Discount code: DADS2020
Modern Huntsman /
Books & Apparel
A must have for dad's office and wardrobe. We're excited to say that Volume Five: Traditions is our best work yet, and will be perfect for reflection sessions with the drink of Dad's choice.
First Lite /
Men's Guide Lite Pant
When staying cool is paramount, the Guide Lite Pant is our go-to. With its lighter weight, and enhanced breathability construction, this pant is specifically designed for early season escapades in warmer weather. Offering the same impeccable construction as the award-winning Corrugate Guide Pant, Guide Lite's 37.5-enhanced stretch nylon fabric dries quickly, and stretches and moves with you for unparalleled comfort in an updated straight leg fit.
Hilleberg / Tarra
That backpacking sojourn you've been planning with your dad — It's time to go. What sets Hilleberg apart from other tents is its unique integration between the inner and outer tent walls, which makes pitching one effortless. In the case of the Tarra, it is designed with structural integrity for demanding conditions while optimizing space and comfort.
Modern Huntsman Gift Card
Sometimes it's best just to let him decide, that's why we are now offering a digital gift card so dad can figure out which volume of Modern Huntsman would best suit his coffee table.
Tingley / Pylon Neoprene Boot
Rubber boots may be the most versatile footwear in any man's mudroom and Tingley makes a fine offering with the Pylon. Its design is classic and proven, while its application is ready for any dirty job that requires you to stay dry and protected. Possibly the best part? They glide on and off your feet. You might never want to wear laces ever again.
Mystery Ranch / Pop Up 38
Dad will be thrilled to have this daypack when the short hunt turns successful and he has to shoulder more weight on his return home. Mystery Ranch designed the POP-UP FRAME to easily expand into a load-hauling system with adjustable load shelves and formidable flip locking mechanisms bearing brutal loads up 80lbs for as many miles as he can grind out.
EPIC / Beef Jalapeño Bar
EPIC has made it easier than ever to eat high quality, sustainable and ethically-sourced protein. You can even get them at the gas station! The 100% grass-fed beef jalepeño bar is a favorite of the Modern Huntsman staff — bison bacon cranberry is exceptional as well — and is an essential part of our outdoor checklist.
Traeger / Ironwood 650 Pellet Grill
Have you ever eaten backstrap on a Traeger? It's divine. The Ironwood takes precision smoking and grilling to the next level, accomplished through fine temperature adjustment and WiFi connectivity to ensure the perfect outcome for Dad's hard-earned protein. Make sure to tack on a bag of mesquite pellets for that wonderful smoked flavor.
Vortex / Crossfire Hd
It's hard to call the Crossfire HD a "value" binocular. The quality is exceptional. Waterproof, fogproof, and shockproof this glass is designed to hold up to whatever your dad can throw at it. And if something does happen Vortex's incredible VIP warranty will repair or replace this important gift, no questions asked.
Daneson x The James Brand
This collab was meant to be. Daneson is launching its new Atlas Mint flavor alongside the sleek Randolph cache, designed in partnership with The James Brand in Portland, OR. These picks are milled in the USA and the flavor is inspired by the minty tea of Morroco's High Atlas. Act quickly, these will go fast.
Fat Tire / Amber Ale
Grab a cold beer with Dad, listen to his stories. Fat Tire is a great one. Easy drinking and with great body, New Belgium Brewing's flagship amber beer occupies that middle ground between a lager and a pale ale. Pairs nicely with tailgates and sunsets.
Sing Hat Co. / Custom Hat
Sing Hat Company creates their hats from the finest quality beaver furs in the USA; holding their shape despite weather and time, and designed with his unique personality in mind. Update the wardrobe of the man who taught you to take your hat off indoors and to never toss it on the bed, with a true heirloom piece that boasts a resilience he can respect from the ranch to the board room and every avenue and gravel road in between.
Leatherman / Wave+
Dad's pocket isn't complete without a multitool. The Leatherman Wave+ offers 18 tools that can be opened and locked quickly to tackle any task. Many of these tools are outside-accessible, so dad can use them when the multi-tool is folded and closed. A perfect everyday carry.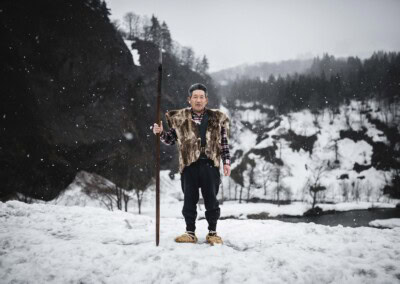 Matagi
"The word 'matagi' is derived from 'matagu', meaning to cross over, step over or straddle, bounding an image of people between two worlds — the realm of humans and that of the mountain deity: yama-no-kami." Scott Schnell, Ph.D., Associate Professor Emeritus in Anthropology This post is only available to members.
Deer Wars
Therein lies the overarching question: what does society want our landscape to look like? We seem to be moving toward a future where, in the name of "rewilding," people are disassociating with the land. This post is only available to members.