MADE POSSIBLE WITH SUPPORT FROM Danner and Filson
---
Gary Edinger grew up in rural Wisconsin in the 1950s. As a youngster, he learned to hunt, fish and trap in the hardwoods he called home. Edinger glided through the woods, equally efficient at felling and skidding a stand of oak as he was at swiftly skinning a deer. Hard work and a hard way of doing things weren't lost on Gary, lifted as he was by six generations of homestead family pride. The outdoors laid a foundation for Edinger to not only survive, but thrive in a sometimes harsh and unforgiving world.
However, the Wisconsin woods couldn't fully contain his curiosity for long. Edinger dreamed big and followed his love for adventure and knack for an old way of doing things to compete — and win — in sled dog racing at a world championship throughout Alaska and Canada. An impressive feat for anyone, let alone a man who was self-funding the extensive dog training, breeding and travel costs from modest logging wages. A taste for the North also left Gary spending a handful of summers fishing commercially on Alaska's Yukon River with a hand-built fish wheel, a classic device situated in rivers for catching running salmon, which looks and operates like a watermill.
Hunting was always a part of Edinger's life. In the early 1990s, he helped his nephew, Tom Henderson, establish and expand Bitteroot Outfitters, a backcountry elk-hunting outfit in the burnt and craggy mountains along the Idaho-Montana border. Expeditions were carried out via horses and mule pack strings, yet again a nod to tradition and the hunting heritage of the West. Edinger was enamored, and still is, not having missed a fall in 27 years.
In 2007, on a fateful and frigid February day, Edinger severed his left leg completely off below the knee while logging in northern Wisconsin. Twenty miles from help, alone, and in subzero temperatures, Gary summoned a remarkable willpower and crawled to his pickup, then drove to safety. But Gary's struggle for survival didn't begin on that chilly winter day in the hardwoods. Gary's whole life had been forged from adversity, rising above a meager upbringing void of running water or electricity and brushing against death from mountain lion, forest fire and unpredictable snowstorms as he learned to hunt, trap and fish, often by himself.
Edinger's saga of survival, documented in his autobiographical novel, Will to Live: Saga of Survival, is an enthralling tale. But beneath the calloused hands and hardened will is a thoughtful man. A writer, poet, singer, songwriter and square-dance caller. Perhaps more surprising still, Edinger is a self-proclaimed tree-hugging logger — an environmentalist.
Though he logs alone, there is a common sentiment from his peers, local private landowners, and regulatory agents at the Department of Natural Resources deeply in-tune with his natural surroundings, that Edinger selectively harvests timber, and leaves a resilient and diverse forest behind. From preserving hollow maples as known nesting sites for birds, felling trees in a particular direction to avoid damaging young tree shoots, maintaining a diversity of tree species and cutting particular dead-standing trees to revitalize the forest, Edinger aims to extract value from the forest in the form of pulp wood products, while leaving room for the future. New growth provides beneficial whitetail deer habitat and stabilizes natural water bodies, and all of Edinger's work is carried out with the intention of doing no unnecessary harm. This type of careful logging yields a reduced profit for his stumpage wages, but his care and attention to detail keep him in work from landowners that share his philosophy of sustainability. Edinger has been a consistent voice of preservation of the riparian area upon which he lives, forming the Friends of the Jump River and voicing concern about all-terrain-vehicle access through sensitive wetlands. For him, destruction of a wild place is equivalent to the death of a loved one.
Each fall, he returns to the wilds of central Idaho in pursuit of bull elk and the solitude that the wilderness provides. His goal: one more year of meat for the freezer, the chance to again test himself in truly wild country, and to again find the peace, quiet, and hardship available only when one ventures into country unscathed by man and civilization. In Edinger's eyes, "if everyone had a quiet place to meet up with themselves alone, to rediscover what they think, what they feel, the world would be a better place." It is a sentiment that is hard to argue with. Gary has found balance with nature and is wise beyond his years, even though the way he still mounts a horse or tiptoes over an icy log pile may not indicate nearly seven decades of tough living.
Today, Edinger continues to make his living as a solo, independent logger. He lives in Kennan, Wisconsin on his family's original homestead land with his wife Leanne, the proud parents of Garrett and Aubrey. Recently, the family welcomed their first grandchild into the world, James. Following tradition, James was unofficially baptized in the waters of the Jump River, signifying a generational significance that seems to reverberate as much throughout the hardwoods of Price Country as it does within Gary's soul.
Stay tuned for the short film featuring Gary Edinger, presented by Filson and Danner, coming fall 2019
Gary's book, Will to Live: Saga of Survival, is available at garyedinger.com
This story was originally featured in Modern Huntsman, Volume Three: Wildlife Management with support from Danner and Filson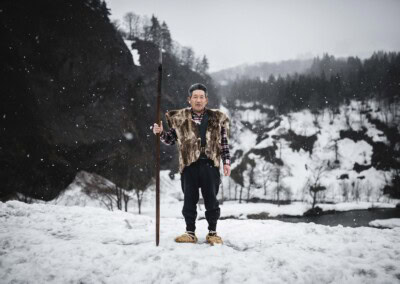 Matagi
"The word 'matagi' is derived from 'matagu', meaning to cross over, step over or straddle, bounding an image of people between two worlds — the realm of humans and that of the mountain deity: yama-no-kami." Scott Schnell, Ph.D., Associate Professor Emeritus in Anthropology This post is only available to members.
Deer Wars
Therein lies the overarching question: what does society want our landscape to look like? We seem to be moving toward a future where, in the name of "rewilding," people are disassociating with the land. This post is only available to members.