---
Casey, tell us a little about your background.
I grew up on the central coast of California in a town called Goleta, just north of Santa Barbara. My wife and I now live happily in Bozeman, Montana.
How did you originally develop an interest in art?
I've been told by my parents that my creative drive was evident from an extremely young age. The only thing that used to calm me down as a toddler was a pen and paper. Personally, my first artistic memories are from kindergarten and first grade. In kindergarten, I would have art shows in the driveway of my grandparent's house. Sort of like a lemonade stand, but instead of lemonade I was selling colored pencil drawings of hawks and other birds of prey. In first grade, I remember selling graphite drawings of shark egg cases to my classmates for 50 cents. To be honest, it's always been about art for me; there has never been another path I even considered in life.
You've worked in a variety of mediums, what has made digital art your go-to?
I graduated from college as an art major with an emphasis on intaglio printmaking and oil painting. After college, I moved to Seattle, Washington where reality began to set in: I no longer had the amenities of a large studio in a college art department. Since my studio was now essentially my dining room table, I went out and bought a digital painting tablet on craigslist for $50. Little did I know how naturally it would suit my artistic tendencies. My work has always been extremely line-oriented, and digital illustration has allowed me to become more efficient and more complex with how I use lines.
Did you have a mentor throughout this process?
I had several art teachers throughout my formal education, both in high school and college, who were extremely nurturing and influential. From a business side, I'd consider my Dad a mentor. Throughout my adult life, my father has been self-employed, so he has been an incredible resource as I venture down a similar path of employment. I definitely got the "business" side of my mind from him.
Where do you draw inspiration for your projects?
The natural world — it has always been nature and wildlife for me. As someone whose passions lie outdoors, I've never been interested in exploring any other theme.
Is most of your work inspired or commissioned?
I'd say about 75% of my work is created for myself and my personal brand and 25% of my work is freelance for companies in the outdoor industry. However, I'd say 100% of it is inspired because even with freelance work, I am usually responsible for coming up with the concept for a design.
How has your style changed over the years?
Well, my line work has definitely gotten more complex over the years; but I'd say that my style has also become a lot cleaner and crisper. My work can be extremely detailed but still have a somewhat simple feel. 'Compositional balance' is something that I am always very aware of in my artwork and I feel as though that is something I'm continuously fine-tuning.
Tell us your thoughts on hunting and whether or not this has affected your work.
To be honest, hunting is something that I didn't really grow up around. We'd kill squirrels with .22s and I used to get paid to shoot rattlesnakes, but other than that I wasn't really exposed to hunting until I moved to Montana. However, many of the aspects of hunting; wilderness, public lands, wildlife, etc. have always had a profound effect on me and my work. Since living in Montana I have begun to hunt, and it resonates very seamlessly with my process-oriented approach to the outdoors. I imagine my hunting experiences throughout the rest of my life will influence me and my artwork greatly.
Do you have a favorite print or project from your collection?
I just created a piece for the 2020 Madison Gallatin Trout Unlimited banquet that I am pretty fond of. It's called "Sphinx Mountain Browns" and it features iconic Madison Valley imagery. Aside from that, I'm always very fond of each piece of artwork and the series I create. For me, it's almost as if every new piece is my new favorite for a moment.
What is life like for you outside of the studio?
I'm thankful to share a lot of the same passions with my spouse, Dana. We love to fly fish, ski and be outside together. Hunting and everything that comes with it is something that is starting to fill up more of my time outside the studio as well. I am having a lot of fun humbly soaking up knowledge from experienced and generous friends.
Tell us your thoughts about what makes art important for our culture to see and experience.
Artwork is special because it allows others to see things differently. It has the potential to reveal new and unique perspectives on an otherwise familiar subject matter. I think it's important but to be honest, I don't make art because I think it's important for our culture. I make art because I really don't have much of a choice — I am an artist. That is what I've always done and what I have always wanted to do. I am just grateful that it is working out for me and that others enjoy and support what I choose to create. With that being said, one of the greatest joys of being an artist is hearing stories about how your artwork affects others. While those stories are not the intention or motivation, they certainly encourage my pursuit as an artist.
---
CASEY UNDERWOOD
Casey Underwood is an artist and freelance designer currently residing in Bozeman, MT. Over the years, Casey's work has manifested itself in various mediums including painting, printmaking, photography, sculpture and digital media. Regardless of the medium, it's not hard to recognize elements of Casey's signature style. Levitating objects, vast skies and geometrical shapes are a few reoccurring themes in his work; accompanied by clean edges, layers of color and crosshatched lines. Above all, Casey's work strives to convey a unique and intriguing perspective on otherwise familiar subject matter.
Follow him on Instagram: @cpunderwood
Shop his online store at CaseyUnderwood.com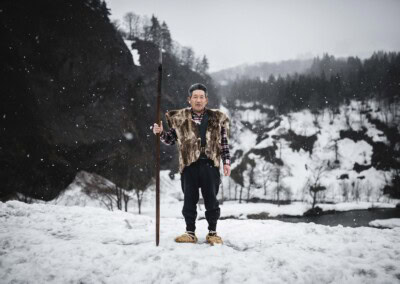 Matagi
"The word 'matagi' is derived from 'matagu', meaning to cross over, step over or straddle, bounding an image of people between two worlds — the realm of humans and that of the mountain deity: yama-no-kami." Scott Schnell, Ph.D., Associate Professor Emeritus in Anthropology This post is only available to members.
Deer Wars
Therein lies the overarching question: what does society want our landscape to look like? We seem to be moving toward a future where, in the name of "rewilding," people are disassociating with the land. This post is only available to members.